Citigroup Prepares Korean Branch Cuts to Focus on Cities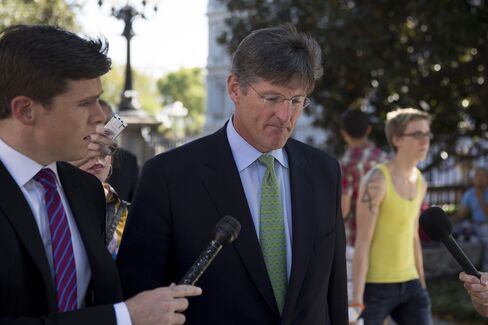 Citigroup Inc., whose international consumer bank is the largest of any U.S. lender, is preparing to trim branches in South Korea outside big urban areas this year to concentrate on more affluent customers, its chief financial officer said.
Citigroup will disclose costs tied to the strategy later this year, CFO John Gerspach said yesterday during a conference call with analysts. The New York-based lender has been revising its Korea plans for 18 months, with early efforts focused on changing the mix of its loans, he said.
Chief Executive Officer Michael Corbat has scaled back consumer operations in some nations and targeted wealthier clients in the largest global cities to improve returns. Korea's slowing growth and government efforts to curb household debt led to writedowns for at least one competitor, and Citigroup has said operations there will be a drag on Asian revenues in 2014.
"It's inevitable that banks in Korea will trim branches amid stalling profit," said Michael Na, a Seoul-based analyst at Nomura Holdings Inc. Without strong revenue growth, "lenders can only seek cost efficiency by doing things like closing outlets and shifting toward micro branches and smart banking."
Citigroup Korea Inc. declined to comment on how many branches will be shut this year, according to an e-mailed reply to questions. The unit operates 196 outlets in the country, down from 238 at the end of 2004, regulatory filings show. The global consumer bank had more than 3,700 branches as of Dec. 31, according to the company's fourth-quarter report.
Urban Strategy
The restructuring will ensure branches "are more aligned with that urban-type of strategy," said Gerspach, 60. "We have done some of that, but hope to do that in earnest this year."
The bank's Korea operations have roots in the $2.7 billion purchase of Koram Bank in 2004. Citigroup won the deal after outbidding Standard Chartered Plc, which purchased another bank a year later.
Since then, rising consumer debt has choked economic growth. Commercial banks saw their return on equity slump to about 7.4 percent in 2012 from 20.3 percent in 2005, according to data from the nation's Financial Supervisory Service. Some foreign banks have pulled back, and Standard Chartered took a $1 billion writedown on the value of its Korean business in August.
Growth Rebound
Asia's fourth-largest economy is showing signs of picking up as exports climb. The Bank of Korea forecasts growth will accelerate to 3.8 percent this year, the fastest pace since 2010.
"We do expect an improvement in earnings at Korean banks this year, but any recovery will be mild and in line with economic growth," Nomura's Na said.
Citigroup executives have talked about reducing its global footprint, and Corbat, 53, has said his company, the third-largest U.S. lender by assets, should no longer be expected to offer unlimited services.
"People shouldn't want us to be everything to everyone," the CEO said in an interview with Bloomberg Television at the World Economic Forum in Davos, Switzerland. "We've gone through a pretty significant transformation. We've got the right business mix."
Before it's here, it's on the Bloomberg Terminal.
LEARN MORE