U.S. Said to Offer Russia Bomb-Detecting Tools for Sochi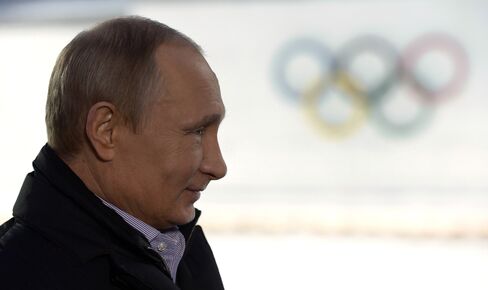 Jan. 22 (Bloomberg) -- The U.S. has offered to provide Russia with high-technology equipment, including gear designed to detect homemade bombs, to help protect next month's Winter Olympics in Sochi, according to two Pentagon officials.
Army General Martin Dempsey, chairman of the Joint Chiefs of Staff, made the offer to his Russian counterpart, General Valery Gerasimov, at a meeting in Brussels yesterday, the officials said, speaking on condition of anonymity to discuss a matter of national security.
The U.S., spurred by losses in Iraq and Afghanistan from insurgents' improvised bombs, has developed ground-penetrating radar to detect explosives such as ammonium nitrate, Semtex and C-4. A Pentagon task force to combat homemade bombs has deployed robots and other tools to disrupt mobile phone and other wireless signals used for detonation.
The officials said it wasn't clear how receptive Russian President Vladimir Putin's government would be to the U.S. offer. One official said the Russian leader might consider it an insult to Russia's armed forces and their technological prowess. A more practical question, both officials said, is whether American systems could be used without interfering with similar Russian gear.
Russian Preparations
Russian authorities have sought to dispel concerns that security may be deteriorating in and around the Black Sea resort of Sochi before the games begin on Feb. 7.
Putin, in an interview Jan. 17 with foreign and domestic media in Sochi, said "we will do our best" to prevent a terrorist attack at the games. He discussed Olympics security with U.S. President Barack Obama in a telephone call yesterday.
The U.S. has seen an "uptick" in threat reports leading up to the games, though that's not unusual for such a high-profile event, White House press secretary Jay Carney said today, declining to give specifics.
Russia yesterday sent troops across Dagestan, a Muslim-majority region east of Sochi, to pursue insurgents who have threatened to disrupt the Olympics. Islamic extremists have claimed responsibility for suicide bombings in Volgograd that killed more than 30 people last month.
The Pentagon has spent almost $25 billion to counter the threat from improvised explosives, which cost a fraction of that amount. Even so, homemade bombs killed more than 3,000 Americans in Iraq and Afghanistan and wounded some 33,000 more, and the devices still pose a threat.
New Methods
One reason, said one of the officials, is that terrorist groups continue to develop new ways to make, hide and trigger the bombs, including one triggering device that uses a laser to count the number of vehicles that pass over it so it can detonate in the middle of a convoy.
The U.S. State Department issued a travel alert on Jan. 10 for Americans planning to travel to Sochi for the Olympics and Paralympics Games in February and March. The Pentagon, in cooperation with the State Department, has drafted contingency plans for the games.
"We have offered our full support to the Russian government," State Department spokeswoman Marie Harf said yesterday at a press briefing.
"U.S. commanders in the region are conducting prudent planning and preparation should that support be required from them," Harf said. "Air and naval assets, to include two Navy ships in the Black Sea, will be available if requested for all manner of contingencies."
Carney said the discussions with Russia on security arrangements will continue.
Sochi Location
Sochi is west of the Caucasus Mountains, which stretch about 745 miles (1,200 kilometers) across Chechnya to Dagestsan, one of Russia's most economically distressed regions.
A separatist movement in Chechnya grew into an Islamist insurgency that took its fight into neighboring provinces. The two suspects in the April 15 Boston Marathon bombing, in which three people were killed and more than 260 injured, were ethnic Chechen brothers who once lived in Dagestan.
Russian Foreign Minister Sergei Lavrov said yesterday that authorities are taking "sufficient measures" to protect the event.
The Russian public isn't so sanguine, according to a poll released yesterday by the All-Russian Center for the Study of Public Opinion. The survey found that 63 percent of respondents think the government is probably or definitely incapable of safeguarding the population from new terrorist attacks. The poll of 1,600 people was conducted Jan. 11 and 12 and has a margin of error of plus or minus 3.4 percentage points.
To contact the reporters on this story: David Lerman in Washington at dlerman1@bloomberg.net; Stepan Kravchenko in Moscow at skravchenko@bloomberg.net
To contact the editor responsible for this story: John Walcott at jwalcott9@bloomberg.net