Snowden Denies Working as Foreign Agent, Seeks Protection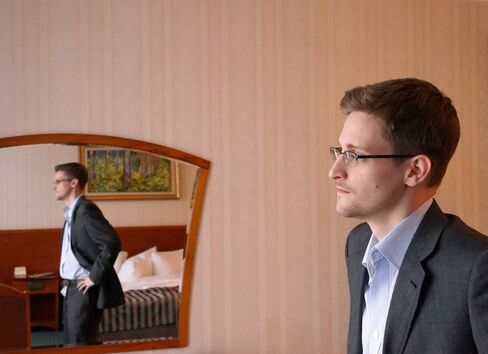 Jan. 22 (Bloomberg) -- Edward Snowden, the former security contractor who exposed top-secret U.S. spying programs, said he worked alone in taking classified documents and denied American lawmakers' claims that he was an agent for a foreign government.
Accusations that Snowden was working for Russia or another country when he took thousands of classified documents on U.S. spying programs are "clearly false" and "won't stick," Snowden said in an interview with the New Yorker published on its website. The magazine said the interview was conducted via encrypted means, without elaborating.
"The American people are smarter than politicians think they are," said Snowden, emphasizing that he "clearly and unambiguously acted alone, with no assistance from anyone, much less a government."
Snowden, who's in Russia under temporary asylum, leaked classified documents last year on National Security Agency surveillance programs, unleashing an international uproar about privacy and the reach of government in the post-Sept. 11 world.
Anatoly Kucherena, Snowden's Russian lawyer who's also a member of the Federal Security Service's public council, reiterated his client's comments today and earlier denials that he'd acted for a foreign power.
'A Thief'
After months of debate instigated by the leaks, President Barack Obama responded Jan. 17 by endorsing action to assure American citizens and allies that their privacy is protected while committing to few specifics.
The U.S. has accused Snowden of theft and espionage for providing the documents to the U.K.'s Guardian newspaper and the Washington Post last year that unveiled the breadth of the NSA's collection of Internet and telephone records.
Representative Mike Rogers, a Michigan Republican and the House Intelligence Committee chairman, in an interview Jan. 19 on NBC's "Meet the Press," described the 30-year-old American as "a thief" who had possible Russian assistance and has "incredibly harmed" the U.S. military.
Rogers has offered the only public characterization of a classified Defense Department report on Snowden, saying it concluded that he downloaded about 1.7 million intelligence files while working for McLean, Virginia-based Booz Allen Hamilton Holding Corp.
Dianne Feinstein, who leads the Senate Intelligence Committee, said while appearing with Rogers on NBC that Snowden "may well have" had assistance. Representative Michael McCaul, a Texas Republican who's chairman of the House Homeland Security Committee, said the same day on ABC's "This Week" that he thought Snowden had help.
Putin Remarks
Russia isn't controlling Snowden as an intelligence asset or offering him aid beyond a safe haven, Russian President Vladimir Putin said Dec. 19. Snowden hasn't been questioned about U.S. intelligence activities regarding Russia, according to Putin.
"I'll tell you in semiprofessional language: we aren't working with him and haven't worked with him in investigative terms," he said.
Snowden, who first went to Hong Kong after leaking the documents, told the New Yorker that "Russia was never intended" to be his place of asylum.
"I was only transiting through Russia," he said. "I was ticketed for onward travel via Havana -- a planeload of reporters documented the seat I was supposed to be in -- but the State Department decided they wanted me in Moscow, and canceled my passport."
Seeking Protection
Snowden received a yearlong sanctuary from the Russian government in August, after arriving in June. It's too early to say if he'll apply for an extension, Kucherena said today.
The fugitive is appealing to Russia for protection after reported threats against his life by unidentified U.S. officials, Kucherena, who has represented Snowden's interests in Russia since he sought refuge, said yesterday. The lawyer cited reports on the website Buzzfeed this month.
"He has no other option but to seek protection and ask for the situation to be cleared up," Kucherena said by phone yesterday. "There are worries and alarm about statements and actions on the part of some officials."
Asked about the reported threats, the White House didn't answer directly. Russian police and the Federal Security Service, or FSB, declined to comment on whether they plan to give Snowden protection.
'Totally Inappropriate'
"Mr. Snowden is accused of a felony and needs to return to the U.S. to face charges, where he will be afforded all due process and protections," Caitlin Hayden, a spokeswoman for Obama's National Security Council, said in an e-mail.
"Edward really believes his life and safety are at risk," Kucherena said, adding that his client has private protection. "Since he's a temporary refugee, he has the same rights and responsibilities as any Russian citizen."
Snowden hasn't received notice from the U.S. that he's being held accountable for any crime, according to Kucherena.
State Department spokeswoman Marie Harf, who said she hadn't read the Buzzfeed article, called any such threats against Snowden "totally inappropriate" and having "no place in our discussion of these issues."
If he returned to the U.S., Snowden would receive the same legal protections as any other citizen accused of a crime, Harf said, referring to a letter months ago on the matter from Attorney General Eric Holder.
Snowden insisted during the New Yorker interview that his goal was to help the U.S. and that his exposure of government surveillance had done a public service.
"No one has credibly shown any harm to national security," he said. "At least the American public has a seat at the table now."
To contact the reporters on this story: Ilya Arkhipov in Moscow at iarkhipov@bloomberg.net; Michael Shepard in Washington at mshepard7@bloomberg.net
To contact the editors responsible for this story: Balazs Penz at bpenz@bloomberg.net; Steven Komarow at skomarow1@bloomberg.net