Singapore Exchange to Add Circuit Breakers Next Month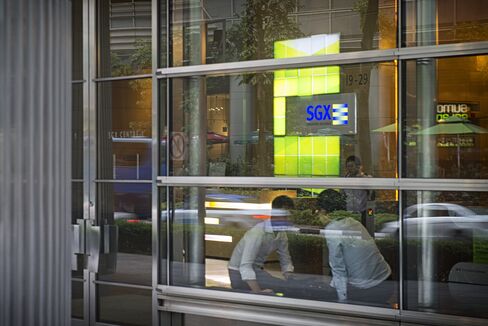 Singapore Exchange Ltd., Southeast Asia's biggest bourse, will add circuit breakers next month that protect investors from excessive stock swings after a plunge in three commodity companies erased $6.9 billion in market value.
The trading restrictions will apply to Straits Times Index and MSCI Singapore Index members and all securities priced from 50 Singapore cents from Feb. 24, according to a regulatory filing. The circuit breakers are triggered when a stock rises or falls more than 10 percent from at least five minutes earlier and cause a five-minute period where trading is limited, according to SGX's statement. The rules cover securities that account for about 80 percent of trading on the Singapore market.
The exchange operator said in October that it would implement automatic price controls after declines in commodity companies Blumont Group Ltd., Asiasons Capital Ltd. and LionGold Corp. spurred an investigation by the Monetary Authority of Singapore. All three companies have said they don't know what precipitated the plunge. Hong Kong Exchanges & Clearing Ltd. is studying whether its market needs circuit breakers to prevent trading errors from causing large declines or surges in prices, a person familiar with the matter said this month.
"Circuit breakers are very useful, especially now that many trades are computer-generated," Nader Naeimi, Sydney-based head of dynamic asset allocation at AMP Capital Investors, which manages $131 billion, said by phone. "It will improve market stability and help build investor confidence in the market."
Erroneous Trades
If the circuit breaker is triggered, investors can only trade within 10 percent of the reference price from at least five minutes earlier, according to the statement. Normal trading resumes five minutes later.
"The introduction of circuit breakers and the new error-trade policy will assure investors of continued safety and transparency even under volatile market conditions," Muthukrishnan Ramaswami, president of SGX, said in the statement.
The bourse operator will also revise its erroneous trade policy, it said. Purchases will not be canceled if the price falls within a range of 5 percent or 20 minimum bid sizes from the last traded price for most securities. The price range for structured warrants will be 25 percent or 20 minimum bid sizes from the last valid price, SGX said.
Trades done outside of the relevant price range are eligible for review by SGX, the bourse operator said in the statement.
Trading Curbs
Exchanges have responded to the increased automation of trading by introducing curbs to prevent mistaken transactions from influencing prices. U.S. equity markets are now protected by a system known as limit up/limit down, which prevents trades outside certain price bands. Chicago-based CME Group Inc., owner of the world's biggest futures market, pauses trading during extreme volatility.
SGX suspended trading on the three commodity stocks on Oct. 4 when the shares tumbled at least 42 percent. The bourse declared them "designated securities" on Oct. 6, meaning investors were prohibited from selling unless they held the same quantity of stock and buyers had to pay in cash. The exchange removed the curbs from Oct. 21, saying trading had become more stable.
Blumont, which invests in minerals and energy, had soared more than 1,000 percent last year through the end of September to lead gains on the FTSE Straits Times All-Share Index, prompting the SGX to investigate the surge. The shares plunged from an all-time closing high of S$2.45 on Sept. 30 to 7.2 Singapore cents today.
Asiasons slumped 96 percent from its record close of S$2.83 on Oct. 1 to 11.2 Singapore cents today. LionGold tumbled 91 percent from its peak on Aug. 29 to 15.1 Singapore cents.
Before it's here, it's on the Bloomberg Terminal.
LEARN MORE