Schaeuble as Merkel's Dr. No Holds Coalition Purse Strings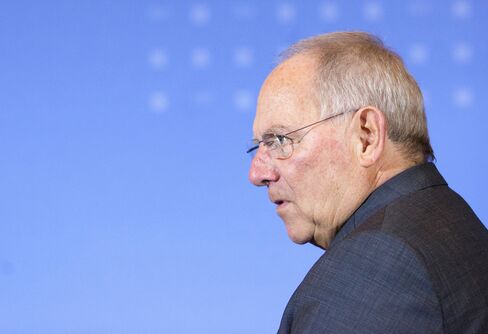 German Chancellor Angela Merkel paid a high price for keeping the Finance Ministry for Wolfgang Schaeuble last month when she granted her coalition partner more cabinet posts than the election result justified.
As ministers hold two days of talks at the government's Meseberg guest house outside Berlin from today, Schaeuble has the first opportunity of Merkel's third term to prove his worth to the chancellor and to their Christian Democratic Union party.
Merkel and her Social Democratic partner aim to use the meeting to kick start the coalition by hammering out the detail on policy areas including pensions, family affairs, minimum wages and energy. Schaeuble's job will be to prevent SPD ministers from breaking the budget or forcing tax increases.
"These are precisely the times when Merkel's CDU can be happy that Mr. Schaeuble is still finance minister," Carsten Brzeski, an economist at ING Group NV in Brussels, said by telephone. "His role is that of Dr. No and I wouldn't know to which kind of pressure he would bow at all."
Schaeuble's policy -- agreed on in the coalition accord signed Dec. 16 -- is to finance the budget without taking on new debt from next year. That already includes 23 billion euros ($31 billion) of additional spending for this legislative term through 2017. Merkel won September's election after campaigning on a platform of no new taxes.
'Solid Finances'
That fiscal road map would be jeopardized by SPD proposals floated in newspapers since Christmas to cut the working week for parents and for additional pension increases, extra spending not covered in the coalition accord of five weeks ago.
Merkel, still on crutches more than three weeks after a skiing accident, told reporters that "solid finances" were one of four main themes for her third term to be discussed at Schloss Meseberg, along with energy; Europe; and pensions and other "social issues" related to demographic change.
Ensuring sound public finances is "a significant contribution to fairness between the generations," Merkel said alongside Economy and Energy Minister Sigmar Gabriel, the vice chancellor and SPD leader. She offered her "absolute support" for Gabriel's energy proposals, saying the shift to renewables is a project shared by "the entire government."
'One Government'
"This is one government, comprising three parties, but one government," said Merkel. "Each individual minister has a project that's a project for the whole government."
That shared goal was put in doubt when the SPD families minister, Manuela Schwesig, who at 39 is the youngest cabinet member, told the Tagesspiegel newspaper Jan. 9 that the working week for parents should be cut to 32 hours from 40 hours and that taxpayers should make up some of the loss in income.
While Schwesig's proposal was dismissed by Merkel's spokesman, Steffen Seibert, as a "personal contribution to the debate," it set the stage for more SPD attacks on Schaeuble's fiscal discipline.
Andrea Nahles, the Social Democratic labor minister, said that pension increases already agreed by the coalition will require extra annual outlays of more than 9 billion euros for an accumulated 60 billion euros in funding through 2020 after including beneficiaries not stipulated in the original accord.
Under the agreement, mothers of children born before 1992 will get higher pensions and workers will be eligible for full benefits at 63 provided they've paid insurance contributions for 45 years. Nahles wants to count years in which unemployed people received insurance benefits, whereas Merkel's bloc seeks to set limits.
While social policies such as making life easier for working parents remains a priority, "we have to be careful not to overdo it," Schaeuble said in a Jan. 10 speech in the eastern city of Jena. "But that's what the finance minister is there for -- to keep an eye on things."