The New York Two-Step: Country Music Grabs Foothold in Gotham, Spawns National Brand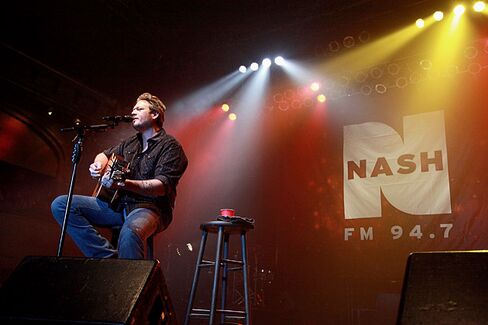 Country music on the radio is showing signs of winning over New Yorkers' achy breaky hearts.
A year ago, Cumulus Media launched Nash FM, the first country music radio station to air in New York in nearly two decades. At the time, the move was viewed with plenty of skepticism. New York, after all, is not exactly Branson, Mo.
Yet country music has solidified its place on the New York dial. In December 2013, according to Nielsen, 94.7 Nash FM, reached 988,000 cumulative listeners, making it the 19th most popular station in the New York region. That's still well behind such New York mainstays as No. 1 ranked 106.7 Lite FM, (5.3 million listeners), No. 7 ranked Hot 97.1 FM (2.5 million), and 15th-ranked WFAN-FM sports radio (1.7 million).
Even so, it's a strong enough performance for a new station to justify continued investment. Lewis Dickey, chief executive officer of Cumulus, the nation's second-largest radio broadcaster, says he's pleased with the station's performance. "It's beating our revenue projections," says Dickey. "We ran it on a break-even basis in 2013. It will be profitable in 2014."
In the meantime, Cumulus has made Nash FM in New York its flagship station for building a national, country radio-lifestyle brand. Dickey says that over the past year, Cumulus has re-branded roughly two dozen stations in cities around the country (most recently in Detroit and New Orleans) as Nash stations. The company also throws Nash-branded live events, such as the recent Nash Holiday Bash at New York's Beacon Theater.
Cumulus is also working behind the scenes to extend Nash beyond radio. According to Dickey, Cumulus has reached an agreement with American Media to reconfigure Country Weekly magazine as Nash magazine. The transition, says Dickey, will be completed at some point during the next couple of quarters and will, at the same time, help jump-start a more robust digital presence for Nash. "The Web will, in essence, follow suit with video and audio from all the things we are doing," says Dickey.
In November, Cumulus's chief radio rivals Clear Channel Communications announced an extensive cross-platform partnership with the country cable television network CMT. The battle of country music radio-lifestyle brands, in other words, is just getting started.
In the meantime, Dickey expects Nash FM in New York to keep climbing the charts. "We thought there was an under-served need," says Dickey. "I think a million [listeners] is proving that. We think it will grow to a million-and-a-half over the next 12 to 18 months."
Before it's here, it's on the Bloomberg Terminal.
LEARN MORE