Gannett Seen Divorcing Print From TV After Belo: Real M&A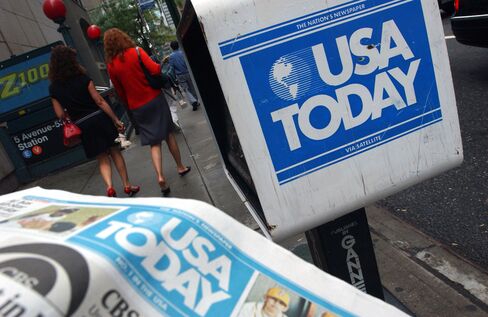 After doubling down on broadcast stations, Gannett Co. could create even more value for shareholders by joining a long line of media companies splitting publishing from television in recent years.
The owner of USA Today has rallied 42 percent since saying last year it was adding to its TV assets with the purchase of Belo Corp. The $6.4 billion company would be worth even more if it separated the publishing and broadcasting divisions, Gabelli & Co. said. Gannett may be valued at a combined $34.10 a share in a breakup, according to the average of five estimates from analysts and investors, handing shareholders an additional 21 percent gain.
Gannett is one of the last holdouts in an industry that's forsaking the traditional newspaper-TV marriage, as Time Warner Inc. and Tribune Co. follow News Corp. in divorcing print media from the faster-growing TV business. While Gannett's stock price surged after the purchase of Belo, the newspaper unit is still dragging the company's profit multiple down to the lowest among U.S. media peers, data compiled by Bloomberg show. Splitting off the newspapers would give Gannett a stronger stock currency to buy more local TV stations, FBR & Co. said.
A breakup "would follow a path that many have been down," William Bird, a New York-based analyst at FBR, said in a phone interview. "This is something that makes long-term sense. The growth profile of a newspaper publisher is definitely much below that of a broadcaster. That's kind of the lower-multiple business that pulls the whole down."
Belo Acquisition
When asked in July if the board would consider spinning off the publishing division, Gannett Chief Executive Officer Gracia Martore said "we never rule anything out." Jeremy Gaines, a spokesman for McLean, Virginia-based Gannett, declined to comment further.
The publisher of 82 U.S. daily newspapers, including the Tallahassee Democrat and Indianapolis Star, agreed in June to buy Belo for about $1.5 billion, and assume $715 million in debt, to help reduce its dependence on the shrinking print-news business. The transaction, which closed in December, increased its number of TV stations to 43 from 23 and made Gannett the fourth-largest owner of major network affiliates.
Gannett shares jumped 34 percent the day the deal was announced, and this month reached the highest price since May 2008.
There's room to boost shareholder returns even more by spinning off the publishing assets and concentrating on TV stations, said Barry Lucas, senior vice president of research at Gabelli. Gabelli's parent company, Gamco Investors Inc., oversees more than $43 billion, including Gannett shares.
Breakup Value
"Purer play companies allow management to put more focus and attention on the respective businesses," Lucas said in a phone interview from Rye, New York. "There is value to be surfaced here."
Lucas estimated the company could be valued at about $40 a share, 41 percent higher than yesterday's closing price of $28.27, if broken into pieces. His projection is the highest among the five sum-of-the-parts estimates compiled by Bloomberg.
Today, the stock rose 0.9 percent to $28.53.
Before the acquisition of Belo, newspaper publishing revenue of $3.7 billion accounted for about 70 percent of Gannett's revenue and 43 percent of its operating income in 2012. Broadcasting made up 17 percent of revenue and 52 percent of the profit, data compiled by Bloomberg show. Gannett also owns digital properties such as CareerBuilder, a jobs listing site.
Media Splits
In recent years, traditional media companies have been rewarded for separating their faster-growing TV assets from publishing operations, which have struggled to combat years of declining print advertising revenue.
Time Warner's stock has climbed 16 percent since March when it announced it will spin off its Time Inc. magazine business, expected to take place this year. Since Rupert Murdoch's News Corp. completed its split into two companies last year, the stocks have risen for the TV and film business, now called Twenty-First Century Fox Inc., and the remaining publishing business, which includes the Wall Street Journal.
Other media company breakups include Tribune's July announcement that it will spin off its newspapers and Belo's separation from print assets in 2008.
"Given the reaction that's happened with all the others, the market would encourage them to take a look" at a breakup, Westcott Rochette, a New York-based equity analyst at S&P Capital IQ, said of Gannett. "It's kind of like pushing for the last mile of the value" after the Belo deal.
Maximizing Value
Even with the stock gains since buying Belo, Gannett's enterprise value of $8 billion is just 5.8 times its projected 2014 earnings before interest, taxes, depreciation and amortization, according to data compiled by Bloomberg.
That's the lowest among U.S. local media companies with market values of more than $1 billion, and compares with multiples of 6.7 and 7.7 for TV station owners Sinclair Broadcast Group Inc. and Nexstar Broadcasting Group Inc., respectively, the data show.
"The outlook for newspapers is not terrific," Edward Atorino, a New York-based analyst at Benchmark Co., said in a phone interview. While Gannett has said it's striving to stabilize the declines in publishing revenue, a breakup "does make sense if they want to maximize the value of the stock."
Some investors are not as eager for a split, preferring to wait and see if Gannett can boost its stock price by better integrating the print, digital and TV assets and creating a one-stop shop for local advertising.
Skeptical Investor
"I do believe that the company is in somewhat of a 'show me' mode with regard to the Belo acquisition to increase returns," said Steven Soranno, an analyst at Bethesda, Maryland-based Calvert Investments Inc., which oversees $12.8 billion and owns Gannett shares. "If it can do that, Gannett wouldn't need to split up, at least not as quickly."
Lucas of Gabelli said he's skeptical that there's that much value created by keeping TV stations and newspapers tied together. The same opportunities could be achieved through commercial agreements, such as video sharing, he said. With Gannett's valuation lagging behind its peers, some shareholders may be ready to push more strongly for a split, he said.
"You may see some investor activism," Lucas said. "The math would suggest that there's an opportunity to create some shareholder value through doing a little financial engineering."
Before it's here, it's on the Bloomberg Terminal.
LEARN MORE