Big Cable Merger Jousting Enters Public Sniping Phase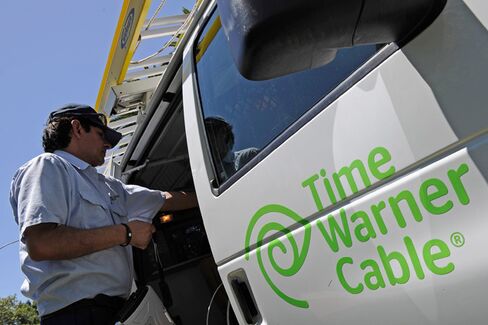 Call it the war of the dueling slides. In recent days, Charter Communications and Time Warner Cable have escalated their public sparring over a merger, with each company posting retorts to statements by the other.
Charter has begun taking its merger case to Time Warner Cable's shareholders, hoping to sell them directly on the benefits of its $37 billion, $132.50-per-share offer. TWC's board has dismissed that price as a "lowball" effort to "steal the company" and wants $160 per share, with at least $100 in cash. Time Warner Cable plans to discuss its quarterly results and business outlook with an extended analyst conference call on Jan. 30, a decision Charter also criticized as a "slow response" that ought to concern TWC's shareholders "and could reflect yet another delay tactic for a consensual deal."
Deliberate delays or not, two analysts who downgraded Time Warner Cable shares on Tuesday don't expect a quick resolution of a deal for the No. 2 cable company. Laura Martin, an analyst with Needham & Co., sees a "50-50 chance" that a deal will happen as the companies "just go back and forth" while Charter assembles its slate of directors to nominate for TWC's board. "I don't think you need to get to $160 per share to get the deal done," she says, noting a 40 percent rise in Time Warner Cable shares since rumors of Charter's interest began circulating last year. She also says the tax advantages Charter has—years of operating losses to curb future taxes—could lure shareholders.
Martin cut her recommendation to hold from buy, and the stock closed Tuesday at 134.59, just below Martin's 135 target. Nomura analyst Adam Ilkowitz also cut his view on the stock to neutral from buy, citing the valuation and noting his 125 target price. Any price above 150 would be difficult for Charter to accomplish by itself, and regulatory reviews could last up to nine months, he wrote in a client note, "leaving little upside when considering the time-value of money."
The largest U.S. cable operator, Comcast, may also enter the fray, either with Charter or to buy TWC assets that Charter might divest after a deal closes. Comcast wants to acquire Time Warner Cable assets in New York City, Los Angeles, and Charlotte, N.C., because they are located near the company's existing service areas and could help cut costs and sell new services, Bloomberg News reported on Jan. 17, citing two people familiar with the matter.
Before it's here, it's on the Bloomberg Terminal.
LEARN MORE