BOE Sees No Need to Raise Rate as Unemployment Declines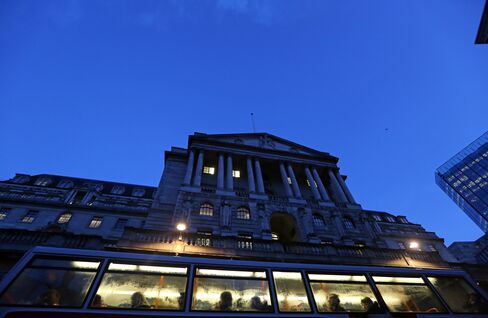 Jan. 22 (Bloomberg) -- Bank of England policy makers won't rush to raise interest rates when unemployment falls to the key 7 percent level that it's now on the cusp of reaching.
Data today showed the jobless rate slid more than economists forecast to 7.1 percent in the three months through November. The decrease pushes it close to the threshold at which BOE Governor Mark Carney said the Monetary Policy Committee will consider increasing borrowing costs from a record low.
The MPC "saw no immediate need to raise bank rate even if the 7 percent unemployment threshold were to be reached in the near future," it said in the minutes of its Jan. 8-9 meeting, published today. Cost pressures were "subdued" and headwinds to growth "would persist for some time," it said.
As the U.K. economy strengthens and unemployment drops, Carney is pushing back against investor bets that he will have to increase interest rates sooner than he has forecast. A majority of economists in a Bloomberg survey this month said Carney may adjust his guidance policy, and the latest slide in the jobless rate may increase the chance of that happening.
The pound climbed to a one-year high against the euro after the reports as traders added to bets of higher U.K. borrowing costs. Citigroup Inc. changed its forecast and now predicts the BOE will raise its key rate from 0.5 percent in the fourth quarter of this year.
Gradual Increases
Monetary conditions had "tightened further following evidence of a strengthening recovery," the minutes said. In a further defense of its plan to keep policy loose, the MPC said that when the time comes to boost the key rate, "it would be appropriate to do so only gradually."
The drop in the unemployment rate compared with the median estimate in a Bloomberg survey for a decline to 7.3 percent from 7.4 percent in the quarter through October. None of the 33 economists in the poll predicted 7.1 percent. In December, jobless claims fell 24,000, less than economists had forecast.
The BOE will publish new projections in its quarterly Inflation Report on Feb. 12. In a Bloomberg survey carried out earlier this month, 20 of 33 economists said the BOE will change guidance when releasing the new forecasts, with some forecasting a lowering of the threshold.
"It's quite possible that in one month's time we will be at the MPC's threshold," said Philip Shaw, an economist at Investec Securities in London. "There will have to be a change to guidance at some point relatively soon."
Rate Bets
The MPC said in the minutes that equilibrium unemployment "might be lower than previously thought." It has previously estimated a medium-run equilibrium rate of 6.5 percent.
Britain's currency strengthened 0.5 percent to 81.92 pence per euro at 1:30 p.m. London time, after reaching the most since January 2013. It climbed 0.5 percent to $1.6562.
Short-sterling futures fell, a sign investors added to bets for higher borrowing costs. The implied yield on the contract expiring in March 2015 rose nine basis points to 1.10 percent.
The BOE said it's now likely that the jobless rate will reach 7 percent "materially earlier than previously expected." It added that labor-market slack "might not have been eroded as much as the fall in the headline unemployment rate appeared to imply."
No Change
Stephen Cohen, the London-based head of investment strategy for international fixed income at BlackRock Inc., said policy makers won't change the guidance threshold because it risks denting their credibility.
"One of the key things about forward guidance is that it really does come down to people believing your forecasts," Cohen said at a briefing in London today. "It's very difficult to do away with a policy you put in place just six months ago. The challenge they have is how do they evolve that policy of forward guidance to meet the realities of what is happening."
On the economy, the MPC said the domestic recovery "appeared to have taken hold" and surveys pointed to above-trend growth around the turn of the year. Policy makers see upside risks to their near-term forecasts.
They said a "key unresolved question was whether there would be a cyclical improvement in productivity as the economy expanded further."
The MPC added that while risks to the global outlook "appeared more balanced," it would be hard for net trade to add to growth as long as activity in the U.K.'s main trading partners "remained subdued." Policy makers said that inflation expectations remain "well-anchored."
The minutes also showed that the MPC voted unanimously to keep its key rate unchanged this month and its asset-purchase program on hold. The benchmark rate has been at that level since March 2009.
To contact the reporter on this story: Emma Charlton in London at echarlton1@bloomberg.net
To contact the editor responsible for this story: Craig Stirling at cstirling1@bloomberg.net