Aberdeen Cheers Crackdown as NSE Prepares Fines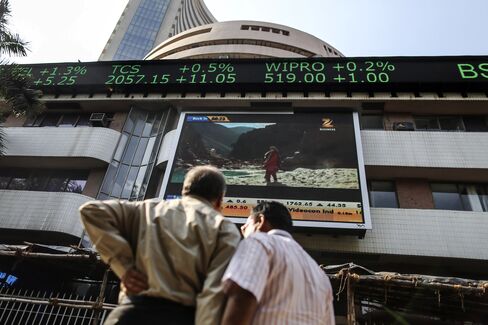 India's stock exchanges are stepping up pressure on listed companies to improve shareholder disclosures as foreign institutional investors boost holdings in Asia's fifth-largest equity market to an all-time high.
The National Stock Exchange of India Ltd. has asked at least 54 companies, including Reliance Industries Ltd. and Bharti Airtel Ltd., to provide more information or explain unusual share-price swings since Nov. 18, when the securities regulator compelled bourses to tighten oversight and levy fines for lax disclosures. That compares with 42 requests in the previous 11 months, data compiled by Bloomberg show.
Overseas money managers who bought $45 billion of Indian shares in the past two years are seeking more information from companies, while local mutual funds cite a lack of transparency as one reason they pulled $3.42 billion from equities in 2013.
"Greater scrutiny of companies is generally a positive," Hugh Young, a Singapore-based managing director at Aberdeen Asset Management Plc, which oversees about $319 billion worldwide, said in an e-mailed interview on Jan. 20. "India's disclosure standards are not great compared with developed markets."
The Securities and Exchange Board of India plans to announce new corporate governance rules next month as policy makers seek to prevent repeats of the payment default at the National Spot Exchange of India.
Penalties
Regulators globally are expanding scrutiny of markets from metals to currencies, tightening rules on capital buffers and cracking down on crimes from money laundering to interest-rate rigging. Global fines linked to the manipulation of the London Interbank Offered Rate, or Libor, have reached $6 billion.
India's National Stock Exchange will soon start imposing penalties on non-compliant companies, Senior Vice President Ravi Varanasi said in an interview on Jan. 21. Rival BSE Ltd., the nation's oldest bourse, has also increased scrutiny, according to V. Balasubramaniam, its chief business officer.
Fines can reach 10,000 rupees ($161) a day in case of delays in submitting financial results, according to Sebi's website. An additional penalty of 0.1 percent of the equity capital or 10 million rupees, whichever is less, will be levied on companies that fail to comply for more than 15 days.
In a note dated Nov. 18, the Sebi cited an International Monetary Fund report saying Indian exchanges "have not acted as vigorously as necessary in enforcing compliance" by issuers with the reporting rules.
Corporate Governance
"Stock exchanges must own up responsibility for improving corporate governance," U.K. Sinha, chairman of SEBI, said in an Jan. 21 interview.
The S&P BSE Sensex rose 9 percent in 2013, its best annual performance among the four-largest emerging markets, boosted by $20 billion of equity purchases by global investors last year, the most in Asia after Japan. Net purchases in 2012 were $24.6 billion, data compiled by Bloomberg show. The Sensex fell from a record today, losing 0.1 percent at 9:32 a.m.
There is a proposal to grant more sweeping powers to the regulator in search and seizure procedures, consent orders and prevention of insider trading, Sinha said.
"The NSEL fiasco and the new corporate governance rules have prompted this change," Sandeep Parekh, founder of Finsec Law Advisors Ltd. and a former Sebi executive director, said in a phone interview on Jan. 15.
Petronas Stake
Trading on NSEL was suspended in July after the country's largest spot exchange failed to settle about 56 billion rupees ($905 million) in dues to investors. The payment crisis led to shares of Financial Technologies (India) Ltd., which owns the bourse, sinking 84 percent in 2013.
When the NSE sought clarification from billionaire Mukesh Ambani's Reliance Industries regarding a newspaper report that the owner of the world's largest refining complex was looking to buy a stake owned by Petroliam Nasional Bhd in a $20-billion Venezuela venture, the company said Jan. 15 "it continues to look for opportunities to grow its business internationally and cannot make any specific comment on the media report."
Tushar Pania, Reliance's spokesman in Mumbai, didn't reply to an e-mail requesting comment.
The NSE asked Bharti Airtel Jan. 17 to verify a newspaper report that the country's top mobile-phone carrier was buying a rival operator. Bharti said three days later that it frequently receives proposals for potential transaction and won't comment on the "speculative news item." The company added that it had not released any specific information. Ashutosh Sharma, a spokesman at Bharti, declined to comment.
In January 2013, Sebi called for comments on its proposed measures to limit the tenure of auditors and independent directors, establish whistle-blower policies and screen related-party trades. The regulator could delist errant companies, fine managements and bar founders from raising money for non-compliance. The feedback on the proposals is being examined by the regulator, Sinha said.
"Investors are seeking quality information from companies and failure to provide it may bring down investors' trust," Jagannadham Thunuguntla, chief strategist at New Delhi-based SMC Global Securities Ltd., said by phone yesterday.
Before it's here, it's on the Bloomberg Terminal.
LEARN MORE