Merkel Allies Call for Tough EU Response to Libor-Fixing Scandal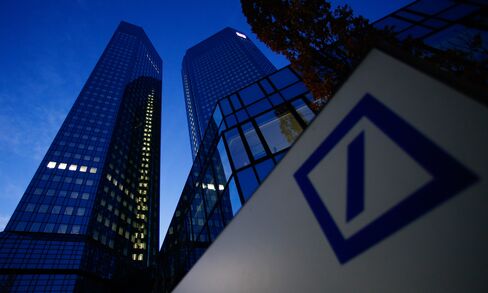 Jan. 22 (Bloomberg) -- German coalition lawmakers demanded a tough stance on regulating Libor, with greater supervision to shine a light on the role of banks in setting the international benchmark at the center of a rate-rigging scandal.
The comments by two senior members of Chancellor Angela Merkel's Christian Democratic Union party are the first indication of the German government's response to revelations of banks' manipulation of the London interbank offered rate, or Libor. Both lawmakers called for more transparency and the introduction of an overhauled system for rate-setting that allows for independent verification.
"The manipulation of interest rates that we've witnessed has shown that regulation is unavoidable," Ralph Brinkhaus, a deputy CDU leader in the lower house of parliament in Berlin, the Bundestag, said in an e-mailed response to questions. "We need better oversight and a new system for setting the Libor benchmark."
The German resolve to clamp down on rate-rigging reflects the Merkel government's determination to regulate banks, a drive that prompted a rare public spat last month between Finance Minister Wolfgang Schaeuble and Deutsche Bank AG's co-Chief Executive Officer Juergen Fitschen.
As Europe's biggest economy, Germany's stance also adds urgency to a wider debate under way between European Union states and in the European Parliament on how far to push their regulatory zeal.
Record Fines
The EU handed down record fines last month of 1.7 billion euros ($2.3 billion) for six companies including Royal Bank of Scotland Group Plc and Societe General SA for distorting Libor and other interbank rates. Deutsche Bank received the single biggest penalty, 725 million euros.
"Many members of the German Bundestag are outraged by the practices of the banks in the Libor scandal," Klaus-Peter Flosbach, a CDU lawmaker who specializes in finance policy, said in an interview.
Michel Barnier, the EU's financial services chief, unveiled plans in September to toughen regulation of benchmarks underpinning more than 1,000 trillion euros of financial contracts ranging from oil and sugar to mortgages.
The British Bankers' Association, whose members are among the world's largest lenders including those who contribute to Libor, was stripped of responsibility for the benchmark in April after regulators found banks had tried to manipulate it to profit from bets on derivatives. IntercontinentalExchange Group Inc. is due to take over control of Libor next month.
State Oversight
Flosbach, a former parliamentary finance spokesman for Merkel's bloc, said that while the benchmark shouldn't necessarily be fixed by the state, state supervision "should be introduced."
"The European Securities and Markets Authority would be an appropriate supervisory body to be involved in the oversight," he said.
Flosbach's stance is broadly in line with that of Barnier, who proposed tougher supervision of rate-setting whereby "critical benchmarks" such as Libor would be overseen by colleges of national regulators that would also include ESMA. The EU commissioner's blueprint differs from the U.K.'s approach, where ICE will take on Libor oversight on Feb. 1 from the Financial Conduct Authority, the financial-markets regulator tasked with watching over the benchmark since April.
The proposals from the commission, the EU's executive arm, require approval by national governments and by the European Parliament before they can take effect.
Germany's top financial regulator wants Barnier to go further because the plan relies too much on self-control. The commission proposal to regulate reference values​goes "in the right direction, but not far enough," Elke Koenig, the president of Bonn-based Bafin, said in a Jan. 16 speech.
To contact the reporter on this story: Birgit Jennen in Berlin at bjennen1@bloomberg.net
To contact the editor responsible for this story: James Hertling at jhertling@bloomberg.net