Novak Djokovic Upset by Wawrinka in Australian Open Quarterfinal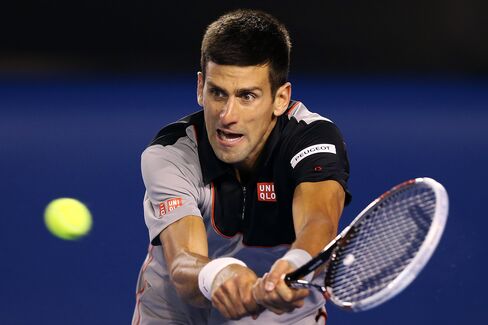 Four-time champion Novak Djokovic was upset by Stanislas Wawrinka in five sets in the Australian Open tennis quarterfinals.
Eighth-seeded Wawrinka won 2-6, 6-4, 6-2, 3-6, 9-7 in a four-hour match in Melbourne last night. In the women's draw, Canada's Eugenie Bouchard, 19, beat Ana Ivanovic to reach her first Grand Slam semifinal.
"He's a great champion and he never gives up," Wawrinka said in a televised courtside interview. "I'm really, really, really happy."
Wawrinka's first win against Djokovic since 2006 ends the Serbian's run of three Australian Open titles in a row and 14 straight Grand Slam semifinal appearances.
"One thing I can be proud of is that I gave my best," Djokovic, 26, told a news conference, adding that Wawrinka deserved to win. "Every time he was in trouble he was coming up with big serves. I congratulate him absolutely."
Wawrinka, a 28-year-old from Switzerland, will play Tomas Berdych of the Czech Republic in the semifinals. Berdych beat No. 3 seed David Ferrer earlier yesterday.
By defeating the Spaniard in three hours, Berdych ended a streak of three straight quarterfinal defeats in Melbourne. He has now reached the semifinal of each of the four Grand Slams.
'Extremely Tough'
"It was extremely tough," Berdych, 28, said, according to the ATP men's tour website. "After losing the third set I was really not playing my best."
Berdych, who won 6-1, 6-4, 2-6, 6-4, improved to a 5-7 record against Ferrer.
The Czech has lost six of his last seven matches against Wawrinka. While Djokovic had a 15-2 record against Wawrinka before yesterday's match, the Swiss took him to five sets in their last two Grand Slam meetings.
Djokovic won a five-hour round-of-16 match in Melbourne last year which ended at 1:41 a.m. and was the fourth-longest in the tournament's history. He rallied from a set down to beat Wawrinka in a four-hour match in the U.S. Open semifinals.
In quarterfinals today, fourth seed Andy Murray plays No. 6 Roger Federer and top seed Rafael Nadal faces No. 22 Grigor Dimitrov of Bulgaria. Second seed and defending champion Victoria Azarenka faces No. 5 Agnieszka Radwanska and No. 11 Simona Halep plays No. 20 Dominika Cibulkova.
Earlier yesterday, Bouchard, seeded 30th, won 5-7, 7-5, 6-2 against No. 14 Ivanovic of Serbia, who took an injury timeout late in the second set for a hip problem and seemed limited in her movement after returning to the court.
Bouchard had never before advanced past the third round of a Grand Slam tournament.
Great Expectations
"It's something I've been doing since I was five years old and working my whole life for and sacrificing a lot of things for," Bouchard told reporters. "So it's not exactly a surprise. I always expect myself to do well."
Ivanovic had defeated top-seed Serena Williams of the U.S. in the fourth round.
"I had a few very emotional wins, so today I really felt I was a little bit flat," Ivanovic said in a news conference. "Obviously it's very disappointing the way it ended."
Bouchard's next opponent, Li Na, has reached the Australian Open semifinals four times in the last five years. Li, 31, who is seeded fourth, won 6-2, 6-2 in 66 minutes against 28th-seeded Flavia Pennetta of Italy.