Colonial Shareholders Back Villar Mir in Restructuring Plan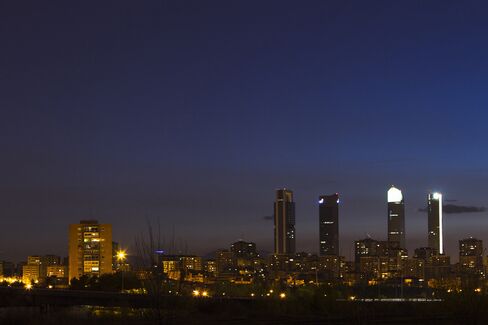 Shareholders in Inmobiliaria Colonial SA accepted proposals from a group of investors led by Grupo Villar Mir to back Spain's largest publicly traded developer with a capital increase.
A rival offer from a fund owned by Brookfield Asset Management Inc. to restructure Colonial's 1.8 billion-euro ($2.4 billion) syndicated loan, of which Brookfield holds 46 percent, wasn't put to a vote at a shareholder meeting in Barcelona today.
Colonial, which owns office buildings in Madrid, Barcelona and Paris, has struggled with mounting losses and debt from its expansion during the real estate boom in Spain. Shareholders approved a 1 billion-euro capital increase in which investors including Grupo Villar Mir, which holds a 19.3 percent stake in Colonial, and Grupo Santo Domingo have committed to invest as much as 500 million euros.
"One of Villar Mir's conditions for the capital increase is refinancing debt, and there Brookfield could block the plan as a major creditor," said Juan Moreno, an analyst at Grupo Ahorro Corporacion in Madrid, with a sell recommendation on the stock, speaking before the vote.
Stake Sale
Toronto-based Brookfield's proposal included selling Colonial's stake in French real estate investment trust Societe Fonciere Lyonnaise SA, the company said Jan. 17, while investors led by Grupo Villar Mir want Colonial to keep a controlling stake. The fund would have been prepared to help increase capital and to make a full takeover bid for Barcelona-based Colonial if Spain's stock market regulator required it to, Brookfield said in its offer.
"We're the largest creditor in Colonial and we are very interested in the result of current discussions over the company's restructuring," Brookfield said earlier this month.
Colonial's nine-month net loss widened to 369 million euros from 201 million euros a year earlier, the company reported Nov. 14. Net debt stood at 3.49 billion euros, according to the filing.