Slowing GDP Complicates China's Reform Goals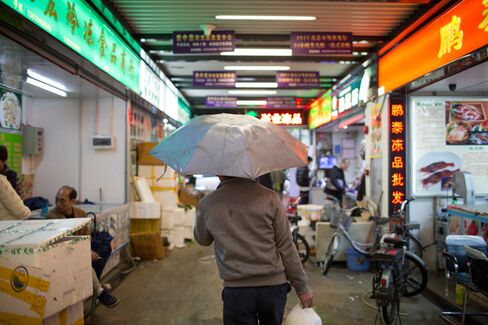 Even as China's leaders aim to implement sweeping economic reforms, the country is in slowing mode. Gross domestic product grew by 7.7 percent in the last quarter of 2013, as compared to 7.8 percent in the previous three months, the National Bureau of Statistics announced on Monday. For all of last year, economic growth came in at 7.7 percent.
"The modest slowdown in GDP growth that China has just reported … is universally expected to be the first installment of a series of weaker growth numbers," writes Andrew Batson, China research director at Beijing-based GK Dragonomics. "What this means is that the brief honeymoon period in which China's leadership could deliver both structural reforms and accelerating growth is now over."
With investment slowing and the country facing multiple challenges, including controlling excessive debt and unregulated shadow banking, China may register the slowest economic expansion in almost a quarter century this year. GDP will expand 7.4 percent in 2014, according to a Bloomberg survey of analysts last month, the weakest since 1990.
Fixed-asset investment—including into bridges, buildings, rail, and factories—slowed to 19.6 percent last year, below analysts' expectations of 19.8 percent and down from 20.6 percent in 2012. Meanwhile, industrial production was up 9.7 percent in December from the same period a year earlier, below the median forecast and the 10 percent recorded in November.
There was some good news. Last year, for the first time ever, services accounted for the lion's share of GDP rather than the secondary sector or industry and construction, said Ma Jiantang, director of the statistics bureau at a press conference. Retail sales were up by 13.6 percent in December, compared to 13.7 percent the previous month.
"China's economic performance stabilized in 2013," said Ma, citing as optimistic signs GDP growth (above the 2013 target of about 7.5 percent) and relatively strong jobs numbers, as well as only moderate inflation, reported the official Xinhua News Agency on Jan. 20. Last year, China added 10 million new jobs and inflation came in at only 2.6 percent—well below the target of around 3.5 percent.
"We have set a reasonable range of economic performance with a lower limit designed to ensure steady growth and job creation and an upper limit which is meant to avert inflation," Premier Li Keqiang said in a speech on Sept. 12 at a World Economic Forum meeting in Dalian, China. In a speech the following month to members of the official trade union, Li said that 7.2 percent growth is needed to create the needed 10 million new jobs annually.
Before it's here, it's on the Bloomberg Terminal.
LEARN MORE