Shanghai Urges Kids to Stay Indoors on High PM2.5 Levels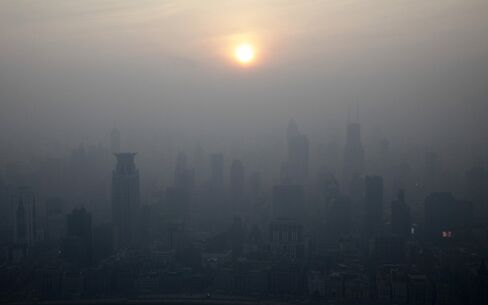 Shanghai warned children and the elderly to stay indoors as haze engulfed the city, sending PM2.5 levels to more than 10 times the World Health Organization recommended range.
The air quality index was 202 as of 10 a.m., signaling "heavy pollution," the third worst in a six-tier warning system, according to the website of the city's environmental monitoring center. The level of PM2.5 pollutants was 261.5 micrograms per cubic meter. The WHO recommends exposures of no more than 25 over a 24-hour period for particles that are smaller than 2.5 microns in diameter and more dangerous to health than other particulate matter.
Shanghai will pay more attention to air pollution, particularly the treatment of PM2.5 particulate matter, Mayor Yang Xiong said at a session of the municipal people's government yesterday. The city will implement its clean air action plan this year, he said.
Air quality began deteriorating on Dec. 18 when the city issued a similar warning and continued as legislators opened their first session of the year where they are discussing economic, environmental and social plans. Heavy pollution is expected to lighten by the afternoon, the city said on its official microblog today.