Iran Nuclear Freeze Verification Sets Up Sanctions Reprieve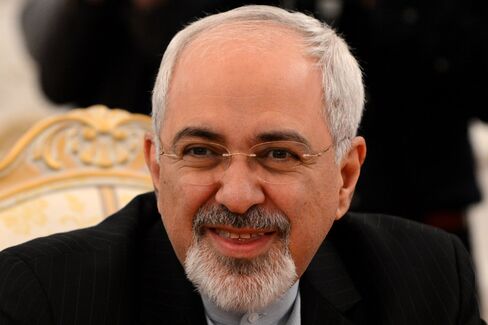 United Nations atomic inspectors verified that Iran froze its most sensitive nuclear work, complying with demands made by world powers in a deal that will lift some of the sanctions hobbling the Persian Gulf nation.
International Atomic Energy Agency investigators reported that Iran suspended uranium enrichment over 5 percent, stopped installing centrifuges and paused construction of a heavy-water reactor, according to a two-page restricted report obtained by Bloomberg News. Some of the trade sanctions and capital controls imposed on Iran because of its nuclear program will now be lifted under the Nov. 24 accord agreed in Geneva.
Implementation of the agreement sets the clock ticking for Iran, which has pledged to eliminate its stockpile of 20 percent enriched uranium over six months. The so-called P5+1 group -- the U.S., the U.K., France, Russia, China and Germany -- is allowing about $7 billion in sanctions relief. The accord is the first major crack in the deadlock over Iran's nuclear program since 2003.
"Both sides will try to preserve the existing momentum by regular injections of positive IAEA reports and diplomatic encounters," Ali Vaez, an Iran analyst at the International Crisis Group, a Brussels-based conflict-resolution organization, said in an e-mailed reply to questions. "This is not the end, but it might be the beginning of the end."
Final Solution
Sanctions on precious metals, petrochemicals and shipping insurance as well as airplane and auto parts will be lifted immediately, the European Union said today in a statement. Iran will receive the first payment on $4.2 billion in previously blocked funds on Feb. 1, when it gets a $550 million installment, the White House said last week.
Iranian oil exporters, financial institutions and companies linked to its nuclear program continue to be sanctioned under the deal.
"Over the coming six months, proper implementation of the agreed measures will be key," European Union foreign policy chief Catherine Ashton said today in a statement. "This is an important first step, but more work will be needed to fully address the international community's concerns regarding the exclusively peaceful nature of the Iranian nuclear program."
Iran has been providing good cooperation with IAEA inspectors, who will double in number to fulfill the accord, according to a diplomat familiar with the investigation, who didn't want to be named because the information isn't public.
Ingrained Skepticism
Iranian Foreign Minister Mohammad Javad Zarif said on his Facebook page yesterday he hoped the execution of the deal's initial phase will yield "positive results for the country and stability in the region" and "provide a base for fundamental negotiations toward a final solution."
Iran, with the world's fourth-biggest proven oil reserves, says that its nuclear program is solely for civilian purposes, while the U.S. and its allies accuse it of seeking to develop nuclear-weapons capability.
"Ingrained skepticism about the good faith of the Islamic regime remains one of the main sources that could endanger the process," Francois Nicoullaud, France's former ambassador to Iran, said in an e-mail. "The quality of Iran's implementation of the Geneva agreement will reduce such obstacles."
Israel, Saudi Arabia and members of the U.S. Congress have criticized the pact for allowing Iran to keep key elements of its nuclear program. Iran and the P5+1 may resume talks next month, Ashton said today.
Agree to Disagree
"Some of the toughest problems in the negotiation will be defining the parameters of an Iranian enrichment program that is consistent with Iran's practical needs," said the U.K.'s former IAEA envoy, Peter Jenkins, in an e-mail. "I suspect the U.S. and Iran will have to agree to disagree" on whether uranium enrichment is a guaranteed treaty right, he said.
The IAEA reported in November that Iran's stockpile of 20 percent uranium, the material that could most readily be enriched to bomb-grade fuel, was about 196 kilograms (432 pounds). Under the Geneva accord, Iran has to convert half that amount into metal and dilute half to below 5 percent purity.
There are no technical obstacles or bottlenecks that would prevent Iran from meeting the agreement's targets, according to the diplomat who was briefed on Iran's implementation.
West Texas Intermediate crude slid from the highest closing price in two weeks, with futures losing as much as 0.9 percent in New York. WTI for February delivery fell as much as 81 cents to $93.56 a barrel in electronic trading on the New York Mercantile Exchange and was at $93.53 as of 3:57 p.m. London time.
Rial Gains
Iran's national currency appreciated to 29,000 rials to the dollar, compared to 29,450 two days ago, according to figures compiled by Daily Rates for Gold Coins & Foreign Currencies, a Facebook page used by traders and companies in Iran and abroad.
"This deal holds a great deal of promise," Paul Ingram, executive director at the British-American Security Information Council, a policy advisory group, said from London. "Anyone suspicious of Iran or critical of the deal should read carefully the confirmation that Iran is clearly abiding by the terms of the agreement."