Jardine to Buy 20% Stake in China Luxury Auto Dealership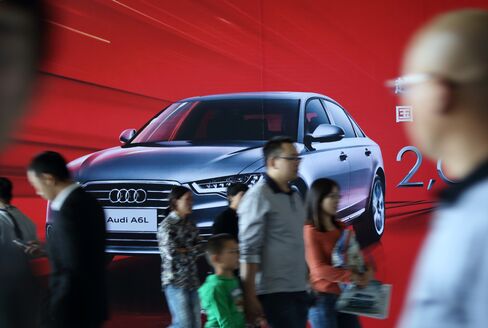 Jardine Strategic Holdings Ltd. agreed to buy a 20 percent stake in Chinese premium car distributor Zhongsheng Group Holdings Ltd. to benefit from rising luxury demand in the world's biggest auto market.
Jardine Strategic, the owner of hotels to convenience stores around Asia, will invest about HK$5.6 billion ($722 million) in Beijing-based Zhongsheng, a distributor of luxury car brands including Mercedes-Benz, Audi and Porsche. The Chinese company will use the funds to expand the number of sales outlets in the country, according to a statement yesterday.
The investment by Jardine Strategic, a member of the Jardine Matheson Group that traces its roots back to 1832 and installed the first elevator in China in 1930, expands the company's presence in a market that became the first to surpass 20 million in annual new vehicle deliveries last year. Its unit also sells Mercedes-Benz in Singapore and Toyota Motor Corp.'s cars in Indonesia.
"Jardine is not only a financial investor but also a strategic investor," said Ole Hui, a Hong Kong-based analyst at Mizuho Securities Asia Ltd. "This may be just the first step in a longer term cooperation."
Zhongsheng will issue 238.6 million shares at HK$10.80 each and sell convertible bonds worth HK$3.09 billion to Jardine, according to the statement. After fully exercising the convertible bonds, Jardine Strategic will own about 20 percent of Zhongsheng, according to a statement.
Zhongsheng's shares rose 8.9 percent, the most since December 2011, to close at HK$12.54 in Hong Kong. Jardine's shares fell 1.5 percent to $34.10 in Singapore.
Strategic Investment
"Zhongsheng is one of China's premier motor dealership groups representing many internationally renowned marques," Adam Keswick, Jardine Strategic's director, said in a statement. "This long-term strategic investment provides us with a greater exposure to the Mainland market in a sector we understand well and in which we believe that Zhongsheng has the potential for substantial growth."
Jardine sells Mercedes-Benz and Citroen vehicles in Singapore and Malaysia through its Singapore-listed unit, Jardine Cycle & Carriage Ltd., which in turn owns the majority share in Jakarta-based PT Astra International, a distributor of Toyota cars and Honda Motor Co. motorcycles.
Another Jardine company, Jardine Motors, sells motor vehicles in Hong Kong, Macau, mainland China and the U.K., according to the company's website.
"The combination of Zhongsheng's strong presence in the China motor dealership market, coupled with Jardines' in-depth experience in the sector across Asia and its long-term vision, represents a power partnership," Zhongsheng Chairman Huang Yi said in a statement.
Zhongsheng net income gained 32 percent to 489 million yuan ($81 million) in the first half of last year. It had 163 dealerships in China, according to its 2013 interim report.
— With assistance by Alexandra Ho
Before it's here, it's on the Bloomberg Terminal.
LEARN MORE