Buyout Firms Shift to German Offices From Housing: Real Estate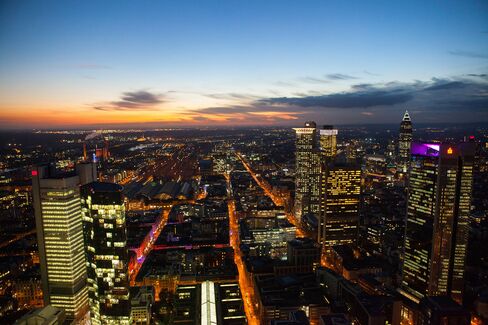 Blackstone Group LP, the private-equity firm that cashed in on Germany's booming housing market last year, plans to join the ranks of investors shifting money into the country's commercial properties, where financially-strapped owners are under pressure to make deals.
Investors from insurers and pension funds to buyout firms last year spent the most on German offices, stores and warehouses since 2007, broker Savills Plc estimates. Blackstone and its competitors want to join the acquisition spree even as values increase.
"Residential is getting too expensive and they're using the peak to liquidate," said Fabian Klein, the Frankfurt-based head of German investments at CBRE Group Inc. "There's clearly more interest from opportunistic investors" in commercial-property deals.
Private-equity firms accounted for 3 percent of the 30 billion euros ($41 billion) that investors paid for German commercial real estate in 2013 and that will probably climb to 10 percent this year, London-based Savills said. Demand is rising in anticipation of new properties becoming available as banks and cash-strapped owners sell distressed assets.
In December, Blackstone agreed to buy three warehouse properties in Germany for about 100 million euros, a person with knowledge of the matter said. The seller is CS Euroreal, a Credit Suisse Group AG mutual fund that's in liquidation, said the person, who asked for anonymity because the deal hasn't closed. Blackstone and Credit Suisse declined to comment.
Benson Elliot Capital Management LLP, a U.K.-based private-equity real estate firm, in December made its first commercial-property purchase in Germany since 2006.
$11 Billion Fund
Blackstone's real estate business has stepped up investments since 2008, when it raised an $11 billion fund to purchase buildings around the world. Last year, the New York-based company raised $13.3 billion to create the biggest opportunistic property fund. The company has been investing in European real estate for almost two decades and in 2012 it founded LogiCor, a European warehouse owner and operator.
As part of that strategy, Blackstone wants to double its European warehouse holdings within two years. The company's been slow to enter the German logistics market because prices are higher than in other countries, Jonathan Lurie, a London-based managing director in charge of Blackstone's European property investments, said in an interview. The company's also looking for retail properties, he said.
Falling Yields
Yields for the best logistics properties in Germany's six largest cities declined to an average of about 6.6 percent in the fourth quarter from 6.9 percent a year earlier, according to data compiled by Jones Lang LaSalle Inc. Lower yields indicate that prices are increasing.
"The market has of course increased in value, but there remain opportunities to invest in properties where further work is required on stabilizing or improving occupancy," Lurie said.
Blackstone and Apollo Global Management LLC were among the private-equity investors that sold German housing assets in 2013 as prices rose for a fifth year. Apartment values climbed to the highest since at least 2003 in the third quarter, according to the VDP Association of German Pfandbrief banks, even as buyout firms made fewer acquisitions.
Last year, their share of residential property investments declined to about 6 percent of the total from 13 percent in 2012 and as much as 50 percent in the years leading up to the financial crisis, Savills estimates.
'Well-Capitalized'
"The residential industry is increasingly well-capitalized," Lurie said.
Blackstone in April agreed to sell 6,900 Berlin apartments to Deutsche Wohnen AG and is in talks to sell its stake in 30,000 homes held by Vitus Immobilien Sarl. In July, Apollo sold a stake in residential landlord Deutsche Annington Immobilien SE.
The increased appetite for commercial deals is underpinned by the strength of the German economy, the largest in Europe. The Bundesbank in December projected growth of 1.7 percent in 2014 and 2 percent in 2015, saying the economy was in "good shape." Last month, German investor confidence rose to the highest in seven years.
"Investors are more willing to take on commercial leasing risk than they were 12 or 18 months ago," said Philipp Braschel, head of German investments at Benson Elliot. "The outlook on extending leases and on moderate rental growth is more positive than it was a year ago."
Frankfurt Acquisition
Benson Elliot in December bought the Turmcenter, an office property in Frankfurt, from German state-owned lender Landesbank Baden-Wuerttemberg. The firm expects to be a net buyer of commercial real estate in 2014, and has been a net seller of homes since 2012. In July it divested 360 Berlin apartments.
Private-equity investors in particular are attracted to commercial-property deals because more distressed properties are being offered for sale, said Andreas Wende, head of investments at Savills in Frankfurt.
Cheap commercial deals are more widely available in secondary locations, such as smaller towns or unpopular neighborhoods of large cities, Wende said. In contrast, prices for the best properties in popular locations have risen to record highs, he said.
Prime office yields in central Frankfurt, Germany's financial capital, were 4.5 percent at the end of 2013, while yields for less attractive office buildings on the city's outskirts were 6.4 percent, according to data from Savills.
Distressed Assets
Royal Bank of Scotland Group Plc in June sold an office building on the outskirts of Mannheim, a town the size of Cincinnati, to Activum SG Capital Management Ltd., according to the Jersey-based private-equity firm. The property became available after Morgan Stanley Real Estate funds defaulted on the debt, Activum Chief Executive Officer Saul Goldstein said. RBS and Morgan Stanley declined to comment.
"For us it's a value-add situation," Goldstein said. "We do our leasing work, we stabilize the asset and then we move it in a couple of years."
Many of the properties targeted by private-equity firms are legacies of a two-year buyout boom that ended in 2007, when investors bought overpriced assets with small down payments, Wende said. As financing for these assets runs out, the properties are put up for sale by the lenders or the cash-strapped owners, Wende said.
"There are forced sellers who haven't been able to achieve their asking prices," Braschel said. "They're simply ready now to take the haircut they have to take."
Unwinding Loans
European banks have more than 200 billion euros of distressed German commercial property loans on their books that must be either sold or held until maturity, said Daniel Mair, a transactions adviser at Ernst & Young LLP in Frankfurt. German bad banks created to wind down loans formerly held by Hypo Real Estate Holding AG, Commerzbank AG and WestLB AG, have performing and non-performing loans valued at about 40 billion euros, according to data compiled by Bloomberg.
Banks that divested non-performing property loans last year include Wells Fargo & Co., which sold nine shopping malls to Cerberus Capital Management LP. In February, Lloyd's Banking Group Plc agreed to sell loans on German supermarkets and home-improvement stores valued at about 400 million euros to New York-based investment firm Marathon Asset Management LP, a person with knowledge of the deal said. The person asked not to be identified because the information is private. Lloyds declined to comment and no one at Marathon responded to requests for a comment.
Liquidated Holdings
Another source of commercial-property deals will be seven German mutual funds that are liquidating their holdings after investors tried to withdraw more money than the funds had available. Funds including Credit Suisse Group's CS Euroreal and SEB Asset Management's ImmoInvest own more than 5 billion euros of offices and shops in Germany that by law must be sold by 2017, according to data compiled by Berlin-based research firm Scope Corporation AG.
The private-equity industry is unlikely to abandon Germany's residential-property market altogether. Last year, buyout firms accounted for about 6 percent of all investments in the market, compared with as much as 50 percent in the years leading up to the financial crisis, Savills estimates. Even so, companies like Blackstone are still on the look-out for deals.
"Residential is a sector where we've had a lot of success for our investors, and that we have a strong appreciation for," Lurie said. "We'll try to find a way to stay active in it."