Syrian Invitation to Iran Prompts Rebels to Suspend Talks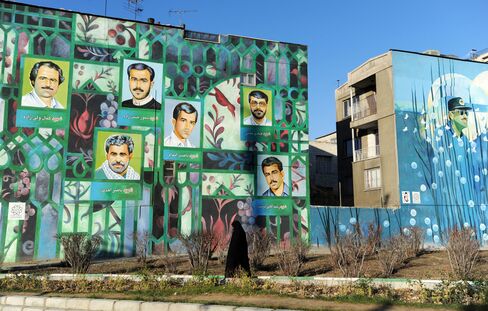 Syria's opposition suspended its pledge to attend this week's peace talks in Switzerland after the United Nations invited Iran, jeopardizing the latest attempt to end a war that's killed more than 100,000 people.
The Syrian National Coalition, the main opposition political group, will attend only if the invitation to Iran is withdrawn, or if Iran accepts an international plan adopted in 2012 that calls for a transitional government, Badr Jamous, the coalition's secretary-general, said in a phone interview from Istanbul.
Iran will attend the talks without preconditions, Foreign Ministry spokeswoman Marzieh Afkham said today, according to the state-run Islamic Republic News Agency.
The UN's invitation may sabotage what would be the first face-to-face meeting between the Syrian regime and the opposition, a chance to begin negotiating a political solution to the bloodiest conflict since the 1994 Rwandan genocide. The violence, which began in March 2011 on the heels of peaceful protests, has spilled over into neighboring countries, fueled a resurgence of Islamic extremist groups affiliated with al-Qaeda, endangered regional stability and affected oil markets.
Syria lost 11.9 million barrels of crude last year due to violent acts against its energy supplies, Petroleum Minister Suleiman al-Abbas said today, according to the state-run SANA news agency. Average crude output in 2013 fell 142,000 barrels a day to 28,000 barrels a day from a year earlier, Abbas said.
'Surprise 48 Hours'
UN Secretary-General Ban Ki-moon yesterday asked Iran, the foremost ally of Syrian President Bashar al-Assad, to join 39 other countries at the conference in Montreux, Switzerland on Jan. 22, in advance of negotiations between the two warring Syrian parties in Geneva that are scheduled to start Jan. 24.
The first rebel delegates were due to leave for Switzerland at 10 a.m. local time today and have postponed their departure, Jamous said.
The coalition had made its opinion clear on Iran's participation in previous talks with UN officials, and "we can't understand why we have this surprise 48 hours before the conference."
Iran must explicitly accept that the negotiations aim "to establish a transitional government in Syria with full executive powers," French Foreign Minister Laurent Fabius said in a statement. "No country can take part in the conference unless it expressly accepts that conference's mandate."
Geneva Communique
The U.S. expects the UN to rescind the invitation to Iran since the Islamic Republic has failed to support the 2012 Geneva I communique that is the basis for the negotiations, according to two State Department officials who asked not to be named in accordance with policy.
The officials would not say whether the U.S. would attend if Iran is allowed to participate. Secretary of State John Kerry spoke with Ban over the weekend to emphasize the view that Iran must endorse the communique, the officials said.
The Iranian Foreign Ministry's statement demanding no preconditions for attending the talks, was "not consistent" with the oral assurances Ban had received on Iranian support for the peace conference, UN spokesman Martin Nesirky told reporters today in New York.
Ban is "urgently considering" his options after also seeing the "deeply disappointing" reaction from some key invitees who conditioned their attendance to the inclusion or exclusion of other participants, Nesirky said.
'Not a Surprise'
The dispute began yesterday, when Ban told reporters of the invitation to Iran. "Iran needs to be part of the solution to the Syrian crisis," he told reporters in New York. "Iran said that they are committed to play a very constructive and important and positive role."
The timing of Ban's inviting Iran "could not have been a surprise" for the U.S., because the UN has been in close contact with the U.S., Russia and others regarding the matter, Nesirky said.
Ban said he and Iranian Foreign Minister Mohammad Javad Zarif agreed that "the goal of the negotiations is to establish, by mutual consent, a transitional governing body with full executive powers."
It was on that basis that Zarif "pledged that Iran would play a positive and constructive role in Montreux," he said.
The coalition said it would gives Iran until 7 p.m. GMT today to make a "clear public" pledge to withdraw troops and allied militias from Syria, accept Geneva I and make a positive commitment on Geneva II, according to an e-mailed statement.
'Immoral' Decision
If that doesn't happen, the coalition said it would ask Ban to rescind the invitation to Iran and the group won't attend the Geneva talks, the group said in a statement.
Iranian Deputy Foreign Minister Hossein Amir-Abdollahian said the insistence that Iran declare its acceptance of Geneva I is "totally rejected," state-run Al-Alam TV said on its Facebook page.
Soner Ahmed, a coalition spokesman, said in an interview that the UN's last-minute decision "is immoral, even in politics." Coalition member Ahmad Ramadan said the group's general assembly may meet for a new vote on Geneva that would take into account the latest developments. "The decision will be a very difficult one," Ramadan said in a phone interview from Istanbul.
Shada Islam, a director at the Friends of Europe policy-advisory group in Brussels, said in a phone interview that: "Iran will have to be involved in the Syria talks at some point because you won't get a durable deal without Tehran."
'Big Risk'
Jan Techau, director of the Brussels office of the Carnegie Endowment for International Peace, said Ban took a "big risk" by inviting Iran. "To get results, Iran has to be part of the talks," Techau said. "Still, you could probably have played this more smartly."
The opposition says any transitional government must have full executive powers and no role for Assad.
Syria's civil conflict has become a proxy war pitting Saudi Arabia, the Gulf's leading Sunni power, against Shiite Iran and its proteges.
Saudi Arabia, which has supported the mostly Sunni rebels, said Iran is "not qualified" to attend Geneva, according to a statement on the official Saudi Press Agency.
"It has troops fighting alongside regime forces" and hasn't declared its support for the transitional government, according to the statement which cited an unnamed official.
In an interview with the Agence France Presse news agency, Assad said there's a "significant" chance he will seek another term of office. Losing the war would mean "chaos" across the Middle East, according to AFP.
Asked whether China supports Iran joining the talks, Foreign Ministry spokesman Hong Lei said in Beijing it supported "regional countries" taking part in the Geneva meeting.
The U.S. and Russia have been trying to hold the UN-backed peace conference since last year, saying the talks offer the only political solution.
Before it's here, it's on the Bloomberg Terminal.
LEARN MORE