Thai Protest Blasts Injure 28 Ahead of Planned Election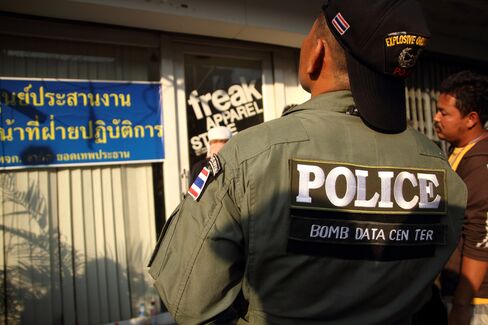 At least 28 people were injured as two explosions rocked a protest site in Bangkok yesterday, adding to almost daily attacks as groups push to oust Prime Minister Yingluck Shinawatra and derail a Feb. 2 election.
The afternoon blasts occurred at Victory Monument, one of seven key districts that have been blockaded by demonstrators in the capital since Jan. 13, according to the Bangkok Emergency Medical Center. Violence over the past three days has killed one and wounded 67, the center said on its website.
Suthep Thaugsuban, a former opposition party lawmaker, is escalating efforts to cause chaos in the capital to destabilize Yingluck's administration. He wants the government replaced with an unelected council that would change laws to prevent parties linked to former premier Thaksin Shinawatra returning to power, risking a backlash from some of the 15 million people who voted for Thaksin's sister in the 2011 election.
"The government will try to prevent encounters between groups that support and oppose the election because the people who want it to go ahead are becoming more active," National Security Council head Paradorn Pattanatabut told reporters yesterday. Growing numbers of people have joined candle-light vigils in Bangkok in recent days, adopting "respect my vote" as the movement's slogan and calling for an end to violence.
Suthep's critics have said he aims to create enough turmoil to spur the intervention of the military in a repeat of a 2006 coup that toppled Thaksin, whose allies have won the past five elections on support from rural northern and northeastern regions. The protesters, mostly middle-class Bangkokians and Democrat party supporters from southern provinces, say Yingluck's government is illegitimate and run from abroad by Thaksin, who faces a two-year jail term for corruption if he returns in a case he says was politically motivated.
Grenade Attack
Nine people have been killed since anti-government protests began Oct. 31, including a man who died from injuries sustained in a Jan. 17 grenade attack on a protest march near Bangkok's Chulalongkorn University. Suthep blamed the government for the attack, while Foreign Minister Surapong Tovichakchaikul questioned a decision by organizers to change the rally route without giving the police enough time to ensure it was safe.
"A group of people with evil intentions joined the protests and tried to create a situation to defame the government," Surapong said yesterday, after the police found that the grenade was thrown from among the protesters.
Yesterday's attack at Victory Monument may have been caused by "a group of people who intended to incite violence to reduce the number of protesters," Winthai Suvaree, the deputy army spokesman, told reporters. "It's dangerous because it could have the opposite result and draw more people to join the protest to demand justice."
United Front
The government will tighten security in Bangkok and Thailand's southern provinces as it seeks to avoid clashes between anti-government protesters and the growing number of groups that support the election, NSC head Paradorn said.
The government, police and military are united in efforts to prevent the protests turning violent and to ensure the election goes ahead, Yingluck said Jan. 17.
An election is "the only way that we can hear the people," Yingluck said, while repeating that she is open to talks with demonstrators. The Election Commission has urged the government to defer the vote until May, saying the political environment is too tense to proceed next month.
Rice Payments
The protesters plan to rally outside the headquarters of the Government Savings Bank today, Suthep told supporters late yesterday, adding that state-owned lenders should withhold support for the government's rice-purchase program. He also called for supporters outside Bangkok to close down government offices in Thailand's provinces.
Suthep's former party, the Democrats, have lost every national election over the past two decades and plan to boycott the poll. Overseas voting started yesterday, according to the foreign ministry's website.
Yingluck dissolved parliament Dec. 9 and announced the election, a day after the Democrats resigned en masse to join the demonstrations, which at their peak drew more than 200,000 people. Protesters initially took to the streets to oppose a proposed amnesty law that they said would benefit Thaksin, which the government later abandoned. The demonstrations later morphed into a broader movement to erase Thaksin's political influence.
Surapong on Jan. 17 said supporters of Thaksin, known as red shirts, won't confront rival protesters in Bangkok. "They try to protest or show their support outside the Bangkok area, so I think civil war will not happen," he said.
More than 90 people were killed in 2010 when Suthep and Abhisit Vejjajiva, who was prime minister at the time, set up live fire zones and ordered the army to disperse pro-Thaksin red shirts occupying Bangkok's shopping district.
"The prime minister has reiterated to security personnel to exercise restraint at all times and has instructed them to perform their duties in line with international standards as well as not to use any weapons," Surapong said.
Before it's here, it's on the Bloomberg Terminal.
LEARN MORE