Top-Seeded Williams Ousted From Australian Open by Ivanovic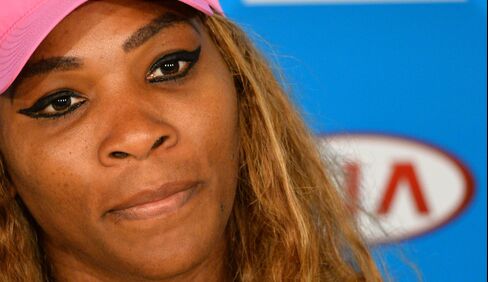 Top-seeded Serena Williams was knocked out of the Australian Open today by Serbia's Ana Ivanovic, ending the American's bid for her sixth title at the season's opening Grand Slam tennis tournament.
Ivanovic, the 14th seed, won 4-6, 6-3, 6-3 in just under two hours to reach the quarterfinals in Melbourne for the first time since she made the final in 2008. She had not won a set in four previous matches against Williams.
Williams, 32, who won the tournament in 2003, 2005, 2007, 2009 and 2010, came into the fourth-round contest on a 25-match winning streak. Though she did not blame her loss on back pain, her strength and movement seemed limited in the match.
"I made a tremendous amount of errors, I missed shots I normally don't miss," Williams said in a news conference. "I wasn't hitting the way I normally hit and I wasn't moving the way I normally move. I know for a fact I can play so much better than I did today. I can play 10 times better than I did today."
Three-time defending champion Novak Djokovic, who is seeded second this year, and third-seeded David Ferrer reached the men's quarterfinals.
Djokovic, of Serbia, won 6-3, 6-0, 6-2 against No. 15 Fabio Fognini of Italy. Ferrer, from Spain, was a 6-7 (5-7), 7-5, 6-2, 6-1 winner against unseeded Florian Mayer of Germany.
Considered Quitting
Williams, who had lost only one of 52 previous Australian Open matches in which she won the first set, said even though she was on "the strongest meds I can take that are legal," the pain was so bad that she considered dropping out of the tournament before her third-round match against Daniela Hantuchova of Slovakia.
"Yeah, definitely didn't feel myself today," she told reporters. "Maybe I wasn't the best physically, but that had nothing to do with it."
Though Williams had 13 aces to one for Ivanovic, the American won only 59 percent of the points on her serve as opposed to 69 percent for her opponent. Williams had 22 winners and 31 unforced errors, while Ivanovic had 33 winners and 27 unforced errors.
"I really did certain things extremely well, and I kept her under pressure I felt throughout the whole match," Ivanovic, 26, a former top-ranked player who won her only Grand Slam title at the 2008 French Open, told reporters.
Joining Ivanovic in the women's quarterfinals were No. 4 Li Na of China and No. 28 Flavia Pennetta of Italy. Li won 6-2, 6-0 against No. 22 Ekaterina Makarova of Russia. Pennetta defeated No. 9 Angelique Kerber of Germany 6-1, 4-6, 7-5.