IMF's Afghan Chief, UN Workers Among Dead in Kabul Attack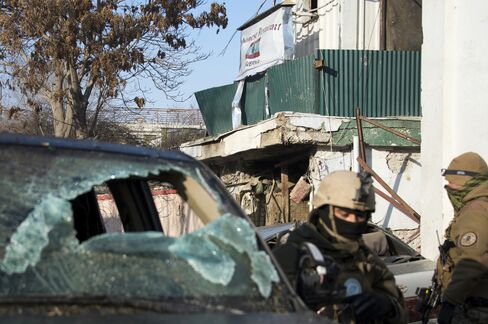 The International Monetary Fund's senior official in Afghanistan and four United Nations workers were among 21 people killed in a suicide bomb attack near a Lebanese restaurant in Kabul.
The La Taverna du Liban targeted in yesterday's attack in the Afghan capital was popular with foreign nationals, Afghan officials and business people, the city's police chief Mohammad Zahir Zahir said in a phone interview. The death toll included 13 foreigners and eight Afghans, he said.
Taliban spokesman Zabihullah Mujahed claimed responsibility for the attack, saying in e-mailed statements that it was in retaliation for a strike in Parwan by U.S. forces. The attack was on a restaurant where "invaders used to dine with booze and liquor in the plenty," Mujahed said, according to a statement in English.
UN Secretary-General Ban Ki-moon condemned the attack "in the strongest terms," according to a statement released by the world body confirming the four deaths. "Targeted attacks against civilians are completely unacceptable and are in flagrant breach of international humanitarian law," according to the UN statement.
White House Press Secretary Jay Carney said that Americans among those killed were "working every day to help the Afghan people achieve a better future."
Interpol Assisting
Interpol Secretary General Ronald Noble said it was a "cowardly and murderous attack." Interpol will do "everything in its power to help the Afghan authorities bring those responsible to justice," Noble said in an e-mailed statement.
The IMF said its resident representative in Afghanistan, Wabel Abdallah, was killed in the attack. Abdallah, 60, had served in the position since 2008, the fund said in a statement.
"This is tragic news, and we at the fund are all devastated," IMF Managing Director Christine Lagarde said in the statement.
Two Americans who worked for the American University of Afghanistan died in the attack, the school confirmed in a statement today. AUAF is "devastated by the news," President Dr. Michael Smith said in the statement. The university didn't release the names of the victims. Senior school officials met today to review security procedures while the university plans to proceed with student orientation and academic activities, it said.
Diplomats Safe
U.S. State Department spokeswoman Jen Psaki told reporters in Washington yesterday that while the U.S. was still gathering information on the attack, all American embassy personnel were accounted for.
Among the dead were Canadian, Russian, Lebanese and British nationals, Zahir said. Four people were wounded, he said.
Two British nationals known to be among the dead have been named as Simon Chase and Del Singh, a U.K. opposition Labour Party European Parliament election candidate.
Labour leader Ed Miliband said Singh, whose full name was Dhamender Singh Phangurha, "dedicated his life to working with people across the world who needed his support," the Press Association reported. Chase was a former British soldier who had moved to Kabul to work in the security industry, PA said.
EU Victims
A Danish citizen and one of the two British nationals, who were both working with European Union in Afghanistan were killed, the EU representative's office in Kabul said in an e-mailed statement.
The restaurant's Lebanese owner, Kamal Hamade, was also killed, Zahir said.
Mujahed said today in a separate e-mailed statement the attack was in "retaliation to a massacre carried out by foreign invaders" on Jan. 16 in Parwan province, north of Kabul. The restaurant attack was carried out by three suicide bombers armed with heavy and light weapons, he said.
Afghan President Hamid Karzai accused U.S. forces of carrying out an air strike in Parwan which resulted in the death of seven Afghan children and one woman. Karzai condemned the air strike in the strongest terms, according to an e-mailed statement from his press office.
The U.S-led International Security Assistance Force expressed regret in a statement for the deaths of two civilians "inside a building from which insurgents were firing." Local officials were informed of the operation in a high-threat area with Taliban activity, some linked to Haqqani network, ISAF said.
Karzai Condemns
Karzai condemned the restaurant attack and said in an e-mailed statement that his country believes the U.S. and Pakistan can save Afghanistan from such attacks by bringing the Taliban and other opposition groups to the negotiating table.
ISAF commander General Joseph F. Dunford, said in an e-mailed statement that the Taliban have demonstrated once again "their complete disregard for human life," and they must stop "premeditated and indiscriminate slaughter of civilians, especially on those who are working to bring stability and prosperity to the Afghan people."
The attack happened around 7:25 p.m. in the Wazir Akbar Khan district of the city, which houses embassies, foreign non-governmental organizations and the headquarters of NATO's ISAF.
Explosion, Gunfire
A single heavy explosion was followed an exchange of gunfire between Afghan security forces and militants. After the explosion, two militants entered the restaurant's kitchen and began shooting, Zahir said. The two were shot dead later by Afghan forces, he said.
The explosion shattered windows of Norway's and other nearby embassies in the same block as the restaurant, Gul Agha, an eyewitness, said in a phone interview.
The attack took place as Karzai weighs signing a bilateral security accord with the U.S. that would allow a reduced presence of foreign troops. President Barack Obama's administration says the deal must be completed quickly if the U.S. is to keep any forces in the country after most combat troops pull out at the end of the year.
The bombing was the third attack in the Afghan capital in less than two weeks. On Jan. 4, Taliban forces detonated a grenade near Camp Eggers, a U.S. military base in the heart of Kabul, resulting in no casualties. On Jan. 12, a Taliban bomber on a bicycle blew himself up near an Afghan police convoy, wounding six policemen.
"This violence is unacceptable and must stop immediately," Jan Kubis, head of the UN Assistance Mission in Afghanistan, said in a separate statement condemning the attacks.