Egypt Presidency Sees New Chapter as Charter Approved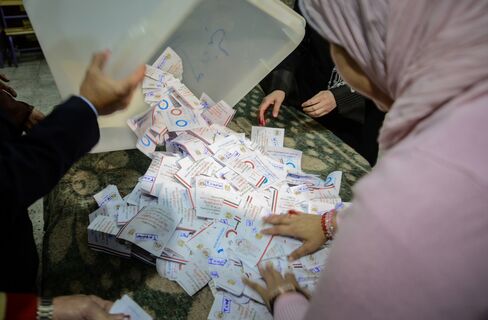 Jan. 19 (Bloomberg) -- Egypt's new constitution was approved by 98 percent of voters in a referendum boycotted by the opposition and hailed by the army-backed government as vital in the transition to democracy after Mohamed Mursi's ouster.
Voter turnout was about 39 percent, Nabil Salib, head of the Supreme Election Commission, told reporters in Cairo, with about 20 million of 53 million eligible citizens casting ballots. The two-day referendum was shunned by the Muslim Brotherhood, which fielded Mursi for the presidency and denounced the vote as an attempt to legitimize a coup. At least four people were killed and 15 wounded in clashes on Jan. 17 between security forces and Islamists.
"The outcome represents nothing less than the dawning of a new Egypt, where men and women are once again equal in the eyes of the law; where religion, beliefs, race, or geography can no longer be used as instruments of division or pretexts for persecution," presidential spokesman Ehab Badawy said in an e-mailed statement, noting the vote occurred despite a "milieu of intense social upheaval and acts of terrorism" aimed at derailing the process.
The constitution, drafted by a panel dominated by secularists, is designed to replace a charter approved with a 33 percent turnout under Mursi and written by a mostly Islamist committee. Presidential and parliamentary elections will follow later this year. The vote was the first since the military ousted Mursi.
Pressed Hard
U.S. Secretary of State John Kerry urged the interim government to "fully implement" the rights and freedoms in the new constitution. "It's what comes next that will shape Egypt's political, economic and social framework for generation," he said.
The man who led Mursi's ouster, army chief Abdelfatah al-Seesi, hasn't ruled out running for president. Turnout was key for the military-backed government, with local media billing a higher turnout than for the constitutional vote under Mursi.
For the government, which has been grappling with near-daily protests and clashes amid a heavy crackdown on the Brotherhood, the vote marks a milestone. Authorities, backed by the media and businessmen, pressed hard for a "yes" vote, with commercials airing on television, billboards posted across Cairo and other cities and authorities equating support for the charter as a rejection of "terrorism."
Hours after the results, local media trumpeted its passage, with the state-run Ahram newspaper's banner headline reading: "Egypt Said Yes." The independent al-Masry al-Youm's front-page headline announced a "new constitution for a new era."
International Reserves
"On one level, this does provide a short-term boost for the military and the interim government," said Hani Sabra, Mideast director at the Eurasia Group in New York, noting that officials can say they held the vote essentially on schedule and as promised. While turnout wasn't significantly higher than that of the referendum under Mursi, the support this charter secured is what authorities will stress, he said.
Even so, the "structural problems that Egypt faces remain unaddressed," Sabra said, citing the economic challenges and polarization after the 2011 uprising that toppled President Hosni Mubarak and deepened after Mursi's ouster.
Among the economic hurdles are international reserves at about 50 percent of their pre-2011 uprising levels, which won't be resolved with the presidential and parliamentary elections. "They will take years to address," Sabra said.
While the referendum was billed as a milestone, activists and rights groups said there was a crackdown on those lobbying for a "no" vote.
Bethesda, Maryland-based Democracy International, which sent more than 80 observers to the vote, said it had "serious concerns" about the referendum.
"There was no real opportunity for those opposed to the government's road map or the proposed constitution to dissent," Democracy International President Eric Bjornlund said in a statement on Jan. 17 on the organization's website.
To contact the reporters on this story: Tarek El-Tablawy in Cairo at teltablawy@bloomberg.net; Abdel Latif Wahba in Cairo at alatifwahba@bloomberg.net
To contact the editor responsible for this story: Nasreen Seria at nseria@bloomberg.net