Yale SOM Opens New Space, May Add Students to Fill It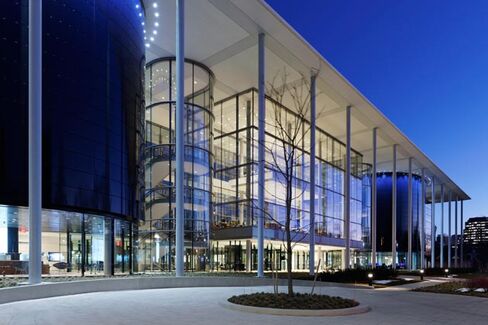 Yale School of Management's shiny new glass building, Edward P. Evans Hall, is expected to facilitate transparency, global learning, and interdisciplinary thinking—all very Yale SOM-ey things. Most important to future classes of aspiring Yalies, the new building enables the program to admit as many as 320 students a year, up from its existing 290. It can also expand the number of students in its Master of Advanced Management program, a one-year degree for MBA students from the Global Network of Advanced Management's partner schools.
"It depends on the applicants, of course, but if the pool supports it, we can add more students," says Stanley Garstka, a professor at SOM deeply involved in the development of the new property.
The existing student body returned from winter break this week to start classes in the Foster + Partners-designed building. (Foster + Partners is led by Norman Foster, a Yale—though not SOM—alum.) The glass-heavy space features an enclosed courtyard, multiple open collaborative spaces, and a 350-seat auditorium. Art from Yale students hangs alongside wall drawings by Sol LeWitt. Classrooms are customized to suit different teaching methods, such as case study analysis, lecture, or group work. Most are equipped with communications technology, while the building's media center comes equipped with 10 Bloomberg terminals, among other tools.
Previously, faculty and classrooms were spread among four buildings on Yale's campus.
"The traditional classrooms were geared more towards lecture and less towards interactivity," says Garstka. "We couldn't even begin to think about having the kinds of global communications in our old space that we can have now. We're pushing very hard to become the most global American business school and you can't do that without having students interact seamlessly around the world."
And next year, that number of students may jump by more than 10 percent—if applications are deemed worthy.
Before it's here, it's on the Bloomberg Terminal.
LEARN MORE