The World's First Kit Kat Store, and Other Brand-Building Retail Endeavors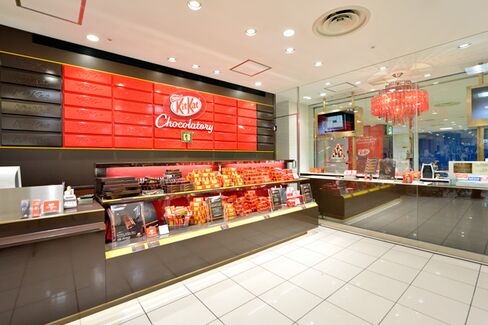 In the vein of Ghirardelli shops, candy maker Nestlé opened its first Kit Kat boutique in Tokyo's Seibu Department Store on Jan. 17. Sure, leasing real estate is expensive, and yes, you can get a candy bar from a vending machine. But such retail outlets don't aim just to sell sweets; they're also designed to build the brand.
Kit Kat is already popular in Japan. It's a good-luck charm for students: In Japanese, the name sounds like kitto katsu, which translates as "you will surely win." The new store, which has a large counter and display space (modest compared with, say, an M&M's World or Hershey's Chocolate World), will offer limited-edition varieties created with Japanese chocolatier Yasumasa Takagi, like "Sublime Bitter," "Special Sakura Green Tea," and "Special Chilli," according to a news release. "This is a completely novel approach and a complementary addition to the already existing Japanese Kit Kat product range," said spokeswoman Melanie Kohli in an e-mail.
As it is, Japan has a more diverse Kit Kat market than in the U.S. The brand has released flavors like Kobe pudding, purple potato, wasabi, rum raisin, wine, and brandy and orange. There's even a "Right sweetness for adults" Kit Kat that normally comes in dark chocolate.
A retail business can be difficult and costly to run, but companies still see it as a worthwhile way to engage consumers. Nestlé's Nespresso has cafes that serve fresh drinks, presumably to promote and sell the coffee machines and pods that are also on display. And Greek yogurt maker Chobani opened a small New York City yogurt bar in 2012 that's now in the midst of an expansion.
"It's a form of advertising, an image driver, and a traffic driver," says Chobani Chief Marketing Officer Peter McGuinness. The yogurt bar tests new flavors that could eventually make it to supermarkets, and serves foods made with yogurt to entice customers to use it in their cooking. Chobani's store is breaking even so far, McGuinness says, and the company plans to open more locations.
For Kit Kat, "it is too early to speculate about the effect this initiative has on brand building or profit," said Kohli.
Of course, not all brand-building concepts take off: Remember Kellogg's Cereal City USA? The cereal museum and theme park closed in 2007. Breakfast food, apparently, didn't draw the expected crowds.
Before it's here, it's on the Bloomberg Terminal.
LEARN MORE