A High-End Peddler's Stumble Suggests a Limit for Fancy Bicycles
Updates with comment from SRAM spokesman.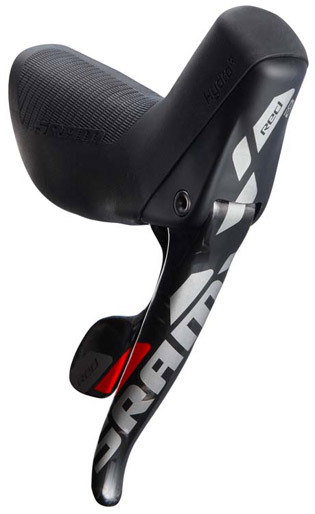 Among casual cyclists, SRAM isn't a household name like Shimano or Trek, but to fanatics it's hallowed. SRAM produces the ultralight carbon wheels, gears, derailleurs, and other components that make up the guts of high-end bikes costing as much as $10,000. No SRAM component was more coveted than the hydraulic brakes it rolled out on 19,000 road bikes last fall.
The new system promised to do away with the squeaking and vibrating that can beset traditional caliper brakes, offering riders smoother stops. Instead of earning kudos, the brakes have turned into a SRAM public-relations crisis after a number of reports of brake failures at cyclocross races in sub-freezing conditions. It prompted a recall last month that the company says will cost as much as $15 million.
Worse yet, the flop has handed ammunition to skeptics who say the industry's obsession with promoting the latest technology, from hydraulic brakes to electronic shifting, has resulted in ever-pricier bikes out of reach for the majority of Americans. It can be dangerous, as well, when a weekend warrior is using technology designed for pros, says Steve Lubanski, owner of the Open Road Bicycle Shop in Pasadena, Calif. He likes to tell the doctors and dentists on the fanciest new bikes an apocryphal story about a friend. "The guy's riding down the road on his tubeless wheels," Lubanski says. "Catastrophic failure: He hits his brakes, the fluid runs out, and he's electrocuted by his electronics."
SRAM, whose headquarters in Chicago's Near North Side features a bike test track that runs the circumference of the interior, has been the scrappy upstart to Shimano since founder Stan Day teamed up with his brother and some pals to market a new gear shifter in 1987. The company is now the No. 2 bike components supplier in the world, with more than $500 million in annual sales. Day has been the public face of addressing the problem, greeting riders at the Cyclo-cross National Championships in Boulder, Colo., this month to help them swap the bad hydraulic brakes for traditional ones. The company said on Jan. 15 that a permanent fix is coming by April, after tracing the issue to a faulty master cylinder. "We are working very hard to remedy the situation," SRAM spokesman David Zimberoff wrote in an e-mail. "Our engineers have been working overtime and through the holidays to identify the root cause and establish a solution. We are nearly complete with a robust new design."
While the swift damage control may limit the blow to SRAM's reputation, the glitches also could slow the acceptance of a new product the industry was counting on to drive sales, says Thomas Prehn, president of Bicycle Research in Boulder. Bike sales in the U.S., at $6.1 billion in 2012, are almost unchanged from $6 billion in 2007, according to the National Bicycle Dealers Association. Meanwhile, sales of used bicycles jumped 19 percent to $1.1 billion in 2012, suggesting consumers are looking for cheaper options.
"This will cause some in the bike industry—especially the major players—to step back and say, 'Are we pushing too fast?'" Prehn says.
Before it's here, it's on the Bloomberg Terminal.
LEARN MORE