NSA to No Longer Keep Phone Call Records Under Obama Plan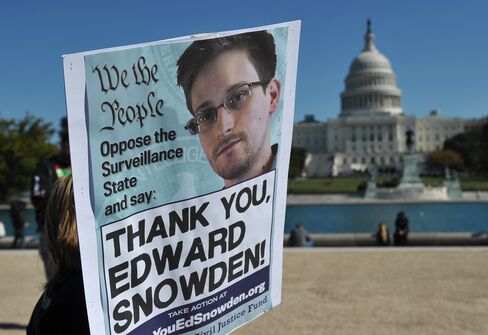 President Barack Obama defended U.S. electronic spying as a bulwark against terrorism while promising U.S. citizens and allies he will put new restraints on the government's sweeping global surveillance programs.
In his long-anticipated response to the uproar set off by disclosures of telephone and Internet spying by the National Security Agency, the president said he would require judicial review of requests to query phone call databases and ordered Justice Department and intelligence officials to devise a way to take storage of that data out of the government's hands.
He left other steps to limit surveillance up to a divided Congress, meaning many of the changes may be months away if they are adopted at all.
"The power of new technologies means that there are fewer and fewer technical constraints on what we can do," Obama said in a speech delivered today at the Justice Department in Washington. "That places a special obligation on us to ask tough questions about what we should do."
The final outcome of the steps Obama outlined have implications for U.S. security and for companies involved in technology, telecommunications and the Internet.
Company Impact
Executives of Yahoo! Inc., Facebook Inc., Google Inc., Apple Inc., Microsoft Corp., Twitter Inc., LinkedIn Corp. and AOL Inc. joined in a statement of principles last month urging changes in NSA surveillance programs. The companies in a statement today said Obama's commitments represent "positive progress," while "crucial details remain to be addressed."
The Information Technology & Innovation Foundation, a policy research group in Washington, has estimated the disclosures may cost U.S. companies as much as $35 billion in lost revenue through 2016 because of doubts about the security of their systems and products.
Obama "just still really missed the mark on the economic concerns," Daniel Castro, an analyst with foundation, said. "It's not getting to these central questions raised by these allegations, which is that the U.S. has been inserting vulnerability into our consumer products."
Alex Fowler, global privacy and policy leader at Internet non-profit Mozilla Corp., said in a statement that Obama's strategy would "leave current intelligence processes largely intact and improve oversight to a degree. We'd hoped for, and the Internet deserves, more."
Data Custody
Obama gave Attorney General Eric Holder and intelligence officials 60 days to develop a plan for storing bulk telephone records outside of government custody, one of the most contentious issues arising from the disclosures by former NSA contractor Edward Snowden.
Phone companies, such as Verizon Communications Inc. and AT&T Inc., have resisted being required to retain telephone metadata for the government because of the potential cost and legal exposure. A third-party entity to take on that role doesn't yet exist.
"This will not be simple," Obama said.
Castro suggested Obama didn't offer a clear path ahead.
"If all that's happening is the NSA is going to contract out the storage of the data, that doesn't really change anything," he said.
Administration Proposal
The administration plans to deliver a proposal on data storage to Congress by the end of March, Ben Rhodes, the president's deputy national security adviser, said.
"We'd like to be at a point when reauthorization comes up that we can present to Congress, 'Here's the new approach we'd like to take,'" Rhodes said in an interview on Bloomberg Television's "Political Capital with Al Hunt," airing this weekend. The final decision about the course to take on holding the data wasn't made until last night and Obama was still working on his speech at midnight, Rhodes said.
Obama said he must balance security and privacy concerns. "Those who are troubled by our existing programs are not interested in a repeat of 9/11, and those who defend these programs are not dismissive of civil liberties."
Spying and surveillance have been vital to protecting the nation throughout its history, he said, citing groups of citizens who scouted British troops during the U.S. Revolution, to the spying of the Civil War, World War II and the Cold War.
Higher Standard
Still, U.S. traditions and values require that it be held to a higher standard than other world powers, he said.
"What's really at stake is how we remain true to who we are in a world that is remaking itself at dizzying speed," Obama said. "No one expects China to have an open debate about their surveillance programs or Russia to take the privacy concerns of citizens into account."
Responding to pressure from civil libertarians and technologists to put an independent voice at the Foreign Intelligence Surveillance Court, which reviews warrants related to national security investigations, Obama is called for the creation of an outside panel of advocates to weigh in on new and major privacy issues before the court. He is leaving it to Congress to set the rules for what authority and clearances those experts have.
Reggie B. Walton, chief judge of the Foreign Intelligence Surveillance Court, said he planned to meet with officials at the Justice Department "to assess what the implications are of what the president proposed." He declined to comment further.
Judicial Review
The most concrete and immediate changes announced by Obama will require judicial review for queries of the metadata records. In addition, the government can no longer access records that go beyond two persons removed from the query the government makes.
Under the president's plan, the U.S. won't monitor the communications of leaders of close allies unless there is a compelling national security interest.
While that leaves loopholes for the U.S. government to continue its spying abroad, administration officials who briefed reporters on Obama's plans said the U.S. has already decided not to spy regularly on dozens of foreign leaders. The officials declined to specify who would be exempted.
German Rift
A rift between the U.S. and Germany opened last October following reports that the NSA had tapped German Chancellor Angela Merkel's mobile phone. German government spokesman Steffen Seibert said people in his country are "rightfully concerned" about the security of their private data. Germany will continue discussions with the U.S. on a "new and clear basis" for intelligence cooperation, he said.
Obama endorsed allowing Internet providers who receive government requests for data to make more information public than before about those queries.
He didn't announce any specifics, and a fact sheet released by the White House indicated those decisions have yet to be made. It said administration officials will continue discussions with the companies.
Obama said he is appointing John Podesta, a former chief of staff to President Bill Clinton who is joining the Obama White House this year as an adviser, to lead a review of big data and privacy working with industry and science and technology advisers.
Presidential Directive
He also issued a presidential directive saying the U.S. doesn't use the intercepted data to provide economic advantage to companies, indiscriminately review e-mails of ordinary people or suppress dissent. The directive says the U.S. uses surveillance for counter intelligence, counter-terrorism, cybersecurity and investigating transnational crime.
The president's moves are "an attempt to address the concerns that the government holds and accesses too much data, but in many ways, he is leaving the details and mechanics of this to the attorney general and Congress to resolve," Juan Zarate, a counter-terrorism adviser to former President George W. Bush, said before the speech.
U.S. data collection programs were expanded during Bush's administration which, in response to the Sept. 11, 2001, terrorist attacks on the U.S., won passage by Congress of the Patriot Act.
Many of the changes Obama seeks will require legislation, which might not get through a divided Congress.
Feinstein, Paul
Senator Dianne Feinstein, a California Democrat who heads the intelligence committee, wants the data program to continue without forcing companies to collect and keep the records. Senator Patrick Leahy, a Vermont Democrat, and Representative James Sensenbrenner, a Wisconsin Republican, have introduced legislation to bar the NSA from collecting the phone records, as has Senator Rand Paul, a Kentucky Republican.
Paul, a critic of the NSA, said he was "disappointed" by Obama's speech.
"President Obama's announced solution to the NSA spying controversy is the same unconstitutional program with a new configuration," Paul said in a statement. "The American people should not expect the fox to guard the hen house."
Leahy said that he'll keep pushing for tighter restrictions on government surveillance.
"The president has ordered some significant changes, but more are needed," he said, so that the law "is not used for dragnet surveillance in the future."