Deutsche Bank Withdraws From Gold Fixing in Commodities Cuts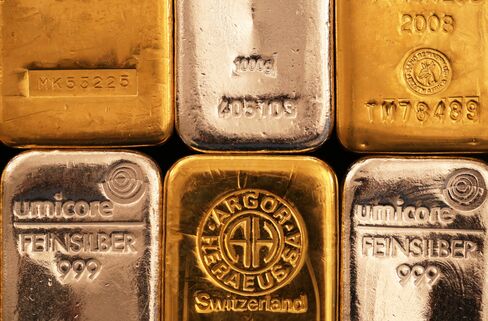 Deutsche Bank AG will withdraw from participating in setting gold and silver benchmarks in London after Europe's top investment bank joined JPMorgan Chase & Co. and Morgan Stanley in cutting back on commodities.
The German bank will sell its gold and silver fixing membership and stop submitting gold forward offered rates, according to a person familiar with the decision, who asked not to be identified because the information isn't public. The move comes a month after the Frankfurt-based lender said it will cut about 200 jobs in raw materials.
The bank is one of five gold and three silver members that help set fixings, benchmark rates used by mining companies, jewelers and central banks to trade and value metals. The U.K. Financial Conduct Authority is said to be scrutinizing how prices are set in the $20 trillion gold market. German regulator Bafin is reviewing how banks participate in price-setting as part of its review of benchmark administration in the wake of the London interbank offered rate rigging scandal.
"At the moment there is probably not a lot of interest from buyers," said Wiktor Bielski, a commodities analyst at VTB Capital in London. "There is nobody out there who's building this business, everybody is scaling down. A Chinese bank or an emerging-markets player would be a more likely buyer than a traditional Western bank."
Setting Prices
In private meetings last year, the U.S. Commodity Futures Trading Commission, which regulates derivatives, discussed reviewing how gold prices are set, a person with knowledge of the talks said. The U.K.'s FCA is scrutinizing the setting of gold prices, a person with knowledge of the review who asked not to be identified because the matter isn't public, said last year.
The London Bullion Market Association said in November it's reviewing its own benchmarks to see whether they conform to guidelines set by the International Organization of Securities Commissions in July. Those include making prices based on "observable" deals where possible. The LBMA oversees gold forward offered rates, which reflect bullion borrowing costs for different durations and are used in loan agreements.
Aelred Connelly, a spokesman for the association, said he couldn't immediately comment.
"Deutsche Bank is withdrawing its participation in the gold and silver benchmark-setting process following the significant scaling back of our commodities business," the bank said in an e-mailed statement today. "We remain fully committed to our precious metals business."
Fixing Process
Deutsche Bank will continue in the fixings until a buyer for its seat is found, said the person familiar with the plan.
Barclays Plc, Bank of Nova Scotia, HSBC Holdings Plc and Societe Generale SA also take part in the gold fixing, published twice daily in a ritual that dates back to 1919. Douglas Beadle, who acts as a consultant to the London Gold Market Fixing Ltd., a company controlled by the five banks, said the fixing process will continue as usual.
During the fixing, conducted by phone, the designated chairman gives a figure close to the current spot price in dollars for an ounce of gold. The firms then declare how many bars they wish to buy or sell at that price, based on orders from clients as well as their own account. The talks continue until the buy and sell amounts are within 50 bars, or about 620 kilograms, of each other.
HSBC and Bank of Nova Scotia are the other two silver fixing members, a process that occurs once a day.
Fixing Members
Aurelie Leonard, a spokeswoman for Barclays, HSBC spokeswoman Shani Halstead and Saphia Gaouaoui, a spokeswoman at Societe Generale, declined to comment. Joe Konecny, a spokesman for Bank of Nova Scotia, didn't immediately return a voice message left outside of normal Toronto business hours.
Deutsche Bank said last month it will exit dedicated energy, agriculture, dry bulk and base metals trading and transfer its financial derivatives and precious metals desks to the fixed income and currencies division. The decision to cut jobs will have "no material impact" on earnings, it said.
Its investment banking and trading unit, which includes commodities, employed 25,062 people at the end of September, company filings show. The bank generated $881 million in raw materials revenue in 2012, according to a JPMorgan report on April 11.
Commodities revenue at the world's 10 largest investment banks probably dropped 14 percent to $4.7 billion in 2013, London-based analytics company Coalition said in November. The biggest banks have cut commodities staff to the lowest since at least 2009, according to Coalition.
Commodities Trading
JPMorgan, the biggest U.S. bank by assets, said in July it plans to get out of the business of owning and trading physical commodities ranging from metals to oil. Morgan Stanley cut 10 percent of its workforce in the commodity division last year and agreed to sell its global oil business to OAO Rosneft, Russia's largest petroleum producer.
Citigroup Inc. said last year that the "super cycle" of commodities gains has ended because supply caught up with demand. The Standard & Poor's GSCI Spot Index of 24 raw materials fell 2.2 percent in 2013, the first annual decline in five years. Silver slumped 36 percent last year and gold tumbled 28 percent, the biggest declines since 1981. The metals were the second- and third-worst performers in the S&P gauge, after corn.