Critical Krone Weakness Paves Negative Rate Exit: Nordic Credit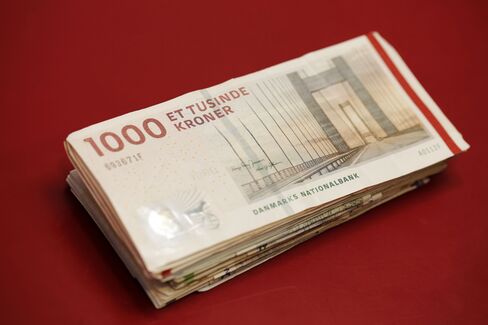 The Danish krone has weakened to a critical threshold within its peg to the euro, pushing the central bank in Copenhagen closer to an exit from 18 months of negative rates, according to Nordea Bank AB.
After refraining from interventions for 11 months, Denmark now needs to start buying up kroner and selling foreign currency to defend its peg, Nordea estimates. Those measures will be followed by raising the deposit rate, now at minus 0.1 percent, according to the bank.
"The krone is now trading at a critical level compared with what the Danish central bank usually tolerates," Jan Stoerup Nielsen, an economist at Nordea in Copenhagen, said by phone. "Last time the krone traded at this level, we saw interventions and then a rate increase."
Investors are exiting Denmark's stable AAA-rated market, which in 2012 had served as a haven from Europe's debt crisis, to take advantage of higher returns further south. Signs of recovery have driven short-term money-market rates higher in the euro area, widening the spread to corresponding rates in Denmark and diminishing the appeal of its currency and fixed-income markets.
Risk Appetite
"We see increased appetite for risk due to better European macro data, and that means investors don't target Denmark as much as they did previously in safe haven movements," Tore Stramer, an economist at Nykredit Markets in Copenhagen, said by phone.
Danske Bank A/S, Denmark's biggest lender, predicts the deposit rate may be raised within three months.
"There's definitely more pressure on the krone and it will result in a rate increase, probably already in the first quarter," Jens Naervig Pedersen, an economist at Danske in Copenhagen, said by phone.
The krone traded at 7.4625 per euro on Jan. 13, its weakest since Jan. 22, 2013. The currency traded at 2013's strongest level on May 20 at 7.4524. The central bank targets a rate of 7.46038. Though its official tolerance band is 2.25 percent, in practice the bank has acted to keep the rate within about 1 percent of its target. The euro-krone cross has averaged 7.4493 in the last five years, according to prices available on the Bloomberg.
Yield Spread
The spread, or yield premium, Danish two-year government notes offer over Germany equivalents, widened to as much 14 basis points this week, the most since November. The yield on the Danish note was at 0.35 percent on Jan. 15, the highest since Nov. 5. Danish bonds have returned 0.4 percent this year, lagging behind a 0.97 percent gain in euro-area debt, according to Bloomberg Sovereign Indexes.
Greater optimism on the euro area's recovery prospects have prompted economists at Danske, Nordea and Nykredit to bring forward by about six months forecasts for when Denmark will raise rates.
The Danish central bank's experiment with negative rates started in July 2012, a move that put the Scandinavian economy in "uncharted territory," according to then-governor Nils Bernstein.
Since then, Denmark has argued the policy succeeded in protecting the peg and won the central bank credibility in its efforts to defend its currency regime.
Sentiment Shift
Governor Lars Rohde, who took over in February 2013, has presided over a shift in sentiment that saw investors move away from haven markets and back into higher-yielding securities.
When the European Central Bank on Nov. 7 cut its key rate by a quarter of a point, the Danish central bank kept rates unchanged, marking the first time since October 2008 that Denmark didn't follow an ECB move.
"The central bank may already be intervening in the currency market this month buying kroner," Nordea's Stoerup Nielsen said. "We think we'll definitely see interventions here in the first months of the year to defend the peg. We've been surprised by the movement in money market rates and the subsequent weakening of the krone."
Denmark's central bank last intervened in currency markets in January 2013, when it bought about 11.9 billion kroner ($2.17 billion) to support the peg. The bank on Jan. 24, 2013, then raised its deposit rate by 10 basis points from minus 0.2 percent. It's due to report January reserves data on Feb. 4. Denmark had 485.9 billion kroner in reserves in December. The nation also boasts a 12 billion-krone current account surplus.
'Gigantic' Surplus
Danske estimates the central bank will buy 10 billion kroner to 20 billion kroner via interventions before raising the deposit rate by 10 basis points to zero. The bank will deliver an equivalent increase in its benchmark lending rate, bringing it to 0.3 percent, according to Danske.
"But after that, I think the pressure on the krone will subside," Naervig Pedersen said. "Denmark has a gigantic current account surplus and that will support the krone, removing the immediate need for further rate increases."
Before it's here, it's on the Bloomberg Terminal.
LEARN MORE