Pizza Hut Tests the By-the-Slice Market
Appealing to the on-the-go lunch crowd and to individuals who are bad at persuading their co-workers to go in on a pie, Pizza Hut opened two smaller-than-average restaurants on Tuesday that will serve pizza by the slice. One is in York, Neb. (pop. 7,766), and the other's in Pawtucket, R.I. (pop. 71,148), reported the Associated Press.
"We wanted to test these in cities where people work and live, as well as locations that were quite different from one another," said spokesman Doug Terfehr in an e-mail. "Our heritage is in the Midwest, so we wanted to get a sense for how that consumer would respond. And pizza by a slice is more common on the East Coast, so we wanted an idea of how consumers who already enjoy pizza this way would think of the concept."
Eighteen-inch pizzas will be divided into eight slices, available in classic varieties like cheese and pepperoni as well as some new combinations from the kitchen. Each slice costs $2 to $3 and takes about four minutes to heat up. Pizza Hut's normal assortment of stuffed crust and other pies will also be on the menu.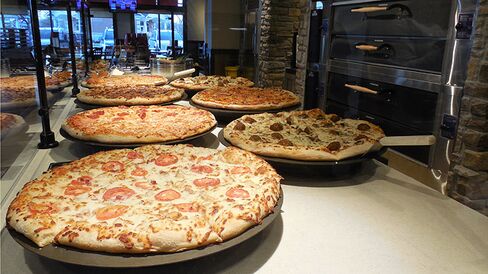 The York store, which seats more than 80, is designed for dining in, while the Pawtucket location, with 30 seats, is expected to primarily do delivery and carryout.
Pizza Hut has been testing ways to cater to individual consumers and improve customization. Last year it offered a set of three pizza sliders for $5 for a limited time. Other chains, including Chipotle's Pizzeria Locale and PizzaRev, are also serving up quick, custom pizza.
Before it's here, it's on the Bloomberg Terminal.
LEARN MORE