Macau Casino Magnate Lui Remains Asia's Second-Richest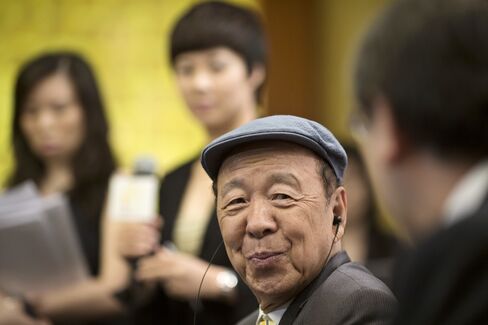 Lui Che-Woo, founder of casino operator Galaxy Entertainment Group Ltd., remained Asia's second-richest person yesterday, trailing only Hong Kong real estate investor Li Ka-Shing, according to the Bloomberg Billionaires Index.
The gambling mogul's net worth had risen $2.9 billion this year to $23.7 billion as of 5:30 p.m. yesterday in New York. Li has a $29.5 billion fortune and has been the richest in the region since April 9, 2012, when he passed Indian billionaire Mukesh Ambani.
Lui's wealth is anchored by his family's 51 percent stake in Galaxy, Asia's third-largest casino operator by revenue. The company's shares rose 129 percent last year as gaming revenue in Macau, the only city in China where casinos are legal, climbed 18.6 percent to $45.2 billion. Gamblers converged on the island's biggest plot of land in Cotai, Asia's version of the Las Vegas Strip and home of Lui's biggest casino, Galaxy Macau.
"The Luis got in early by investing in Cotai," Grant Govertsen, a Macau-based analyst at Union Gaming Group said on Jan. 13. "The boom there ramped up the share price appreciation and wealth creation for the Lui family. They're the best positioned for long-term growth and are focused on becoming the dominant player in Macau."
Bill Gates, the world's richest man, was the biggest gainer on the Bloomberg ranking last year, adding $15.5 billion to his fortune. Las Vegas Sands Corp. Chairman Sheldon Adelson, Lui's competitor, was up $14.4 billion and the second-biggest gainer.
Measuring Wealth
The Bloomberg Billionaires Index is a daily ranking of the world's richest people based on changes in markets, the economy and Bloomberg reporting. Each net worth figure is updated every business day at 5:30 p.m. in New York. Stakes in publicly traded companies are valued using the share's most recent closing price. Valuations are converted to U.S. dollars.
Family members often hold a portion of the billionaire's assets. Such transfers don't change the nature of who ultimately controls the fortune. As a result, Bloomberg News operates under the rule that all billionaire fortunes are inherently family fortunes. Holdings by Lui and his family were compiled from securities filings and company reports.
Galaxy Entertainment owns six of the 35 casinos in Macau. Its biggest is the Galaxy Macau, a 2,200-room resort that opened in 2011 and features 450 gaming tables and 1,300 slots. Shares gained 5.3 percent in Hong Kong trading today and are up 156 percent in the past 12 months.
Expanding Galaxy
The billionaire and his son Lui Yiu Tung, the company's deputy chairman, are expanding the property to capitalize on record visits by gamblers from China. The $2.6 billion addition is scheduled to open next year, enabling the company to "pick up most of the pent-up demand due to limited capacity additions between now and 2015," Praveen Choudhary, a Hong Kong-based analyst at Morgan Stanley wrote in a Jan. 7 report.
Macau's casino revenue will rise as much as 20 percent in 2014, the younger Lui, who goes by Francis, told Bloomberg News in a November interview. Almost 97 percent of Galaxy's revenue comes from Macau, according to data compiled by Bloomberg.
Peter Caveny, vice president of investor relations for Galaxy, declined to comment.
Li Ka-Shing's fortune rose $1.5 billion in 2013 and has dropped about 2.3 percent so far this year, according to the ranking. The 85-year-old controls property investor Cheung Kong Holdings Ltd. and conglomerate Hutchison Whampoa Ltd. Hans Leung, a spokesman for Hutchison Whampoa, declined to comment for this story.
'Challenging Year'
Last year "was a challenging year for our group," Li said Jan. 9 in a speech at an annual Cheung Kong dinner in Hong Kong. "The global and political economic landscape continues to be uncertain in the coming year."
Li is selling stakes in Hutchison's retail unit and Hong Kong's No. 2 power supplier as growth slows there, and to free up capital to buy assets in Europe, where he has spent $14.5 billion on acquisitions in the past three years. Cheung Kong shares rose 2.9 percent in 2013, matching the Hang Seng Index.
The octogenarians share a similar past. Both fled China for Hong Kong during World War II, and became self-made billionaires by investing in real estate as the British colony was rebuilt. They diversified into other industries with the proceeds. They are grooming their eldest sons to take over their businesses.
War Refugee
Lui was born in 1929, in the city of Jiangmen in China's Guangdong province. Five years later, his family fled to Hong Kong as southern China was invaded by the Japanese. He helped support the family as a teenager selling food on the streets of Hong Kong.
After World War II ended, Lui bought construction equipment left behind following the U.S. invasion of Okinawa, Japan. He imported the machinery to Hong Kong, which was undergoing a reconstruction boom, and made his first fortune.
When he was 26 years old, Lui founded K. Wah Group, whose construction materials have been used in a quarter of all Hong Kong buildings, according to the company's website. He invested his building profits into residential property development and hotels and casinos.
Macau ended the 40-year gaming monopoly held by Stanley Ho in 2002. Lui partnered with Adelson, and the duo won one of three gaming concessions granted by the local government. The two split the license within a year after a disagreement over strategy. Adelson wanted to replicate the Las Vegas Strip while Lui sought to target and cater to Asian high rollers.
In 2006, Galaxy Entertainment opened the StarWorld Macau, where players can bet as much as $250,000 a hand, across the street from Ho's Grand Lisboa. Galaxy Macau, which cost $1.9 billion to build, opened five years later in Cotai.
Land Bank
The company also runs the StarWorld, President, Rio, Waldo and Grand Waldo casinos, according to Macau's gaming regulator. SJM Holding, which is held by Ho and his family, controls 20 gambling establishments in the Chinese city.
Galaxy has a land bank of 21.5 million square feet in Macau and plans to spend as much as $7.7 billion to develop the third and fourth phases of the Galaxy Macau complex, according to data compiled by Bloomberg Industries.
The casino operator also would look beyond the former Portuguese colony and spend at least $2.6 billion in Japan or Taiwan each if those markets open up, Francis Lui said in the November interview.
"The Luis are creating a much longer pipeline," of casino-resort projects, Govertsen said. "Those who control the supply have the brightest future."