Harper Sees 2014 Canada Rebound With Appropriate Policy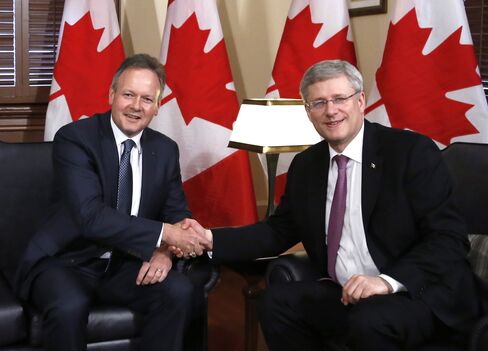 Prime Minister Stephen Harper endorsed the Bank of Canada's decision to stop warning about higher interest rates and predicted that naysayers on the economy will be proven wrong in 2014.
Harper, in an interview yesterday at his Ottawa office, said central bank Governor Stephen Poloz's policy is appropriate, and that critics focusing on a sliding currency and a weak December jobs report are being short sighted.
A weaker economic outlook "is not our read, and I don't think that's the read of the majority of analysts," Harper said. "We are pretty optimistic about the prospects for the year to come."
The world's 11th-largest economy has struggled to emerge from a two-year slump that has been largely due to weaker-than-expected exports and investment. That prompted Poloz to remove the bank's bias to raise interest rates in October, helping fuel declines in the currency, which has dropped 10 percent against the U.S. dollar over the last year to four-year lows.
"We have every reason to have confidence that the Bank of Canada has appropriate monetary policies in place," Harper said. He added what matters is not the movement in the Canadian dollar but whether it's "at an appropriate level given various economic realities."
Harper echoed comments Poloz made in a Dec. 18 interview that tied currency movements to changes in the U.S. outlook. Harper said the weakening of the Canadian dollar reflects upward pressures on the U.S. dollar, which he said has been undervalued.
U.S. Rise
The depreciation "really isn't a drop in the value of the Canadian dollar," Harper said. "What there is, as you know, is a rise globally in the value of the American dollar."
The prime minister is "implying he does not object to the recent weakness in the loonie," said Adrian Miller, director of fixed-income strategies at GMP Securities LLC in New York, in an e-mailed statement. Harper is "basically offering an excuse as to why it's OK."
Policy makers are counting on the weaker Canadian dollar to provide a spark to the manufacturing sector, which has been one of the heaviest hit by the recent slowdown. Manufacturing employment fell by 41,600, or 2.3 percent in 2013, Statistics Canada data show. Output by the nation's factories is still 1.7 percent below levels reached in 2011.
CCL Industries Inc., a Toronto-based manufacturer, said Nov. 22 it will close its aerosol-container plant in Penetanguishene, Ontario, citing losses that came as the Canadian dollar strengthened over the past decade.
Below Parity
A currency below parity with the U.S. dollar "is good for manufacturing," Finance Minister Jim Flaherty said in a Jan. 5 interview on CTV television.
Canada's economy is forecast to rebound in 2014 with growth of 2.3 percent, up from 1.7 percent last year, according to the median estimate of economists surveyed by Bloomberg, the same projection the Bank of Canada made in October.
The currency weakened 0.6 percent since Harper's comments. It traded at 1.0978 per U.S. dollar at 1:23 p.m. in Toronto. One Canadian dollar buys 91.10 U.S. cents.
Asked whether he felt the current level of the currency is appropriate, Harper said the Bank of Canada is "ultimately responsible for these issues."
The prime minister "is walking a fine line as to not appear to be applying any indirect pressure on Poloz and the Bank of Canada," Miller said. Government ministers typically refrain from commenting directly on the central bank's operations.
New Bias?
Josianne Menard, a central bank spokeswoman, declined to comment, citing the "blackout" period when policy makers refrain from speaking within a week of an interest rate announcement. The next policy decision is scheduled for Jan. 22, and Societe Generale SA's Sebastien Galy predicts the Bank of Canada will introduce a rate cut bias.
Statistics Canada said on Jan. 10 that Canada's economy lost 45,900 jobs in December, pushing the country's unemployment rate to 7.2 percent from 6.9 percent.
Peggy Nash, spokeswoman for the main opposition New Democratic Party on economic issues, issued a statement that day claiming the governing Conservatives were "failing" to create jobs and spur growth.
Canada's labor-force surveys have large monthly margins of error, Harper said in the interview, adding the recent trend has been "slow but steady" growth and the December drop could be soon reversed.
"We would really need to see a month, if not two, to see whether the numbers in January were any kind of a trend or simply a statistical aberration," Harper said. "Everything we have with us today would indicate every reason to believe it's the latter."
The Canadian government has actually been "pleasantly surprised" by the strength of the Canadian economy since the end of the global recession in the absence of similar growth for the country's largest trading partner, Harper said.
"The strength of the American economy is a big deal," Harper said. "For us to have better results we need to see the American economy expand."
Before it's here, it's on the Bloomberg Terminal.
LEARN MORE