Dollar Rises to 4-Month High on Housing's Best Year Since 2007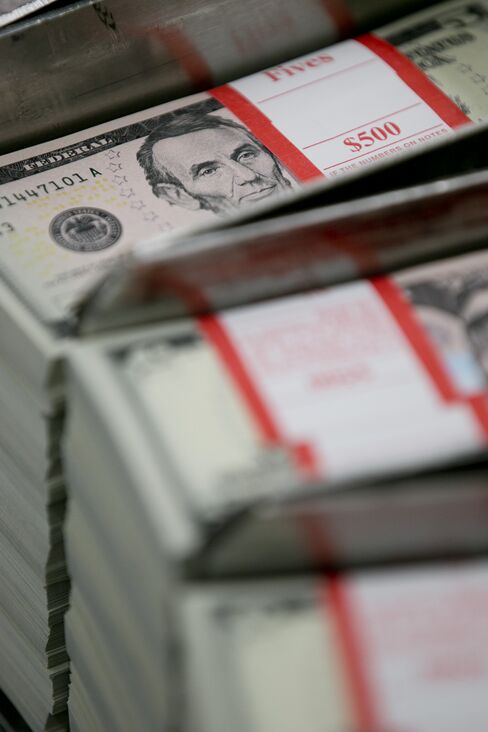 Jan. 17 (Bloomberg) -- The dollar rose to a four-month high after the pace of U.S. home construction dropped less than forecast in December, capping the best year for the industry since 2007.
The U.S. currency briefly pared gains after a measure of consumer confidence unexpectedly fell this month. The pound posted the biggest jump in a month against the dollar after U.K. retail sales increased more than forecast. New Zealand's dollar slumped the most since November. The Federal Reserve is likely to consider more reductions to the pace of its bond-buying at approaching meetings due to labor-market improvements, Richmond Fed President Jeffrey Lacker said in a speech.
"Michigan has been weaker than expected, but the market hasn't really reacted -- it doesn't change the overall picture," Charles St-Arnaud, Canadian economist and foreign-exchange strategist at Nomura Securities International in New York, said in a phone interview. "Dollar should strengthen gradually going forward against almost every currency. It's a very broad-based dollar strength."
The Bloomberg Dollar Spot Index, which tracks the U.S. currency against 10 major counterparts, rose 0.3 percent to 1,032.39 as of 5 p.m. New York time and reached 1,032.84, the highest since Sept. 9. It gained 0.8 percent this week.
The dollar climbed 0.6 percent to $1.3541 per euro after rallying to $1.3517, the strongest since Nov. 26. The U.S. currency was little changed at 104.32 yen. The euro fell 0.6 percent to 141.25 yen.
Loonie Shorts
Futures traders increased their bets that the Canadian dollar will decline against the U.S. dollar to the most since May, figures from the Washington-based Commodity Futures Trading Commission show.
The difference in the number of wagers by hedge funds and other large speculators on a decline in the Canadian dollar compared with those on a gain -- so-called net shorts -- was 67,345 on Jan. 14, compared with net shorts of 60,542 a week earlier.
The Canadian dollar fell 0.3 percent against the greenback to C$1.0964 and touched C$1.0991 on Jan. 15, the weakest level since 2009. It fell 0.7 percent on the week.
Sterling Gains
The pound advanced for the first time in three days against the dollar as the Office for National Statistics said retail sales including fuel increased 2.6 percent from November. The median forecast of economists in a Bloomberg survey was for a gain of 0.3 percent.
The data was "a major surprise," Neil Jones, head of European hedge-fund sales at Mizuho Bank Ltd. in London, wrote in a note to clients. "I would expect only limited gains from here. However, improved domestic confidence expectations is a key pillar behind our long term bullish sterling forecast."
The U.K. currency advanced 0.4 percent to $1.6424 after adding 0.6 percent, the biggest increase since Dec. 27. The pound strengthened 1 percent to 82.45 pence per euro.
Sterling has gained 8.1 percent in the past six months, the best performer of 10 developed-nation currencies tracked by Bloomberg Correlation-Weighted Indexes. The euro rose 2.8 percent, while the dollar weakened 0.7 percent.
The kiwi slid at least 0.5 percent against all of its 16 major counterparts after Morgan Stanley said markets had priced "too aggressively" for the Reserve Bank of New Zealand to increase interest rates.
'Patient RBNZ'
"The RBNZ's long-standing guidance of hiking rates in 2014, along with strong domestic data, has led markets to price in a nearly 50 percent chance of tightening at the January meeting," Morgan Stanley analysts Geoff Kendrick and Vandit D. Shah wrote in a research note. "We believe that the markets will be disappointed by a patient RBNZ."
The New Zealand dollar slumped 1.2 percent to 82.56 U.S. cents after dropping 1.3 percent, the biggest decline since Dec. 11.
The U.S. dollar extended a gain versus the euro as housing starts fell 9.8 percent to a 999,000 annualized rate following November's revised 1.11 million pace, which was the highest since November 2007, the Commerce Department reported today in Washington. The median estimate of 83 economists surveyed by Bloomberg called for 985,000. Permits for future projects declined 3 percent to a 986,000 pace.
For all of 2013, builders began work on 923,400 homes, up 18.3 percent from the prior year and the most since 2007's 1.36 million.
Fed Guidance
The housing report "is good data, basically painting a constructive picture of U.S. economy," said Peter Kinsella, a currency strategist at Commerzbank AG in London. "You see the dollar stronger, a little bit, across the board."
Output at factories, mines and utilities rose 0.3 percent after a revised 1 percent increase in November, official data also showed today, matching the forecast in a Bloomberg survey.
The Thomson Reuters/University of Michigan preliminary January index of consumer sentiment fell to 80.4 from 82.5 in December. Economists in a Bloomberg survey called for a reading of 83.5, according to the median estimate. The index averaged 89 in the five years before December 2007, when the last recession began, and 64.2 in the 18-month contraction that ensued.
Fed policy makers said on Dec. 18 they would cut monthly bond buying to $75 billion from $85 billion, citing an improving labor market. Lacker, who doesn't vote on monetary policy this year, said it "made sense to initiate the process of bringing the program to a close" in December.
"The guidance from Fed speakers this week has been steady as she goes with regard to tapering, and I think that seems to be the key dollar theme that they're going to continue to reduce these purchases," said Simon Derrick, chief currency strategist at Bank of New York Mellon Corp. in London. "There's an awful lot of stuff elsewhere in the world that undermines the story for other currencies."
To contact the reporter on this story: Andrea Wong in New York at awong268@bloomberg.net
To contact the editor responsible for this story: Dave Liedtka at dliedtka@bloomberg.net