BOJ Silence on Exit Plan Stokes Concern as Prices Rise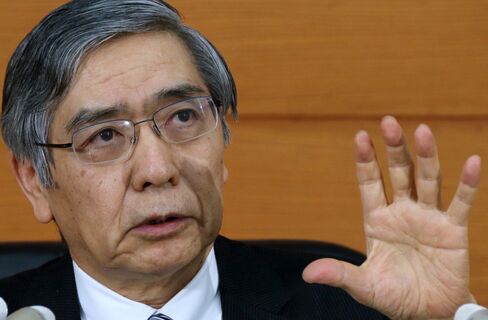 Japan's success in rekindling inflation is raising the stakes for policy makers to map out the endgame for monetary stimulus, given the risk of a surge in yields when the Bank of Japan winds down bond purchases.
With the BOJ's benchmark inflation gauge past halfway to Governor Haruhiko Kuroda's 2 percent target, yields on 10-year government securities are still the world's lowest at 0.67 percent -- held down by central bank purchases of unprecedented scale. Even so, Kuroda, who meets with fellow board members next week, says it's "too early" to discuss an exit strategy.
In the absence of the BOJ, investor demand for compensation from inflation could send the government's borrowing costs surging, fueling the danger of a collapse in confidence in the fiscal sustainability of the world's third-largest economy. Kuroda should start thinking about "disengaging" now, according to economist Richard Koo.
"It may be too late to prevent long-term rates doing something crazy" should the BOJ hold off on tapering before inflation reaches the target, said Koo, a former Federal Reserve economist who wrote "The Holy Grail of Macroeconomics -- Lessons from Japan's Great Recession."
The BOJ's board will maintain its pledge to expand the monetary base by an annual 60 trillion to 70 trillion yen ($668 billion) in a two-day meeting starting Jan. 21, according to all 36 economists in a Bloomberg News survey.
BOJ Purchases
The central bank is buying more than 7 trillion yen of government bonds a month, a pace equivalent to more than half the 155 trillion yen in bonds that Japan plans to offer to investors in the 12 months starting April.
Koo, chief economist at the Nomura Research Institute in Tokyo, said that the stimulus is leaving Japan at risk of falling into a quantitative-easing "trap" of being unable to taper without a surge in long-term rates and subsequent damage to the recovery.
Masaaki Kanno, the chief Japan economist at JPMorgan Chase & Co., also warns about rising yields once the central bank starts to decelerate its bond purchases.
"Who is going to buy bonds once the BOJ starts tapering? We don't know and that could put Japan into serious danger," said Kanno, a former central-bank official. "The BOJ's easing is so-far so-good, but there remains myriad of dangers because of the nature of this massive action."
Kanno said that yields on 10-year government bonds could "easily bulge above 2 percent" unless the government restores the nation's fiscal health by the time he expects the BOJ to start tapering, about four years from now.
Bond Market
The BOJ's unprecedented easing on April 4 initially triggered bond-market volatility. Yields on benchmark 10-year government bonds touched a record low the following day before soaring to 1 percent on May 23. Since then they have stabilized.
Ten-year yields will approach 1 percent this year, Nobuyuki Nakahara, a former BOJ board member who is part of a circle of economists consulted by Abe, said yesterday in an interview.
The government projects the nation's long-term debt will reach 1,010 trillion yen by the end of March 2015 -- equivalent to 202 percent of gross domestic product, the world's biggest debt burden. Abe is trying to put the nation on a sounder fiscal footing with a sales-tax increase in April.
The International Monetary Fund last year criticized Japan for its lack of detailed plans to curb its budget deficit. Fitch Ratings Ltd. said yesterday that Japan's proportion of debt to GDP won't stabilize until 2020, and "failure to consolidate the fiscal deficit would put pressure on Japan's trade balance and potentially on the yen."
Market Moves
The yen has weakened 19 percent against the dollar and the Topix stock index has gained more than 50 percent since Abe took office in December 2012 with a pledge to end 15 years of deflation through his three-pronged Abenomics program -- monetary easing, fiscal stimulus and a growth strategy aimed at making it easier to conduct business in Japan.
Consumer prices excluding fresh food -- the BOJ's key gauge -- rose 1.2 percent in November from a year earlier. BOJ projections for prices at next week's meeting will show a 1.3 percent increase for the year starting April and 1.9 percent the following fiscal year, according to economists surveyed by Bloomberg News.
The government today raised its assessment of the Japanese economy for the first time since September, citing improvements in private consumption and business investment.
The BOJ is expected to expand its stimulus this year, according to 34 of the 36 economists polled.
Kuroda said in a Dec. 7 speech that exiting from the BOJ's current monetary policy would be more difficult than it would have been in the past.
Fed Taper
The Federal Reserve's tapering offers a useful reference for the BOJ, the governor said in December after the Fed cut monthly bond purchases in its first step toward unwinding stimulus.
Fed Chairman Ben S. Bernanke yesterday defended quantitative easing in the U.S., saying it has helped the economy while posing little risk of inflation. "It was at least somewhat effective," he said.
Masayuki Kichikawa, chief Japan economist at Bank of America Corp. in Tokyo, is less concerned than Koo and Kanno.
"It's too pessimistic to say there will be a crisis ahead," Kichikawa said. "Given that Japanese government bonds are mainly held by domestic investors, it might be easier for the BOJ than the Fed to prevent long-term rates becoming volatile after exiting."
Jesper Koll, head of Japan strategy at JPMorgan in Tokyo, said it would be "shocking" if yields don't rise. "When you get a flip from deflation to inflation it is only normal that nominal interest rates rise in line with underlying inflation," he said.
Exit Measures
Although Kuroda has repeatedly said it is premature to discuss an exit strategy, in a Nov. 22 parliamentary committee he said that measures could include allowing JGBs held by the BOJ to mature, and raising rates on deposits at the central bank.
Koo said that Japan's best tapering option would be to sell maturing long-term bonds -- those that are effectively short-term -- to avoid disruption to the market for those securities.
None of the economists surveyed said the BOJ would begin tapering before the second half of next year, while 15 of the 36 said such a move was "unforeseeable."
The economy expanded for four straight quarters through September on fiscal and monetary stimulus. A one-quarter contraction is projected in April-June after the sales-tax increase.
Japan's economy will continue a moderate recovery even after the levy rise, Kuroda said last month. The central bank will monitor risks and adjust monetary policy as needed, he said.
Before it's here, it's on the Bloomberg Terminal.
LEARN MORE