Is England on the Brink of a U.S.-Style Fracking Boom? Don't Bet on Shale Just Yet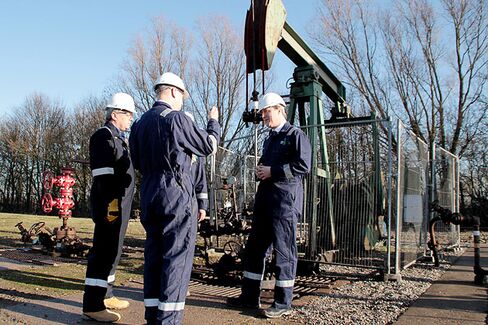 Anyone tuning into global energy news this week would be forgiven for imagining England's feisty environmentalists prepping for battle across their green and pleasant land.
That's because U.K. Prime Minister David Cameron on Monday went to a hydraulic fracturing site 150 miles north of London to tell reporters his country should fully embrace the American model of widespread fracking of shale for oil and gas. And he offered new financial incentives for local governments willing to help clear the way. "I want us to get on board this change that is doing so much good and bringing so much benefit to North America," Cameron said.
He was piggybacking on an announcement the same day by French energy giant Total, which became the first oil "major" to invest in the U.K.'s shale-gas industry.
For the country's powerful antifracking movement, led by Greenpeace and Friends of the Earth, these would seem to be troubling developments. But many activists don't seem too worried. The reason: Developers have yet to produce a single drop of commercial energy from hydraulic fracturing in the U.K., largely because of legal challenges supported by environmental groups. And that doesn't appear likely to change, at least not soon.
U.K. activists have helped local landowners stall fracking operations with challenges brought via trespassing laws, local-government planning regulations, and other avenues (these challenges were nicely documented by Nidaa Bakhsh of Bloomberg News last October). And property owners in the U.K. still have little financial incentive to steer clear of a fight. Mineral rights in the U.K. belong to the Crown, not the land's owner.
Jane Thomas, a senior campaigner for Friends of the Earth, said Cameron's plan to increase payments for local governments would not be a "game changer" for the industry. "They realize that they have a massive and uphill battle and are attempting desperate measures," she told me.
What about Total's involvement? The company is investing $47 million in licenses in eastern England. If that pays off, it could be significant. If it doesn't, the investment equals less than two hours of Total's estimated $243 billion revenue in 2013. In short, it seems to be an easy gamble for the company, rather than a sign of a coming sea change in the U.K.'s development of shale gas.
Another, less-noticed change Monday could make more of a difference, says Naomi Luhde-Thompson, who is the planning adviser at Friends of the Earth.
Planning authorities and courts in the U.K. have been receptive to challenges brought by landowners who may be far away from drilling platforms but have horizontal drills burrowing underneath their properties. Horizontal drilling is a key feature of fracking. Some English landowners have even successfully challenged energy companies as "trespassers" because of the drills passing under their lawns.
But new government regulations that took effect Monday mean energy companies will no longer have to notify landowners if their property "is to be used solely for underground operations." By limiting notification to a smaller number of landowners, Luhde-Thompson said, the government might be able to limit challenges.
Before it's here, it's on the Bloomberg Terminal.
LEARN MORE