Detroit Lions Hire Former Colts Coach Caldwell to Guide Stafford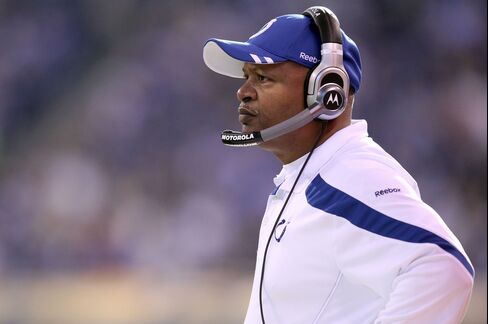 Jim Caldwell's second head coaching job in the National Football League comes with another No. 1 draft pick in Detroit Lions quarterback Matthew Stafford.
Caldwell, who will be 59 tomorrow, was hired yesterday by the Lions, who said they were seeking someone with an offensive focus and experience as a head coach. Caldwell spent the past two seasons as the Baltimore Ravens' offensive coordinator and from 2009 through 2011 worked with quarterback Peyton Manning as coach of the Indianapolis Colts.
"Jim made Peyton Manning an even better quarterback -- look at the numbers and wins -- and I think he can do the same for Matthew Stafford," former Colts coach and ESPN analyst Tony Dungy was quoted as saying by the Lions' website.
The Lions fired Jim Schwartz after losing six of their final seven games to finish 7-9 and miss out on the postseason for the 13th time in the past 14 years. Detroit hasn't won a playoff game since the 1991 season.
Stafford, the No. 1 pick in the 2009 NFL draft, has ranked among the league's top three quarterbacks in passing yardage each of the past three seasons. Detroit has gone 21-27 during that stretch.
Caldwell had a 26-22 record in Indianapolis and took the Colts to the Super Bowl -- losing to New Orleans -- in his first season after replacing Dungy.