BNP Derivatives Boss Says Few Banks Making Money in Equities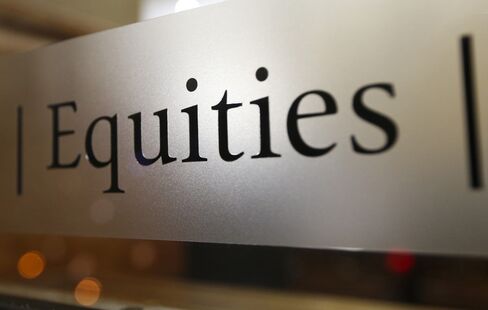 Jan. 16 (Bloomberg) -- Most banks are losing money trading stocks in Europe when their cost of capital is considered, said the top equity derivatives executive at BNP Paribas SA.
"A lot of banks are running unprofitable equity businesses, which cannot be sustainable," Yann Gerardin, head of global equities and commodity derivatives at France's largest bank, said in an interview in Paris.
Barclays Plc, UniCredit SpA and Nomura Holdings Inc. are among banks that have cut their equity businesses in Europe amid declining trading volumes and profitability. Europe's biggest investment banks' return on equity has tumbled to between 10 percent and 12 percent on average in the past three years, close to their cost of capital, analysts at Barclays Capital say.
Clients are also turning to electronic and algorithmic trading that doesn't require value-added service from brokers, meaning many equity houses in Europe will struggle to keep enough business to make money, according to Rebecca Healey, a financial-services analyst at Tabb Group LLC in London. Large firms that invested in technology over the past two years will fare better, she said in an interview on Dec. 30.
Automated Trades
"As clients are not getting the service they want, they are turning to automation," she said. "There is less reason to pay the broker. The broker receives reduced revenue, has to reduce the service they are able to offer, and so the cycle continues."
European investment banks' profitability should show "slight improvement" this year, London-based Barclays analysts Jeremy Sigee and Kiri Vijayarajah wrote on Jan. 7. Trading commissions peaked in Europe in 2009 and brokers aren't planning for a rebound, Greenwich Associates, a consulting firm that advises investment banks and asset managers, said in August.
BNP Paribas slipped 50 cents, or 0.8 percent, to 59.06 euros at 11:29 a.m. in Paris trading, giving the bank a market value of 73.5 billion euros ($100 billion). Its shares have has returned 34 percent in the past 12 months, outpacing the 8.6 percent advance by Deutsche Bank AG, Europe's largest investment bank by revenue.
Revenue at BNP's equities and advisory activities, which include equity derivatives, reached 1.33 billion euros in the nine months through September, up 2.1 percent from a year earlier, the bank said in October. The equities and commodity derivatives business employs more than 1,300 front-office staff globally.
"We are using less capital and less funding than in 2007, and we managed to globally protect our revenues," making equity trading profitable for BNP Paribas, Gerardin said.
Job Reductions
The average return on equity among other equity-trading desks was negative in 2012, he said, citing consultants' benchmarks for the industry that he didn't specify.
BNP doesn't provide a profitability breakdown for its investment-banking activities.
Investment banks in Europe will need to shed 20,000 sales, trading and back-office positions in 2014 to keep costs down as lower revenue, higher technology spending and regulatory burdens offset previous efforts to reduce expenses, Deutsche Bank AG analyst Matt Spick wrote in a report last month.
In February, BNP Paribas set a 2015 target to reduce annual costs by 2 billion euros, with about a third of that effort to come at its corporate and investment banking division. By the end of September, the French bank had already achieved more than a quarter of that goal, according to its website.
Gerardin said his unit "contributes as all the other businesses of BNP Paribas" to the bank's three-year cost-cutting and investment plan.
Avoiding Risks
"The launch of this plan didn't come with objectives in terms of staff reduction," he said. "There is no such plan at global equities and commodity derivatives."
BNP Paribas was among European banks that reduced corporate and investment banking staff and risk-weighted assets between the middle of 2011 and 2012 as short-term dollar funding for the region's lenders evaporated during the worst of Europe's sovereign-debt crisis.
"At that time, all the Europeans lost market share" in equity derivatives, Gerardin said. "Starting in 2009, we turned down contracts and deals to avoid risks, and had to adapt again in 2011-2012 because of the sovereign-debt crisis."
The French bank has also kept away from large corporate derivatives transactions that entail high risk for the underwriter, focusing instead on simpler products, he said.
BNP Paribas is now expanding its equity-derivatives franchise. In October, the Paris-based firm signed an agreement to take on a 12.5 billion-euro equity-derivatives book from Credit Agricole SA. BNP is also in talks with Royal Bank of Scotland Group Plc to buy the British lender's equity derivatives and retail structured products unit.
BNP Paribas is "acting as a consolidator in the market," Gerardin said. The lender is "not only adding market share, but also providing solutions to some of our competitors who are considering other options. We are ready to take on board more derivatives portfolios as long as they are simple products."
To contact the reporters on this story: Fabio Benedetti-Valentini in Paris at fabiobv@bloomberg.net; Alexis Xydias in Paris at axydias@bloomberg.net
To contact the editors responsible for this story: Frank Connelly at fconnelly@bloomberg.net; Cecile Vannucci at cvannucci1@bloomberg.net