Argentina Seen Selling Bonds Overseas From Pension Fund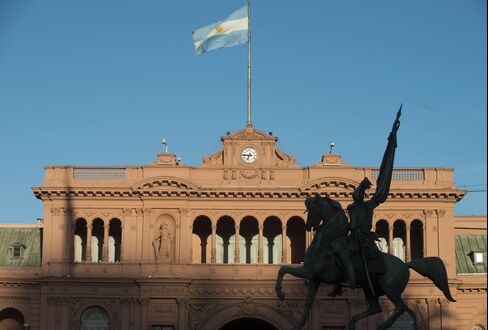 Argentina's state pension agency is planning to sell in overseas markets some of the $2.3 billion of short-term dollar bonds it bought from the government in 2011, according to a person familiar with the fund's investments.
The pension agency, which manages about $46 billion, would sell some of the notes due 2018 to help the government establish a benchmark yield that would serve as a reference point for new issues, said the person, who asked not to be identified because the discussions are private. Anses, as the agency is known, bought all $2.3 billion of the bonds in a private placement in late 2011 to provide financing to a government that hasn't sold debt in foreign markets since it defaulted in 2001.
Speculation is mounting that Argentina is looking to return to international bond markets to shore up foreign reserves that have plunged to a seven-year low of $30 billion. Bank of America Corp. said last week the government may issue debt, using Anses to help it gain access to markets. The average yield on Argentina's dollar bonds abroad has fallen to 12.05 percent, the second-highest among major developing nations, from 14.21 percent six months ago, according to data compiled by JPMorgan Chase & Co.
"It's a way for Argentina to get access to dollars," Stuart Culverhouse, chief economist at London-based investment bank Exotix Ltd., said in a telephone interview. "They're obviously picking up the tin can in the kitchen and finding there's no cash left."
Parallel Market
Anses sold $2.7 million of the notes due 2018 in local markets last week in its first secondary-market transaction of the securities, according to data compiled by the Buenos Aires stock exchange. The notes, which pay an annual interest rate of 9 percent, traded yesterday at 92 cents on the dollar in the local market, according to the exchange.
Anses is waiting for higher price offers from international investors to start selling abroad, said the person. He declined to say what price level the agency is targeting or how much of the notes it could sell.
The extra yield investors demand to hold Argentine debt over U.S. Treasuries narrowed 12 basis points to 900 basis points at 3:40 p.m. in Buenos Aires, according to JPMorgan.
Pablo Cabas, a press official at Anses, didn't immediately respond to an e-mail seeking comment on the bond sale plans. Jesica Rey, an Economy Ministry press official, didn't return phone calls seeking comment.
2008 Takeover
The pension agency's local bond sale on Jan. 9 formed part of a government effort to strengthen the peso in a parallel foreign-exchange market that investors use to avert capital and currency controls, the person said. In that market, the dollar fetches 9.7069 pesos, about 45 percent more than the official exchange rate.
The agency also has tried to bolster the parallel rate by selling some of its holdings of local law dollar-denominated bonds due 2017, with the objective of closing the gap to about 35 percent, the person said. As of September, the fund held 13.4 billion pesos of those securities.
Anses oversees the state pension fund, known as the Fondo de Garantia y Sustentabilidad, or FGS, which had about 306 billion pesos, equal to $46 billion at the official currency rate, under management as of the end of September. The fund was established after President Cristina Fernandez de Kirchner nationalized the country's $24 billion private pension industry during the 2008 global financial crisis.
Argentina last sold dollar bonds in the domestic market in 2012, when it issued $456 million of bonds due 2019. Anses owns all of those securities as well, the person said.
"This is probably more of an FX management operation," Exotix's Culverhouse said. "Until there's a more coherent and consistent rebalancing of macro-policies, developing a curve isn't going to be that helpful."
Before it's here, it's on the Bloomberg Terminal.
LEARN MORE