Paschi Backs CEO as Resignation Offered Over Share Sale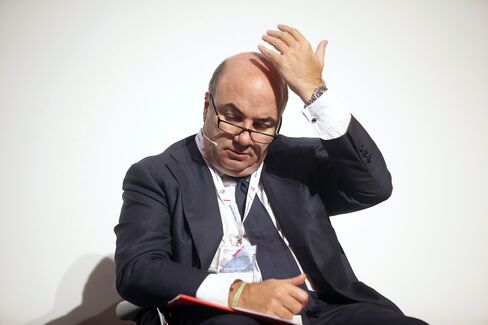 Jan. 15 (Bloomberg) -- Banca Monte dei Paschi di Siena SpA Chief Executive Officer Fabrizio Viola will stay at the bank, easing concern his departure would throw the bailed-out Italian company into disarray.
The board unanimously backed Viola, who offered his resignation yesterday after the bank's biggest shareholder blocked the executives' plans to sell stock as soon as this month. Chairman Alessandro Profumo told la Repubblica he's also staying to pursue the capital increase and defend "the bank's autonomy."
"This is very positive news, which allows the bank to proceed with the restructuring path," Giovanni Razzoli, a Milan-based analyst at Equita SIM SpA, wrote in an e-mailed report today.
Viola, 55, and Profumo, 56, are seeking to bolster the finances of the world's oldest bank to repay a bailout and avert the risk of nationalization. Fondazione Monte dei Paschi di Siena, which owns 33.5 percent of the bank, won a battle last month to delay the 3 billion-euro ($4.1 billion) rights offer until at least May as the charitable foundation repairs its own finances.
Attracting new shareholders as soon as possible is crucial to ensuring that restructuring and the capital increase are feasible, Viola wrote in a letter to employees yesterday and obtained by Bloomberg News today. The CEO said he will do his utmost to ensure the rights offer is carried out and that goals set out in the bank's business plan are achieved.
Shares Climb
Monte Paschi rose as much as 3.2 percent in Milan trading and increased 1 percent to 18.79 cents at 4:34 p.m. The stock dropped 37 percent in the past 12 months, valuing the company at 2.2 billion euros. The Bloomberg Europe 500 Banks and Financial Services Index increased 18 percent in the period.
The bank will consider legal action after Fondazione Monte Paschi pushed back the offering, according to the statement. Consob, the Italian market regulator, had requested that Monte Paschi clarify whether it will challenge the foundation's decision, said a person with knowledge of the situation who asked not to be identified because the matter is private.
Viola and Profumo, appointed in 2012 to turn around Mote Paschi, are trying to implement a restructuring plan to return the firm to profit after it sought a 4.1 billion-euro state rescue. Their mission has been complicated by Italy's recession and stricter requirements on capital and liquidity imposed by European authorities.
Job Cuts
Monte Paschi needs financial partners to grow, more than a merger with another bank, Profumo told la Repubblica, reiterating comments he made last year when asked about potential new investors during the stock sale.
Viola's reorganization also includes eliminating 8,000 employees and shrinking the balance sheet by 25 percent by 2017, paring sovereign debt holdings and reducing consumer credit and leasing portfolios. He replaced Antonio Vigni in January 2012, arriving from bank Popolare dell'Emilia Romagna, where he spent more than three years.
Monte Paschi said in December that the delay to the share sale would cost the bank 120 million euros in interest payments on the bonds it sold to the government in the bailout. The postponement may also require a new group of underwriters for the capital increase, Profumo said last month. Ten banks, including UBS AG, Citigroup Inc. and Goldman Sachs Group Inc., agreed to back an offering in the first quarter.
Should Monte Paschi fail to pay a 9 percent coupon on the bonds, it must substitute the debt with stock, surrendering a stake to the government in lieu of interest.
Criminal Probes
Monte Paschi is also grappling with criminal probes into derivatives deals made by former management. Last month, it reached an agreement with Deutsche Bank AG to close a contract called Santorini, whereby Monte Paschi will pay 525 million euros to close the deal 17 years before it matures.
Deutsche Bank said in October that it is cooperating with regulatory agencies and prosecutors in Siena, Italy.
Former managers are also on trial in Siena for obstructing regulators on a similar transaction with Nomura Holdings Inc. by allegedly withholding a document that illustrated how the bank hid previous losses.
To contact the reporters on this story: Sonia Sirletti in Milan at ssirletti@bloomberg.net; Elisa Martinuzzi in Milan at emartinuzzi@bloomberg.net; Sergio Di Pasquale in Milan at sdipasquale1@bloomberg.net
To contact the editor responsible for this story: Frank Connelly at fconnelly@bloomberg.net