Hollande Faces Investors Deserting French Debt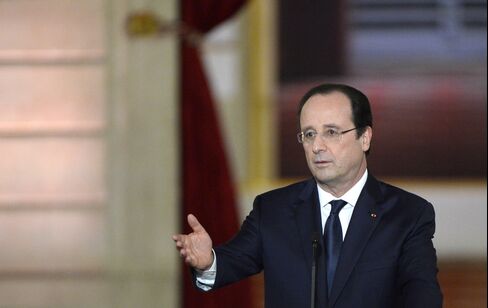 Jan. 15 (Bloomberg) -- President Francois Hollande's surest supporters since taking office have been buyers of French bonds. Some of them are now deserting the country's debt.
The French government debt auction last week drew the weakest demand in a decade as investors piled into Spanish and Italian securities. The yield on France's benchmark 10-year bonds is at 2.5 percent now from a record low of 1.74 percent in April last year. French and Belgian bonds are the worst performers among the euro region's major issuers this year.
The cold shoulder is new for Hollande, who saw investors snap up French securities and drive down borrowing costs after he took office in May 2012 even as his popularity slumped to record lows. Yet with nations such as Spain repairing their finances, France is looking like a laggard and Gallic bonds are losing their luster.
"France is lagging behind in the process of regaining competitiveness," said Gareth Colesmith, a senior portfolio manager in London for Insight Investment Management Ltd., with $446 billion under management, who has shifted funds into Italian and Spanish bonds. "It has not been as uncompetitive as Spain but at the same time the political set-up is such that it's very difficult to put in place reforms in a proactive, preemptive manner."
It hasn't helped that Hollande's unveiling of pro-business measures at a press conference yesterday was overshadowed by questions about a magazine report he's having an affair with actress Julie Gayet.
Lagging Behind
Hollande, who declined to comment on his private life, said he'll eliminate about 30 billion euros ($41 billion) in social charges borne by companies by 2017 to encourage investment and hiring as he seeks to cap unemployment that's at a 16-year high.
"The time has come to resolve the main problem of France: its production," he said. "We must produce more and better. It's on the supply side we must act. Supply itself creates demand. We must continue to reduce the cost of labor."
France was ranked 14th among European countries in terms of the economic "adjustment progress" last year, according to a report by Berenberg Bank Chief Economist Holger Schmieding for the Lisbon Council.
Greece, Ireland and Spain -- all crisis-hit countries that have received European bailouts -- occupied the three top spots, while Italy came in at No. 9. Spain, France's southern neighbor, has won praise from economists for generating record exports last year by squeezing labor costs.
The efforts have been rewarded in the bond market.
Spain Gains
On Jan. 9, when France sold 9.83 billion euros in bonds, the bid-to-cover ratio was 1.54, the weakest since March 2003. On the same day, Spain sold five-year debt at the lowest yield on record.
Italy, which unlike France has a trade surplus and a budget surplus when the cost of debt-service is excluded, sold three-year notes at a record low yield this week.
"France is uncoupling from the rest of Europe," Standard & Poor's Chief European Economist Jean-Michel Six said at a press conference in Paris yesterday. "France is the only major economy in Europe whose trade deficit with Germany has widened. Italy and Spain have narrowed theirs. That's a sign of France's troubled competitiveness."
French bonds reflect that concern.
France Underperforming
French sovereign debt, which lost its top credit rating in 2012, outperformed its euro-area AAA graded peers last year. It is now being beaten by both higher-rated and higher-yielding regional securities. French and Belgian bonds were the second worst performers in the euro region after Slovakian debt.
While French bonds lost investors 0.3 percent so far this year, Portuguese bonds returned 4.1 percent, according to Bloomberg World Bond Indexes. Italian securities gained 1.3 percent while Spain's rose 2 percent. French debt also underperformed Germany's which rose 0.5 percent.
"French bonds are underperforming both cores and peripherals probably because they are deteriorating in terms of quality and they don't compensate you enough for those risks," said John Stopford, head of fixed income at Investec Asset Management in London, which oversees $105 billion. "It is an economy where competitiveness is being hit by policy. It's not obvious that France is heading in the right direction."
The yield on 10-year French bonds rose two basis points, or 0.02 percentage point, to 2.48 percent as of 3:40 p.m. London time. The extra yield demanded for holding 10-year French securities instead of the German benchmark was at 65 basis points. That's above an average of 58 basis points over the past 12 months and 33 basis points over the past 10 years.
Not Onerous
Granted, French borrowing costs are still relatively low. The extra yield the country pays to borrow for a decade over comparable German securities is at 66 basis points, less than half the 200 points for both Spain and Italy.
The nation's sovereign bonds are among the most liquid in the region, allowing investors to enter or exit the market with minimum price moves. Japanese investors, among biggest buyers of French debt, purchased net 579.4 billion yen ($5.6 billion) of the securities in November, the most since 2012, according to figures from Japan's finance ministry.
Hollande has also won praise from the European Commission and other organizations for easing restrictions on corporate job cuts and offering businesses a payroll tax credit. He's now promising to go further -- pledging to cut charges on business further in a bid to prompt companies to hire.
Still, with the European Central Bank and the U.S. Federal Reserve keeping interest rates near the zero-bound, investors are scouring the globe to find yield and French sovereign bonds are struggling to shine.
"We think reforms in France is lagging momentum, and economic data is not every encouraging," said Jussi Hiljanen, head of fixed-income research at SEB AB in Stockholm. "While government bonds in the euro region are likely to benefit from the ECB's easing bias, French securities may not benefit from this as much as other non-core bonds."
To contact the reporters on this story: Mark Deen in Paris at markdeen@bloomberg.net; Anchalee Worrachate in London at aworrachate@bloomberg.net
To contact the editor responsible for this story: Vidya Root at vroot@bloomberg.net