European Stocks Erase Drop as RWE Rises on Court Ruling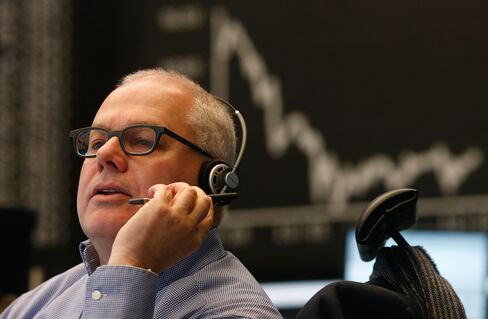 European stocks erased their decline in the final half an hour of trading as RWE AG rallied, leading utility shares higher.
RWE jumped 5 percent after a German federal court ruled in its favor. Celesio AG slid 4.4 percent after McKesson Corp. said it failed to gain support from enough of the drug wholesaler's shareholders to complete an acquisition. Jeronimo Martins SGPS SA declined 2.8 percent after the Portuguese retailer said sales growth slowed in Poland, its largest market.
The Stoxx Europe 600 Index added 0.2 percent to 331.23 at the close of trading in London. The gauge declined as much as 1 percent today as investors weighed equity valuations after closing yesterday at its highest level since May 2008. The European equity benchmark traded at 13.9 times its members' projected earnings at yesterday's close. The index ended 2013 at its highest valuation since the end of 2009.
"The risk in the European market is if profits don't follow multiple expansion that makes the market expensive," said Nathalie Martin-Pelras, who oversees 920 million euros ($1.3 billion) as chief investment officer at KBL Richelieu Gestion in Paris. "After 2013's multiple expansion story, corporate results have to deliver in 2014. Still, for us, expectations for earnings growth of even 8 to 10 percent this year are too optimistic."
Earnings for the index probably fell 5 percent last year, according to analyst estimates compiled by Bloomberg. They may rebound in 2014, climbing 14 percent.
Book Value
The Stoxx 600 traded at 1.68 times the estimated book value of its members yesterday, more than the five-year average of 1.48 times, data compiled by Bloomberg showed. The multiple reached a 5 1/2-year high on Dec. 31. The number of shares trading hands today in Stoxx 600-listed companies was 15 percent greater than the average of the past 30 days.
National benchmarks fell in 12 of the 18 western-European market. The U.K.'s FTSE 100 added 0.1 percent, while Germany's DAX and France's CAC 40 each gained 0.3 percent.
RWE jumped 5 percent to 26.81 euros after Germany's Federal Administrative Court ruled that the forced shutdown of the company's Biblis nuclear power plant in the aftermath of the 2011 Fukushima disaster was unlawful.
Shire Plc added 2.8 percent to 2,991 pence, the highest price since its initial public offering in February 1996. The drugmaker predicted that 2013 earnings per share increased at the upper end of its Oct. 24 forecast. It had forecast a percentage increase in profit in the mid-to-high teens. Shire reports its full-year results on Feb. 13.
Celesio Bid
Celesio dropped 4.4 percent to 23.10 euros. McKesson, the largest U.S. drug distributor, said in a statement that its increased offer of 23.50 euros a share failed to pass the threshold needed for the deal to go through. McKesson may now seek a joint venture with the European wholesaler, John H. Hammergren, chairman and chief executive officer, said yesterday at a conference in San Francisco.
Jeronimo Martins, which owns supermarkets in Portugal and Poland, slid 2.8 percent to 13.62 euros. Comparable sales rose 2.5 percent in Poland in the fourth quarter, less than the 4 percent rate for the previous three-month period, according to a statement late yesterday. The Polish business, Biedronka, accounted for 66 percent of total sales in the three months through December. JPMorgan Chase & Co. downgraded the stock to neutral from overweight, meaning that investors should no longer buy the shares.
Ashmore Group Plc slumped 12 percent to 358 pence, its biggest drop since February 2009. The fund manager's assets under management slipped 4.1 percent to $75.3 billion in the three months that ended Dec. 31, according to a statement.
Financial Services
A gauge of European financial-services companies fell the most in a month, posting the second-largest decline among 19 industry groups on the Stoxx 600. London-listed asset managers retreated as Henderson Group Plc, which reports 2013 earnings on Feb. 26, lost 2.6 percent to 229.4 pence. Schroders Plc slipped 1.7 percent to 2,547 pence.
Volkswagen AG decreased 2.4 percent to 197.80 euros as UBS AG lowered its rating on Europe's largest carmaker to sell from neutral. The brokerage said the company's high level of re-investment may cut into earnings growth.
Aeroports de Paris retreated 1.4 percent to 81.64 euros, while Fraport AG declined 0.8 percent to 54.66 euros after Barclays Plc lowered its ratings on the airport operators. The brokerage said AdP's stock trades near fair value. Barclays added that passenger spending in Frankfurt airport's shops has fallen below its estimates and the investment needed to build a third terminal may prevent Fraport from increasing its dividend.
Before it's here, it's on the Bloomberg Terminal.
LEARN MORE