Dublin Prices Seen Rising 14% With Crowded Auctions: Mortgages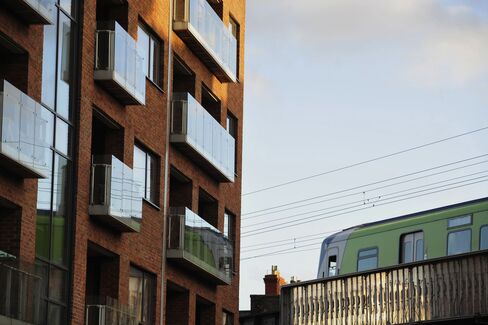 When Graham Dixon arrived at a property auction in Dublin's affluent Ballsbridge neighborhood last month, he braved a crowd of hundreds only to lose out on a house that sold for almost six times the reserve price.
"It was mad bidding," said Dixon, a design technician and property investor seeking to trade up his family home at the sale, which was delayed by organizer Allsop Space for 30 minutes as people crammed in. "We just watched the bidding escalate more and more and it went over our budget. It was scary."
The clamor reflects the turn in Ireland's fortunes after the country made a full return to international bond markets last week and drew a line under more than four years of financial crisis. Home prices rose for the first time in six years in 2013 and billionaire investors John Paulson and George Soros wagered on the country's property recovery.
While prices still are 47 percent below the peak in 2007, when the market's collapse crippled Irish banks and sent the country into a tailspin, it may not get much easier for the Dixons to find a new home. Cash buyers and a dearth of homes coming on the market are more than making up for a lack of mortgage lending, which has dropped 90 percent since the Celtic Tiger era.
"The Irish housing market has bottomed out," said Anthony Baert, an analyst at ING Groep NV in Brussels. "House prices are likely to be further pushed up in the near future due to shortage of supply in Dublin."
Second Year
Irish home prices will gain about 7 percent this year, according to the median estimate of 8 analysts surveyed by Bloomberg News, after rising 5.6 percent last year through November, according to the Central Statistics Office. In Dublin, values may jump by 14 percent after a similar gain last year, said Philip O'Sullivan, an analyst at Investec Plc in the Irish capital.
The increases contrast with the previous five years, when prices dropped by about 50 percent in the worst real-estate bust in Western Europe. The crash decimated the Irish banking system, and ultimately forced the state to seek an international bailout in 2010 to the tune of 67.5 billion euros ($92 billion).
Now, as Ireland leaves its rescue program and successfully finances itself from the international debt market once more, the recovery is starting to gain ground. Home values have risen for six straight months with year-on-year increases in Dublin exceeding those at the height of the boom.
Keeping Mortgages
The increases reflect a lack of supply of family homes in Dublin. Fewer existing properties are available for sale in the capital than anywhere else in the country, according to data from Dublin-based real-estate company Sherry FitzGerald.
About 0.9 percent of estimated private housing stock is available in Dublin, compared with 2.5 percent across the country, the figures show. About 6 percent of housing stock is available in Cavan, a county on the border with Northern Ireland less than two hours' drive north of Dublin.
The lack of homes may be partly because of the reluctance of Irish homeowners to give up tracker mortgages, which are linked to the European Central Bank's key interest rate, currently at a record low of 0.25 percent.
Moreover, many Dubliners can't afford to sell their homes because the amount they owe on their mortgages is still much higher than the value of the property even after the market's recent improvement. Home prices will take 20 years to reach pre-2008 levels, as credit remains limited, said Melanie Bowler, an economist at Moody's Analytics.
"House prices are forecast to continue to recover in 2014," Bowler said in an e-mail response to questions. "But the risks are to the downside."
Mortgage Lending
The price surge comes in the face of anemic mortgage lending from Irish banks, which almost collapsed when the country's property bubble crashed. Lenders made 750 million euros of mortgage loans in the third quarter of 2013, according to the Irish Banking Federation. That compares with 10.9 billion euros in the same period in 2006.
"Mortgage approvals remain low, which diminishes the banking sector's exposure to a bubble developing in certain areas of the country," said Diego Iscaro, at IHS Global Insight in London. "Activity in the property market has also been supported by increasing demand from cash buyers."
More than half of home buyers are using cash in the absence of mortgages, according to Sherry FitzGerald data for the year through September. Investors purchased 13 percent of existing homes in 2013, compared with 10 percent the previous year, according to Sherry FitzGerald. In 2006, investors purchased 20 percent, the firm said.
Paying Cash
At the Allsop auction, about half of the bidders paid with cash as they fought to buy about 26 million euros of Irish real estate, mostly from receivers acting for banks, according to Robert Hoban, Allsop's director of auctions.
"There is a frenzy for the types of properties that people want," said Hoban. "It's not a functional market, where properties are bought and sold with bank finance. We're relying on a non-normal market. The cash market is finite."
The rise of cash buyers in Ireland is a sign that the market has turned, according to Michael Shaoul, chief executive officer of Marketfield Asset Management LLC, which oversees about $19 billion.
"One of the things that turns markets around is that you get prices down to a low enough level that a different kind of buyer is willing to step in to purchase the asset," Shaoul said. "It's cash buyers who turned this market around and it's cash buyers who you're going to rely on to support the market."
Irish REITS
Marketfield is one of the biggest investors in Bank of Ireland and Irish real estate investment trusts, Green REIT Plc and Hibernia REIT Plc.
Green REIT rose 2.6 percent to 1.40 euros at 12.54 p.m. in Dublin trading, extending the shares gain since listing in July to 27 percent. Hibernia was unchanged today.
Appetite for Irish commercial property also soared, as banks and a state agency sold off distressed assets. BlackRock Inc. and funds backed by billionaires Louis Moore Bacon, Paulson and Soros all bought stakes in Irish real estate investment trusts as total sales jumped to 1.9 billion euros, about 10 times the 2010 figure and the highest since 2006, according to Jones Lang LaSalle Inc.
Others buying Irish property are looking for financing overseas rather than relying on Irish banks.
Marc Godart, an economics student with a goatee from Luxembourg, said a bank in his home country helped finance his purchase of a vacant six-story office block in Dublin for a "fabulous" 335,000 euros last month. Godart said he may seek permission to turn the block into apartments.
Long Wait
"Loans here are so hard to get," Godart, 24, standing beside his father Rene, said in an interview after the Allsop auction. "We came here to profit from the economic downturn and the low property prices."
Meanwhile, for Dixon and his wife, the hunt goes on.
The couple waited for hours with an infant in a stroller for bidding to begin on the vacant, detached four-bedroom house in Castleknock, a suburb in west Dublin. It was one of 144 at the auction in the Royal Dublin Society building in Ballsbridge. The home, which had a reserve price of 50,000 euros, sold for 290,000 euros to another Dublin bidder, according to Allsop.
"Whenever you do go for properties at the moment, there are so many bidders. It has turned around," said Dixon. "We'll keep on looking."