Attention, Bond Investors: The World Has Changed
How far can you stretch a rubber band? Until it breaks -- or snaps back.
The team at Strategas sent us a chart this morning showing the relationship between stocks and bonds. It's created by dividing the price of the S&P 500 by the price of the front-month 10-year bond future. Each time in the past 20 years it stretched this far, it snapped back.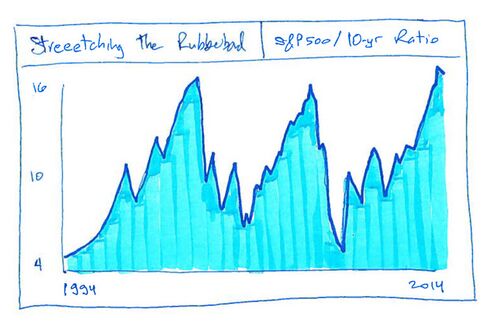 Chairman Bernanke (ahem, ex-Chairman) kept rates low as long as he could, priming the financial system with liquidity and steering investors towards risk assets. This is one of the reasons stocks have risen. Now the taper has begun, and the surprise GDP rise to 4.1% indicates the economy is improving significantly. As Dallas Fed President Richard Fisher has argued repeatedly, "The patient no longer requires life support."
Indeed the world has changed. Mr. Fisher knows it. His Fed brethren know it. Stock investors know it, but bond investors apparently do not. They are still clinging to short-term paper yielding less than inflation. Even the 5- and 10-year notes barely return a profit: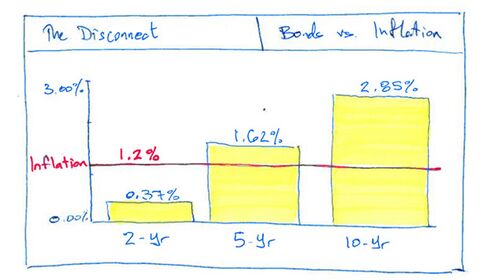 Barclays equity strategist Barry Knapp first coined the phrase "a period of adjustment" about a year ago. He wrote investors would take several years to shed the fear which gripped markets beginning in 2009. He believed they'd embrace equities as a means to recoup losses, but would stay overweight bonds as protection for far too long.
The problem here: The safety appeal of bonds becomes a lot less appealing as growth and inflation eventually reappear. Bond yields will rise, meaning bonds held in portfolio will fall. So much for safe havens.
Looking at the rest of the world, 5-year yields are even lower. In time, the world will adjust, and these rates will normalize. We're with Mr. Knapp, bond investors have overstayed their welcome. We would not want to own global sovereign bonds currently, here or abroad.