S&P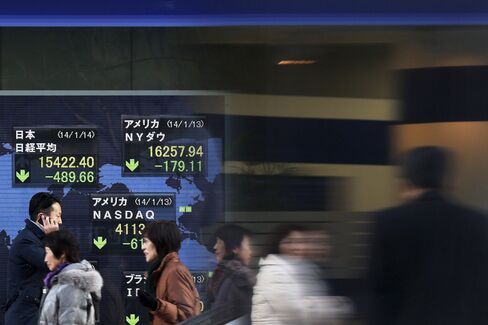 Jan. 15 (Bloomberg) -- U.S. stocks rose, with the Standard & Poor's 500 Index erasing its 2014 loss to close at a record. The dollar gained as New York-area manufacturing grew more than forecast and the World Bank boosted its outlook for global economic growth, while crude oil led a rally in commodities.
The S&P 500 added 0.5 percent to a record 1,848.38 by 4:40 p.m. in New York. The Stoxx Europe 600 Index jumped 1 percent to a six-year high. The dollar strengthened against most major peers, gaining at least 0.4 percent versus the yen and euro. West Texas Intermediate crude jumped the most this year, rising 1.7 percent after U.S. supplies fell more than projected. The S&P GSCI commodities index rose to a one-week high as nickel and aluminum rallied more than 1 percent. Gold and sugar fell.
The Federal Reserve said "moderate" growth last month was buoyed by gains in holiday spending, an improving labor market and manufacturing, according to its Beige Book business survey released today. The New York Fed's general economic index topped the median economist estimate while the World Bank said a recovery in advanced economies will temper the impact of tighter monetary conditions. Bank of America Corp. rose after joining JPMorgan Chase & Co. in posting better-than-estimated earnings.
"It's a true, cyclical, macro upswing that's broad-based," Jerry Braakman, chief investment officer of First American Trust in Santa Ana, California, said by phone. His firm manages $1.1 billion. "People who have reported have posted really solid numbers, specifically yesterday's JPMorgan and today with BofA. Just tells us that when the banks are doing well, the economy is going well."
World Bank
The Washington-based World Bank sees the global economy expanding 3.2 percent this year, compared with a June projection of 3 percent and up from a 2.4 percent estimate in 2013. The forecast for the richest nations was raised to 2.2 percent from 2 percent, while the predicted growth rate for developing markets was cut to 5.3 percent from 5.6 percent.
The S&P 500 slipped as much as 1.6 percent from its last record close reached Dec. 31 through Jan. 13 following a 30 percent rally last year. The index climbed 1.1 percent yesterday, the most in almost a month, after December retail-sales growth topped estimates. Today's gains pushed the benchmark index above its 2013 close of 1,848.36.
The Russell 2000 Index and Dow Jones Transportation Average were also among indexes that closed at records today.
U.S. Movers
Bank of America added 2.3 percent to close at $17.15, the highest level in almost four years. The second-biggest U.S. lender's fourth-quarter profit more than quadrupled, exceeding analysts' estimates as the company quelled claims tied to defective mortgages. Regions Financial Corp., Morgan Stanley and JPMorgan also gained at least 2.5 percent to help lead an advance in financial stocks.
Trading volume for S&P 500 stocks was 39 percent higher than the 30-day average and 35 percent above the Stoxx 600's average, data compiled by Bloomberg showed.
Apple Inc. added 2 percent after China Mobile Ltd. said pre-orders for iPhones had reached 1 million. Tesla Motors Inc. advanced 1.8 percent after Chairman and co-founder Elon Musk predicted that the company will deliver its first Model S vehicles to China in March.
Fed policy makers said Dec. 18 that they will cut monthly bond purchases to $75 billion from $85 billion, citing improvements in the U.S. job market. They will continue to trim stimulus by $10 billion at each policy meeting before ending the program in December, according to a Bloomberg poll of 41 economists taken Jan. 10. Policy makers next meet Jan. 28-29.
Fed Officials
Fed Bank of Chicago President Charles Evans, who voted in favor of reducing bond buying last month, said today that policy makers will shift their emphasis away from stimulus toward keeping interest rates near zero for a longer time. Evans said Dec. 6 he wanted to see more signs inflation would accelerate and job market gains would continue before the central bank changed policy.
Dennis Lockhart, head of the Atlanta Fed, also speaks today. He said two days ago that weak payroll growth last month shouldn't discourage policy makers from reducing monthly bond purchases as long as the economy continues to gain strength. Neither are voting members this year.
Ten-year Treasury yields rose a second day, adding two basis points to 2.89 percent after climbing four basis points yesterday.
More than three shares rose for every one that declined in the Stoxx 600, which closed at its highest level since January 2008. Burberry Group Plc gained 4.6 percent after the U.K.'s largest luxury-goods maker posted quarterly revenue that topped analysts' estimates.
European Bonds
Chr. Hansen A/S fell 4.8 percent after the No. 1 maker of dairy enzymes reported that first-quarter profit missed analysts' estimates. Hargreaves Lansdown Plc dropped 4.1 percent after the U.K.'s biggest retail broker said it has to gather 3.5 billion pounds ($5.7 billion) in assets. SSE Plc lost 2.2 percent after Barclays Plc lowered its rating on the electricity supplier.
Spain's 10-year bond yield fell six basis points, or 0.06 percentage point, to 3.76 percent, the lowest level on a closing basis since 2009. Yields on Portugal's 10-year bonds dropped 13 basis points to 5.17 percent, the lowest rate since 2010, after the government sold 12-month bills at 0.87 percent, the lowest rate at an auction since 2009.
The MSCI Emerging Markets Index rose 0.3 percent. India's S&P BSE Sensex Index added 1.2 percent to a five-week high after inflation slowed more than forecast to a five-month low, giving the central bank room to keep interest rates on hold. The Jakarta Composite Index rallied 1.2 percent to a nine-week high after JPMorgan upgraded Indonesian stocks, saying concerns over the impact of reductions in Fed stimulus were overdone.
Dollar Index
The Hang Seng China Enterprises Index of mainland Chinese companies listed in Hong Kong rose 0.5 percent to a one-week high, while the Shanghai Composite Index slipped 0.2 percent. Data today showed China's new local-currency loans in December trailed analysts' estimates and money-supply growth slowed. The country's foreign-exchange reserves, the world's largest, rose to a record $3.82 trillion at the end of December from September's $3.66 trillion.
The Bloomberg Dollar Spot Index climbed 0.4 percent to the highest close since Sept. 6. The gauge measures the greenback against 10 major peers, including the South Korean won, Mexican peso and Brazilian real.
"The U.S. dollar should continue to fare well this year," said Khoon Goh, a Singapore-based strategist at Australia & New Zealand Banking Group Ltd. "The Fed speakers this week so far have continued to support tapering."
Commodity Markets
The U.S. currency strengthened 0.4 percent to 104.58 yen, rising a second day. The yen advanced 0.2 percent to 142.29 per euro.
Crude, heating oil, nickel and aluminum all rose at least 1.3 percent to lead gains in commodities as the S&P GSCI gauge added 0.8 percent, its biggest one-day gain since August. Gold futures for February delivery declined 0.6 percent to $1,238.30 an ounce.
Raw sugar futures tumbled to the lowest level in 42 months as India considered incentives to boost production, while contracts on coffee slipped a third day, the longest slump in two months. Cattle futures climbed to a record as the number of cows processed by meatpackers in the U.S. dropped this week.
Oil jumped to $94.17 a barrel after the U.S. Energy Information Administration said stockpiles decreased more than five times as much as forecast, tumbling 7.66 million barrels to 350.2 million last week. Inventories were forecast to drop 1.3 million barrels, according to the median of 11 analyst estimates in a survey before the report.
To contact the reporters on this story: Stephen Kirkland in London at skirkland@bloomberg.net; Lu Wang in New York at lwang8@bloomberg.net
To contact the editor responsible for this story: Lynn Thomasson at lthomasson@bloomberg.net