Vikings Stadium Bond Issue Delayed After Legal Challenge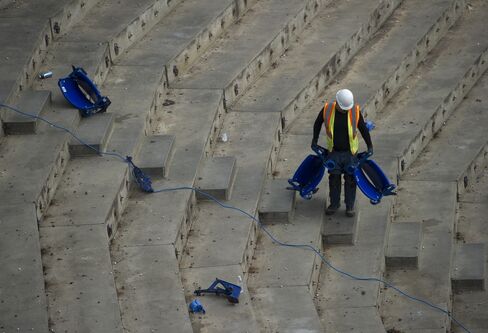 Minnesota postponed a $468 million bond sale planned for this week to help finance a new stadium for the National Football League's Vikings after local residents filed a court challenge.
No new date has been set for the offering, Minnesota Management & Budget Commissioner Jim Schowalter said in a statement yesterday. Minneapolis residents, including Doug Mann, a former candidate for mayor, said in a petition to the state supreme court that the bonds that would help finance the stadium aren't valid without the city's contribution to debt-service payments.
The challenge "raises issues that have been previously dealt with during the long stadium debate," Schowalter said. Still, the state, its bond counsel and underwriters consider it "prudent to pause while the state seeks a swift resolution by the Minnesota Supreme Court."
Groundbreaking began last month on the $975 million structure, which the Vikings have sought since the roof of the Hubert H. Humphrey Metrodome collapsed in 2010 under the weight of snow. Local officials expect the venue to generate development in downtown Minneapolis and provide a destination for national events such as the Super Bowl.
Financing Plan
An initial plan for state financing fell apart before work began after lawmakers realized the original funding source wouldn't generate enough revenue. The proposed stadium bonds are backed by a pledge of state appropriation payments, which are automatically built into the budget, though they can be reduced or repealed by Minnesota lawmakers.
Fitch Ratings gives the debt a AA grade, the third-highest level, and one step below the state's general obligations.
The city is obligated to pay debt service on its share of a principal amount of $150 million plus interest, and the state's liability is limited to payment on as much as $348 million of bonds plus interest, the residents said.
"I'm seeking to get the city of Minneapolis off the hook for this obligation to pay debt service on the state-issued bonds," Mann said in a telephone interview. The challenge alleges that using city sales taxes to repay the stadium debt is unconstitutional, he said.
Mann said he filed a similar challenge to the bonds in Hennepin County District Court in July seeking to get the Minneapolis City Council to refer approval of stadium taxes to voters in a referendum. Mann says he has appealed a judge's ruling dismissing the case.
"It's a pretty risky investment I would think, and the funding schemes that they've come up with really haven't proven to generate the kind of revenue for the state to pay their share of the bonds," Mann said.
The state hasn't determined whether the delay will change the bond sale, according to the statement from Schowalter.
The case is Mann v. Schowalter, A14-0029, State of Minnesota Supreme Court.