Suntory Overseas Thirst Drives Higher Beam Deal Value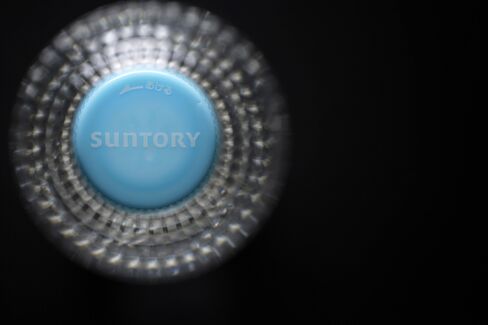 Jan. 14 (Bloomberg) -- Suntory Holdings Ltd. is so eager for overseas growth, it's willing to pay a top-shelf price for Jim Beam and Maker's Mark to expand in the fastest-growing part of the global beverage industry.
Japan's Suntory agreed to acquire Beam Inc. for $16 billion, valuing the U.S. whiskey maker at the fourth-highest takeover multiple in the spirits industry in the last decade, according to data compiled by Bloomberg. That's left little room for complaint from Beam shareholders. The stock is trading 8 cents below the $83.50-a-share cash offer, showing that investors are likely to approve the deal.
"It's a pretty generous price," Jack Russo, a St. Louis-based analyst at Edward Jones & Co., said in a phone interview. "They paid so much that they might actually have precluded others from joining the fray. Standalone companies like this are becoming more rare."
Suntory was willing to strike the deal this week even after Beam's market value climbed $1.4 billion since December 2012 when Suntory had balked at Beam's takeover price. As Suntory's growth at home is hindered by a shrinking population, worldwide sales of whiskey and other spirits are projected to climb an average of 4.9 percent each year through 2017, faster than wine, beer and carbonated drinks, data compiled by Bloomberg show.
Representatives for Suntory and Beam declined to comment beyond the press release announcing the deal.
'Full Price'
The acquisition values Deerfield, Illinois-based Beam at about 20.5 times its earnings before interest, taxes, depreciation and amortization in the past 12 months, data compiled by Bloomberg show. That compares with a median multiple of 13.8 for a wine or liquor maker takeover since 2004, the data show.
Pernod Ricard SA, Europe's second-largest spirits maker, is unlikely to make a counteroffer for Beam based on the valuation of the deal, said a person with knowledge of the matter.
"It seems like a pretty full price," Timothy Ramey, a Lake Oswego, Oregon-based analyst at D.A. Davidson & Co., said in a phone interview. "We don't see other buyers emerging."
Any counterbidders would probably have to pay "significantly" more than 20 times Ebitda because closely held Suntory could always come back with an even higher offer, Melissa Earlam, a London-based analyst at UBS AG, said in a phone interview.
Bloomberg News reported in December 2012 that Suntory had considered making an offer for Beam alongside Diageo Plc, the world's biggest distiller. Suntory wouldn't make an offer at the price Beam was trading at because it was too expensive, an official with the Osaka-based company said then. Beam shares were trading just below $60 at the time.
Yamazaki Whiskey
Suntory, a household name in Japan, makes Yamazaki whiskey and the Premium Malt's beer. The company is seeking to boost overseas growth as the population in its home country shrinks and ages. Almost 80 percent of Suntory's revenue came from Japan in 2011, according to the most recent available data compiled by Bloomberg.
Buying Beam gives Suntory a business that gets about 60 percent of its revenue from North America; 20 percent from Europe, the Middle East and Africa; and another 20 percent from the Asia-Pacific region and South America.
Revenue at Beam is projected to climb about 20 percent to $3 billion in 2016 from $2.5 billion last year, analysts' estimates compiled by Bloomberg show.
"Within the beverages industry, spirits is really where the action is and where the growth is," Kenneth Shea, an analyst for Bloomberg Industries, said in a phone interview. "This deal reinforces that."
To contact the reporter on this story: Tara Lachapelle in New York at tlachapelle@bloomberg.net
To contact the editor responsible for this story: Sarah Rabil at srabil@bloomberg.net