McKesson May Seek Celesio Joint Venture After Bid Fails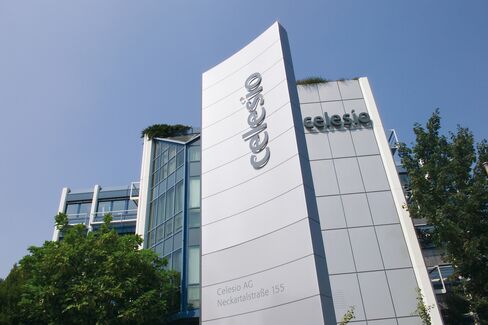 McKesson Corp. may seek a joint venture with Celesio AG after the U.S. drug distributer failed to win enough shareholder support to buy its German rival. Celesio fell the most in six months in Frankfurt trading.
McKesson won the backing of investors with 72.33 percent of Celesio's stock with its offer of 23.50 euros a share, the company said in a statement today, missing a 75 percent threshold. The largest U.S. drug distributor agreed Oct. 24 to buy a 50.01 percent stake held by family-owned investment firm Franz Haniel & Cie GmbH for 23 euros a share, and began an offer for the rest. It later raised the bid by 50 euro cents a share to a value of about 4 billion euros ($5.4 billion).
McKesson is considering other ways to make a deal, Chief Executive Officer John H. Hammergren said yesterday at JPMorgan Chase & Co.'s health-care conference in San Francisco, where the U.S. company is based. McKesson has been seeking to expand and Stuttgart-based Celesio has 132 wholesale branches supplying 65,000 pharmacies and hospitals, mostly in 14 European countries.
"Clearly, a joint venture would be an alternative," Hammergren said. "We have been talking to Celesio for some time about various alternatives."
Hammergren said he was surprised that McKesson failed to reach the acceptance threshold. The company last week won support from U.S. hedge fund Elliott Management Corp., which opposed the original offer as too low.
Fresh News
"This is fresh news to us," he said. "The best I can speculate is that people either forgot the tender date or they somehow believed that there is more on the other side of this."
Celesio fell 4.4 percent to close at 23.10 euros in Frankfurt today. The decline was the biggest since July 4. McKesson fell 0.6 percent to $166.07 at 12:22 p.m. in New York. The stock has increased 64 percent in the past year.
If McKesson can get the deal back together "at the same economics," it will, Hammergren said, though he won't wait "two years for this deal to come together."
Increasing Scale
German rules restrict the renewal of a failed tender offer, Kris Fortner, a McKesson spokesman, said in an e-mail, declining to comment further.
"McKesson will remain committed to finding a partner to increase purchasing scale and the company's strong balance sheet positions it well to pursue other strategic options and/or share buybacks," David Larsen, an analyst with Leerink Partners, wrote in a note to clients.
McKesson is likely to make another offer for Celesio, and dissenting shareholders may be swayed to vote for a revised deal, Sterne Agee & Leach Inc. analyst Greg Bolan wrote in note.
Stephan Gemkow, CEO of Haniel, said he was disappointed McKesson's effort fell short, while Celesio said the sale would have been "strategically sensible."
Celesio will continue to expand its network of pharmacies and key purchasing activities as well as improve its supply chain, said Marion Helmes, Celesio's chief financial officer and acting CEO. The company's management had advised shareholders to accept McKesson's offer.
Repositioned Company
"We have repositioned ourselves in the past years and are well-positioned and competitive on our own," she said.
McKesson could now make a bid for Celesio's competitor Phoenix, UBS AG analysts including Ian Douglas-Pennant said in a note to clients today.
Since Walgreen Co.'s 2012 deal to buy 45 percent of Alliance Boots, the owner of the largest U.K. pharmacy chain, drug distributors have been examining their positions in Europe and looking at ways to cut costs. An acquisition would have allowed McKesson to buy as much as $10 billion a year in generic drugs for distribution, compared with $6 billion to $7 billion on its own.
"Celesio was attractive to us on many dimensions but we didn't need it to give us the global sourcing capability," Hammergren said. "What we were looking forward to was just more volume in the pipe."
Before it's here, it's on the Bloomberg Terminal.
LEARN MORE