Hollande Popularity Rises After Actress Affair Disclosed: Poll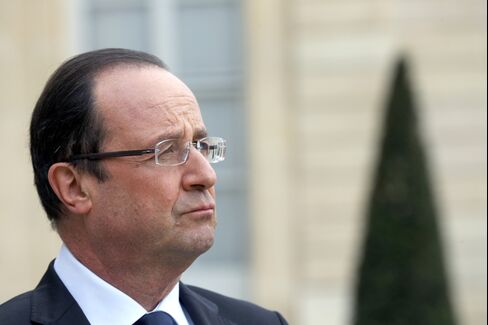 French President Francois Hollande's popularity rose from a record low, according to a poll conducted after a magazine reported that he's having an affair with actress Julie Gayet.
The Socialist president's approval rating jumped 2 points to 26 percent, according to an LH2 poll for Le Nouvel Observateur magazine. LH2 interviewed 1,018 adults on Jan. 10 and 11. No margin of error was given.
In a seven-page photo expose, French weekly Closer reported on Jan. 10 that Hollande, 59, had a liaison with the 41-year-old French actress. Hollande said in a statement that he "deeply deplored" the magazine's intrusion into his private life.
In contrast with the U.S., where Former President Bill Clinton was impeached by the House of Representatives for misleading investigators about his affair with intern Monica Lewinsky, Hollande's dalliance didn't render him more unpopular.
A separate Ifop poll showed that 77 percent of French voters consider the affair a private matter. Hollande is set to be queried about the liaison when he holds his twice-yearly press conferences tomorrow.
Hollande isn't married, although he has been in a long-term relationship with journalist Valerie Trierweiler, 48. Before that, he was with former French presidential candidate Segolene Royal, with whom he has four children. The two were not married.
Trierweiler was admitted to the hospital on Jan. 10 for "rest and for some tests," Le Parisien reported. Her office declined to say to where she was admitted or when she may be discharged.
Mitterrand, Chirac
The Closer expose shows how private lives of France's politicians have become increasingly public. The affairs of French leaders rarely provided fodder for the media, which made a clear distinction between the private and the public.
In contrast with Hollande, Francois Mitterrand was able to keep both his battle with cancer and the existence of a daughter he had with a mistress out of the press during his 14-year presidency that ended in 1995.
Former President Jacques Chirac's nocturnal adventures, although widely known, were rarely ever reported.
Before it's here, it's on the Bloomberg Terminal.
LEARN MORE