Goldcorp Makes $2.38 Billion Unsolicited Offer for Osisko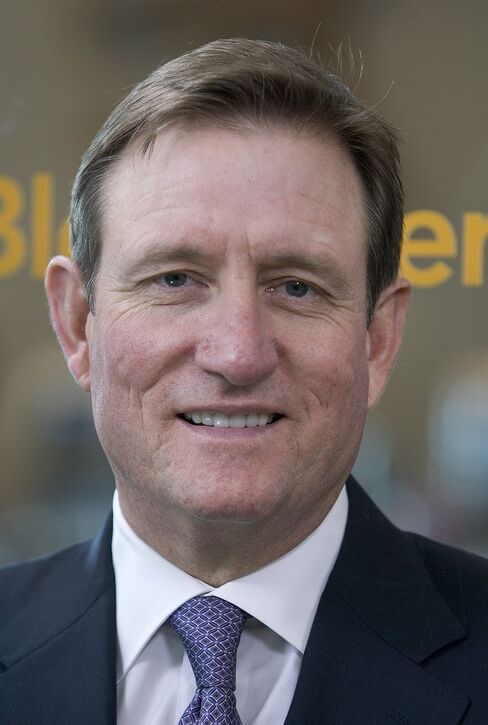 Goldcorp Inc., the world's second-largest miner of the metal, made an unsolicited offer to buy Osisko Mining Corp. for about C$2.6 billion ($2.38 billion) in a deal that would add 10 million ounces of gold reserves and make it the largest producer in Quebec.
Osisko holders would receive 0.146 Goldcorp shares plus C$2.26 in cash, Vancouver-based Goldcorp said in a statement today. The offer values the stock at C$5.95 each, a 15 percent premium, based on Jan. 10 closing prices.
Gold-mining companies are close to their cheapest relative to book value in at least two decades, according to data compiled by Bloomberg, providing opportunities for producers looking to replenish their gold reserves and acquire more profitable mines. Producers are prioritizing low-cost operations after the precious metal slumped 28 percent in 2013, its first annual drop in 13 years.
"Goldcorp shareholders will benefit from a long-lived, high-quality gold mine with low all-in sustaining costs capable of generating long-term free cash flows," Chuck Jeannes, chief executive officer of Goldcorp, said in the statement. "Our clear preference remains to engage with Osisko."
Osisko will consider Goldcorp's announcement, as well as any formal offer that's made, the company said in a statement today. Osisko won't comment further or speculate on future actions until it has completed its review.
Low Risk
Osisko operates the Malartic gold mine in Quebec, which started producing in 2011. Goldcorp is scheduled to start up its Eleonore project in the province later this year.
Canadian Malartic is attractive to Goldcorp as "an asset that the guys at Osisko have done a very good job of bringing along in a tough market environment," Jeannes said in a phone interview today. "At this point it has very low capital and technical risk."
Jeannes had a conversation with Osisko CEO Sean Roosen this morning, he said. He declined to provide details on what was discussed.
Osisko rose 21 percent to C$6.24 at the close in Toronto. Goldcorp fell 1 percent to C$25.04.
Goldcorp's offer is the largest unsolicited or hostile bid for a gold company since Eldorado Gold Corp.'s A$3.29 billion ($2.99 billion) attempt to buy Andean Resources Ltd. in 2010, according to data compiled by Bloomberg. Eldorado dropped its bid after it was trumped by a C$3.6 billion offer by Goldcorp.
Competing Bids
The likelihood of a competing bid for Osisko isn't high, said Greg Barnes, a Toronto-based analyst at TD Securities Inc., in a note today. Potential competitors such as Barrick Gold Corp., Agnico Eagle Mines Ltd. and Kinross Gold Corp., already face heavy balance sheets and generally weaker multiples relative to Goldcorp.
Osisko forecast 2013 output at its Canadian Malartic mine of 485,000 ounces of gold, at cash costs of about $770 per ounce. The addition of Osisko would increase Goldcorp's 2014 gold production by about 17.5 percent, while cash operating costs may increase by 7.5 percent, Barnes said.
Osisko was one of three top picks for free cash flow in 2014 among North American producers at a range of gold price forecasts, Anita Soni, a Toronto-based analyst at Credit Suisse Group AG, said in a November note.
Goldcorp said the offer is open for acceptance until 5 p.m. Toronto time on Feb. 19 and will require the acceptance of investors holding more than 66.7 percent of Osisko's shares. The bid doesn't require the approval of shareholders in Goldcorp, which has obtained a $1.25 billion credit facility from Scotiabank to help fund the deal.
GMP Securities LP and Scotiabank are Goldcorp's financial advisers on the bid and Cassels Brock & Blackwell LLP and Neal, Gerber & Eisenberg LLP are providing legal advice.
Barrick is the largest producer by market capitalization.
Before it's here, it's on the Bloomberg Terminal.
LEARN MORE