Egypt Votes on Charter as Leaders Seek Endorsement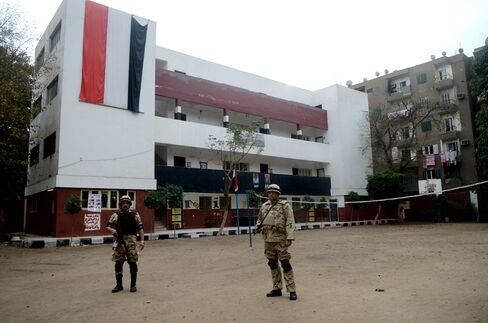 Jan. 14 (Bloomberg) -- Egyptians began voting in a referendum on a new constitution that's also a test of support for the army's overthrow of Islamist President Mohamed Mursi, as heavy security failed to prevent outbreaks of violence.
Supporters of Mursi's Muslim Brotherhood, which is boycotting the two-day vote, clashed with security forces in several provinces. At least eight people were killed, according to officials, and state television said 66 Brotherhood supporters were arrested for "rioting" at polling stations.
The military-backed government that took over from Mursi in July has billed the referendum as a crucial step toward stability. The Brotherhood has denounced it as an attempt to legitimize a military coup against Egypt's first freely elected civilian leader.
More than 160,000 soldiers were stationed around the country to ensure security, after violence flared in the run-up to the referendum. Authorities have blamed some of the unrest on the Brotherhood and declared it a terrorist organization. The group's leaders are on trial, and security forces have killed hundreds of its supporters as they cracked down on protests.
Egypt's generals may interpret a strong backing of the charter as an endorsement of Mursi's overthrow. The man who led the ouster, Defense Minister Abdelfatah al-Seesi, hasn't ruled out running in presidential elections due later this year.
'Real Man'
At a polling station in the Imbaba district of Giza province, Kholoud Ahmed, 39, said she would back al-Seesi because "he's a real man and will look after this country." Ahmed, who wore an Islamic-style face veil that only revealed her blue eyes, said she was voting "yes" in the referendum because "after all the torture we've been living through, we want stability."
Political turmoil has persisted in the three years since the overthrow of Hosni Mubarak, keeping tourists and foreign investors away and leaving the economy growing at the slowest pace in two decades. Stocks and bonds have rallied since the July 3 army intervention. The benchmark equity index has added 45 percent, and yields on one-year debt dropped more than 4 percentage points to 11 percent.
The official view of the referendum as a step toward stability and defeating terrorism enjoys widespread support, said Ziad Akl, a senior researcher at the Ahram Center for Political and Strategic Studies in Cairo.
Deadly clashes occurred today in Giza, outside Cairo, as well as in Beni Suef south of the capital and Souhag in central Egypt, according to health and security officials.
Voting 'Charade'
Critics say the referendum campaign has highlighted the military-backed government's intolerance for dissent.
The Brotherhood's Freedom and Justice Party called the new constitution "void" and said it was "drafted by a minority that wants to provide the killers with impunity."
The Strong Egypt Party headed by former Islamist presidential candidate Abdel-Moneim Aboul-Fotouh has said its members were arrested while putting up posters urging a "no" vote. The party later decided to join the Brotherhood in sitting out the vote.
The suppression of opposition doesn't "give me the impression that there's freedom to say what I want," said political activist Wael Eskandar. "I won't bother to take part in this charade."
The constitution was drafted by a mostly secular panel set up after the army toppled Mursi. If endorsed, it will replace a charter drawn up under Mursi by an Islamist-dominated committee and approved by a majority of voters in a public ballot that drew a turnout of about 33 percent.
In Cairo's Nasr City district, where Mursi's supporters had set up an encampment that was violently dispersed in August, 50-year-old Sahar Gamal said the new constitution will help cement the Islamists' defeat.
"I came with my whole family to vote 'yes' to eradicate the epidemic: the Muslim Brotherhood," Gamal said. A woman standing in the same line yelled "Long Live Egypt," while a group of women broke into a song praising the army.
To contact the reporters on this story: Mariam Fam in Cairo at mfam1@bloomberg.net; Salma El Wardany in Cairo at selwardany@bloomberg.net
To contact the editor responsible for this story: Andrew J. Barden at barden@bloomberg.net